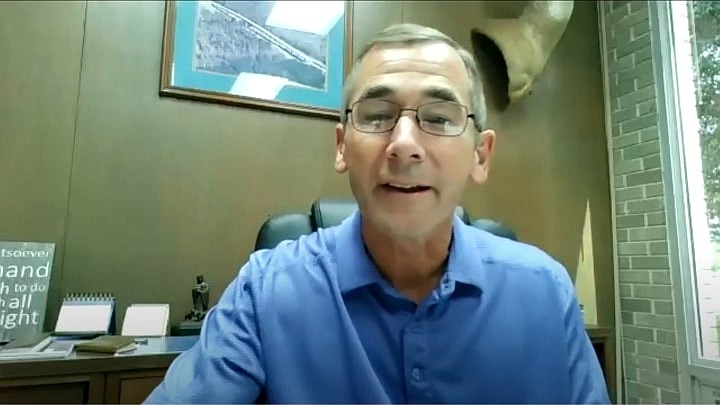 David Archer, Arkansas Department of Transportation (ARDOT) District Seven Engineer, spoke at a meeting of the El Dorado Rotary Club Monday. (Screengrab)
The El Dorado Rotary Club met Monday, hosting Arkansas Department of Transportation (ARDOT) District Seven Engineer David Archer as their guest speaker. Archer, a Louisiana Tech graduate, has worked for ARDOT in El Dorado since 1989.
Archer began his presentation by informing Rotary members about Issue 1, which will appear on the Nov. 3 general election ballot.
Issue 1 would make a half-cent sales tax approved by Arkansans in 2012 permanent. All proceeds from the tax go towards state, county and city roads.
Archer said ARDOT has faced funding challenges that the tax has helped to alleviate. One major difficulty is that money just isn't worth what it used to be, he said.
"Back in 1998, a $10 million overlay could pave 200 miles. … Twenty years later, you can't even do half of that," he said. "That dollar doesn't go quite as far as it used to."
Archer noted that Arkansans also pay a flat tax on gasoline, but with fuel efficiency at the top of car manufacturers' minds, the revenues produced from that tax have been insufficient for the state's needs.
"Those things are kind of working against us as far as revenues," Archer said. "Our funding over the last few decades has not met the needs or the wants of Arkansas residents."
The funds raised from the half-cent sales tax, which went into effect in June of 2013, have thus far gone toward the Connecting Arkansas Program (CAP), a $1.8 billion project meant to overhaul the state's transportation system and improve approximately 200 miles of highways and interstates, according to the program's website.
"This is one of the largest construction programs that ARDOT has ever undertaken. … Y'all have seen a lot of that program because it's on (Highway) 167," Archer said. "We're well on our way to fulfilling our promises."
Construction is ongoing on a portion of the project that will widen Highway 167, which connects El Dorado to Little Rock, to four lanes. That work is currently expected to be completed by early 2022.
"When that's done, you'll have a multi-lane highway all the way from El Dorado to Little Rock," Archer said.
Archer said work is also expected to begin soon on Highway 82, which connects El Dorado to Magnolia and Texarkana on the west and Crossett on the east. Work on Hillsboro Street is included in that project, including widening it and adding a sidewalk on the south side and a multi-purpose pathway on the north side that will extend the length of the city.
"They've got a consultant working on that right now," Archer said. "When we're completed with that, we're partnering with the City of El Dorado. It'll become a city street and no longer be a state highway."
Archer said he expects right-of-way acquisition to begin in El Dorado six months to one year before construction does, and construction is tentatively scheduled for 2022.
"Usually, six to 12 months prior to that is when they start coming out to talk to the landowners," he said. "I think we're still trying to finalize plans on that."
The work will also add two roundabouts to the street, at the intersections of West and Hillsboro and College and Hillsboro. Archer said they will be one-lane roundabouts, similar to one in Branson, Missouri, and they will be the first of their kind in this region.
"These will be the first in south Arkansas that I've been around," Archer said. "I've found them very easy to drive through and I don't think it will be a problem. I think it'll be a lot better than the traffic lights, personally."
Extensive work has also been ongoing on Highway 335, which Archer said will be reverted to a county road once ARDOT completes its work on it.
Archer said the half-cent sales tax costs the average family about $8 per month and it doesn't apply to grocery purchases. If Issue 1 passes, Archer said ARDOT's next project will focus on pavement and bridge preservation across 7,000 of Arkansas' 16,400 miles of highways.
"We're going to repair and replace," he said.
If Issue 1 fails in November, Archer said, Union County stands to lose about $700,000 annually in turnback funds from the state. El Dorado would lose about $440,000; Smackover about $43,000; Norphlet about $20,000; Junction City about $13,500; and Calion $11,513. The state would lose about $250 million annually.
"The governor did his part, he came up with this long-range funding plan. … Here in about a month and a half or so, it's going to be up to the people of Arkansas to see what they want to do with their transportation system," Archer said. "If it fails, it will sunset in June of '23. If voters approve it, it will become a permanent tax. … If it passes, there will be no increase, and the services will stay the same."
This story has been updated from a previous version.
Sponsor Content
Comments