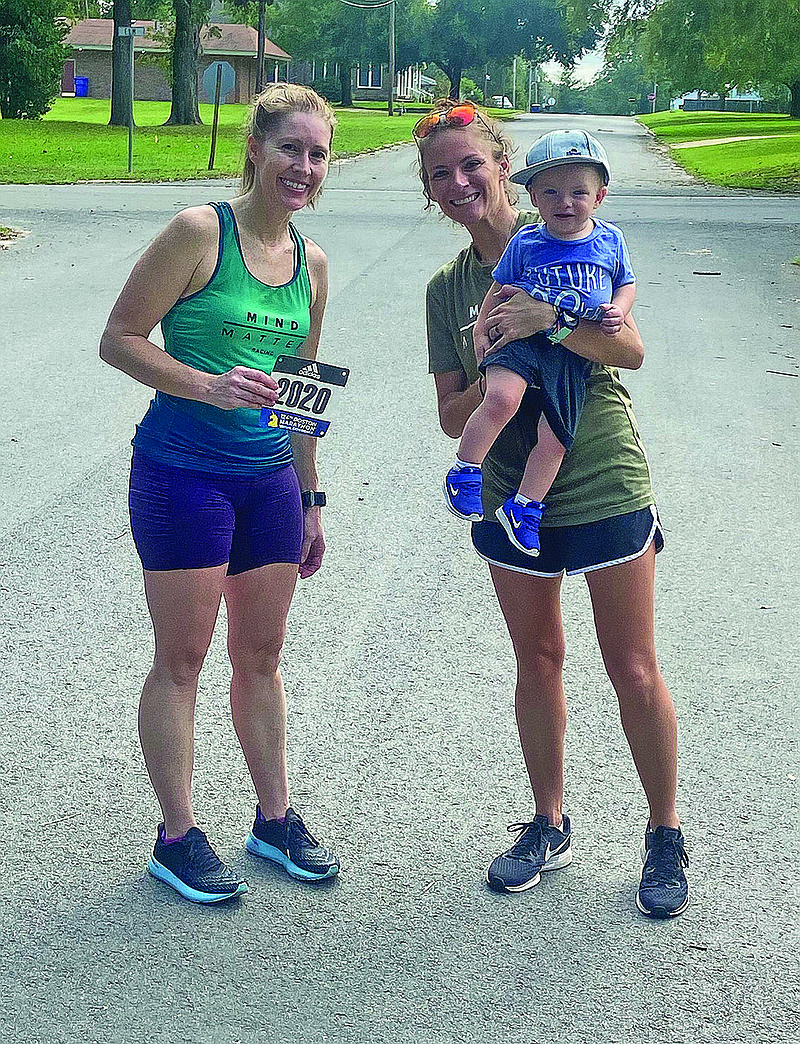 Carrie Jackson, left, is greeted at the finish line by Leslie Darden and Darden's son Blanton. Jackson ran the virtual Boston Marathon on Sunday after Darden completed the run on Friday. - Photo by Contributed photo
When her options are either, A, to run or, B, to not run, Carrie Jackson usually never considered option B. She qualified for the 124th Boston Marathon, which was canceled in April due to COVID-19. Runners were offered a virtual alternative to run any time between September 7-14.
The idea of training in the heat of the summer while maintaining a rigorous job schedule didn't seem plausible for Jackson, who decided against participating.
Early Sunday morning, Jackson did what Jackson does.
She ran. And finished the 124th Boston Marathon.
"I changed my mind September 3rd when that fancy Boston Marathon box came in. I just had to complete 26.2 under six hours without stopping my watch to still be considered an official finisher," she said.
"I knew I would regret not doing it since I had worked so hard to get there. I knew it would be slow and painful, but I could do it, so I made up my mind right then to go for it. I ran 13.1 last weekend to give myself a mental boost. I decided to go with the run/walk method since I was out of shape."
Jackson said she had stopped training. Eight miles was her longest run all summer.
"I've been working two jobs since COVID in April, averaging 60-70 hours a week so I'm pretty tired when I get home. I've still been running about 10 miles a week usually just three miles at a time here and there," said Jackson.
"I feel you truly don't learn who you really are and what you are capable of until you push your limits. I love doing crazy things to remind myself that I can do anything that I set my mind to. There were dark moments out there this morning for sure, but I listened to my favorite motivational podcast - David Goggins - and then put Eye of the Tiger on repeat to get me through."
Leslie Darden completed her Boston Marathon on Friday in Lisbon. Jackson said Darden showed up in Junction City at around the 21-mile mark.
"This really cheered me up. By this time, I had severe leg cramps so couldn't run very much," said Jackson. "She had no idea I had started so early. I didn't want to advertise that I would be running in the dark at 4 a.m. I knew my only chance of survival was to start early to beat the heat."
Jackson said her fifth marathon as by far her slowest at 5:24.42. It was also the one that made her the proudest.
"I can't wait to get that unicorn finisher medal and shirt in the mail. It wasn't the Boston I wanted but it's what I got so I'm still so proud of myself," said Jackson, who plans to qualify for Boston again.
"I got there once so I know I can qualify again. The good thing is I'm 'older' at 42 and the qualifying time gets easier with every five years so I'm looking forward to turning 45."
Sponsor Content
Comments