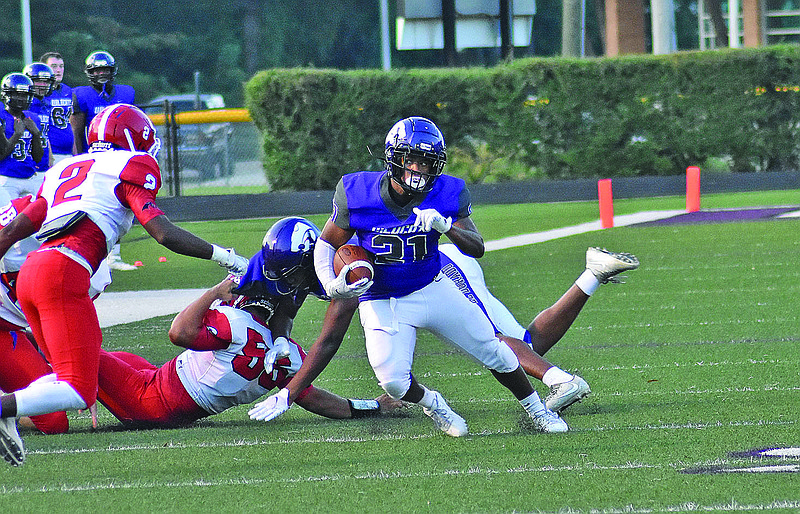 El Dorado's Branden Moore makes a cut to elude a Cabot defender. Moore rushed for 106 yards and a touchdown in Friday's 41-23 loss at Memorial Stadium. - Photo by Lauren Cross
By Tony Burns
Sports Editor
Former El Dorado coach Scott Reed wasn't accustomed to the view from the visiting sideline Friday night. He was familiar with the result.
This time, Reed's Cabot Panthers provided the win at Memorial Stadium, knocking off a much-improved El Dorado squad 41-23.
Cabot improved to 3-0 while the Wildcats slipped to 0-2.
El Dorado's offense, which couldn't muster a point against Camden Fairview, dominated the game early. Eli Shepherd, who missed the opener with an injury, completed 30-of-44 passes for 285 yards and a touchdown. He rushed for 84 yards and another score.
Branden Moore had 21 rushes for 106 yards and a touchdown. Jackie Washington had 10 receptions for 114 yards. Deandra Burns had seven receptions for 84 yards and a touchdown. Sharmon Rester had seven receptions for 62 yards.
"We kept fighting. Our kids played four quarters of tough football, but we didn't come out on top," said El Dorado coach Steven Jones, who was asked about his team's improvement over last week.
"I think you're crazy if you think we're not. We were night-and-day better through the first two-and-a-half, three quarters from last week. We just ran out of gas. There's no doubt we were better than what we put on the field last week. We've definitely improved."
For Cabot, quarterback Tyler Gee completed 12-of-18 passes for 155 yards and four touchdowns.
"Our quarterback played much better than he did in the first two games. This was by far the best he's played," said Reed. "We've got some weapons outside in the receivers, too, and we were able to make some big plays. That was the difference. We had a hard time running the ball. I would have to credit El Dorado's front. They got after us pretty good.
"I thought El Dorado played really well, honestly. I thought they did a much better job defensively against us than they did last week against Camden. Their kids played really hard. I thought El Dorado played much better than they did last week. Watching them on film, I thought they played pretty well against North Little Rock in their benefit game. Then last week, they were just off. They got behind and it just didn't go well. I was impressed with the way they played tonight against our team."
El Dorado opened the game with its most impressive drive of the season. Moore ran for 11 before Rester had carries of five and six yards. After Moore ran for eight, Shepherd hit Burns for 14 yards to the 17-yard line. But Rester was dropped for an 8-yard loss and a penalty pushed the ball back to the 30. Shepherd found Jarmel Love for 17 and the Wildcats salvaged the drive with Dave Carruth's 30-yard field goal with 8:09 left in the first.
El Dorado's first lead of the season was short lived as Cabot's Braden Jay returned the ensuing kickoff 92 yards for a touchdown. The kick failed, leaving the margin at 6-3 with 7:56 left in the first.
The Wildcats took the next possession at their own 47 and went on another 11-play drive. Shepherd had a 20-yard run before the march stalled with a fourth-and-goal from the 2. El Dorado elected to go for it, but Shepherd was snowed under for a 12-yard loss.
"We had a special play for that situation. We thought about kicking the field goal, but I thought we could swing some momentum," said Jones. "I thought we had a good play called. Our O-line, on that particular play, slid left instead of right. It was one of those little things that hurt us. We slid the O-line the wrong way and they got us off the edge."
Despite the missed scoring opportunity, the Wildcats stayed in the game on defense, forcing a three-and-out and then getting a turnover when PJ Denkins recovered a fumble.
Cabot's Aaron Puncy intercepted Shepherd's pass to set the Panthers up at the 27. Four plays later, Jay scored on a 10-yard jet sweep handoff. The PAT pushed the lead to 13-3 with 10:53 left in the second.
The Wildcats pushed to near midfield. Moore broke off a long run but lost the ball with Cabot's Houston Wiley recovering at the 48. El Dorado's defense got it back, however, when Mario Ganter sniffed out a reverse for a 5-yard loss on third down.
The Wildcats would drive 89 yards in eight plays. Rester had a 19-yard reception before Washington took a short pass, eluded a defender and then sped down the sideline for a 43-yard gain before being pushed out at the 12. Moore scored on the next play, bulling up the middle into the end zone. Carruth added the kick, cutting the deficit to 13-10 with 6:15 left in the second quarter.
The Panthers would have an answer, however, driving 67 yards. Gee hit Marlon Crockett for 22 yards to convert third-and-4. Gee would later connect with Jay for a 28-yard touchdown pass, bumping the margin back to 20-10 with 3:26 left in the second.
El Dorado's offense responded with an 86-yard drive. Moore had a 21-yard run before Shepherd lofted a pass to Burns, who went up and over a defender to make the grab in the end zone for a 24-yard touchdown with 15 seconds left in the half. The PAT failed and the Wildcats trailed 20-16 at the intermission.
"We had the momentum, I thought going into the half even though we were down four," said Jones.
Jay returned the second half kickoff to the 46, setting up a five-play drive, capped by Gee's 17-yard touchdown pass to Trey Birdsong. The kick pushed the lead to 27-16 with 9:41 left in the third.
"We gave up a few big plays tonight on special teams. We came out and they had a big kickoff return to start the second half and they scored on the next play," said Jones. "That was just a dagger for us."
El Dorado's offensive response was stuffed. The Wildcats drove to the Cabot 40. Shepherd scrambled for 16 to convert a third-and-10 but on fourth-and-3 at the 40, Moore was met on a run up the middle and knocked back for a 4-yard loss.
The Panthers followed with a death blow, Gee's 56-yard dart to Kyler Carmack, which extended the margin to 34-16 with 6:39 left in the third.
The margin swelled to 41-16 after Birdsong's 28-yard TD reception with 48 seconds left in the third, which capped a 13-play, 85-yard drive. Cabot converted a third-and-10 deep in its own end on Gee's 13-yard scramble. Gee's touchdown pass came on fourth-and-14.
The Wildcats kept fighting in the fourth. Javin Steward's interception set up Shepherd's touchdown, a 15-yard run on a fourth-and-14 play with 6:31 remaining.
Two plays later, El Dorado's Kodarrion Dismuke intercepted Grant Freeman's pass. The Wildcats drove to the Panthers' 2-yard line. On third down, the center-QB exchange was fumbled and Cabot's Mikeah Silver recovered in the end zone for a touchback.
"It's different standing on that other sideline. I didn't enjoy that," said Reed. "But, obviously, I'm proud of our team. We're off to a good start. We've won two games on the road, now. It seems like we've had different guys step up and make plays."
Sponsor Content
Comments