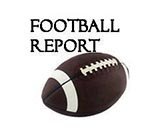 STRONG - Strong's junior high football team opened their season in rousing fashion with a 46-0 win over Lake Village on Thursday.
Ethan Hunt ran for two scores and threw a touchdown pass to Cedric Brown in the win. Hunt also had a successful 2-point conversion.
Germyren McHenry had a pair of touchdowns in the win, as did Carmello Brown, who played a pivotal role in powering Strong's rushing attack against the Beavers.
Strong will be at home for the second straight week when they host Drew Central on Thursday.
• • •
Barton's seventh-grade football team beat Pulaski Academy 20-6 on Tuesday.
Bratavion Brown had two rushing touchdowns and Andre Aaron ran for another touchdown for the Wildkittens.
Defensively, Jamari Robinson had two interceptions.
Jakori Lumsey intercepted a pass and Jeremiah King forced a fumble. Cyrus Eades, Jevalon Junior, Paxton Strong, Brown and Lumsey all recorded sacks.
Barton won the 'B' game 12-8.
Sponsor Content
Comments