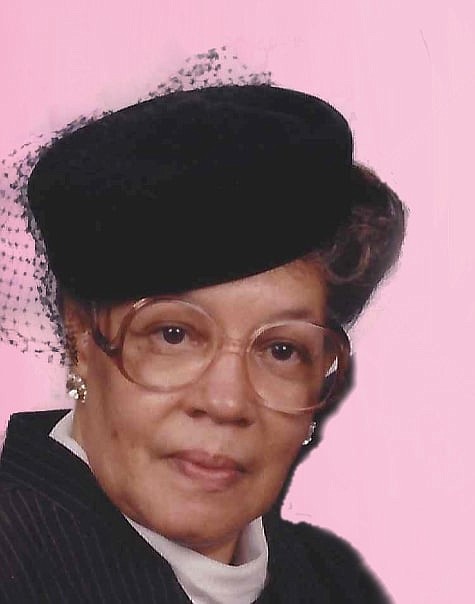 Yarbrough
Mrs. Sadie Yarbrough was born September 24th, 1929 to Columbus and Martha Steward Coggins in Caledonia/Junction City, Arkansas.
She united in Holy Matrimony to Eddie Lee Yarbrough on June the 16th, 1946. To this union, three sons and two daughters were born.
Missionary Yarbrough was a working mother for many years after her last child grew up. She worked in the hotel/motel business and as a caretaker in several private homes, as well as a receptionist at a local El Dorado business.
Missionary Yarbrough began her lifelong walk with the Lord in 1962 when Sister Jerlene Brown invited her to church. She was filled with the Holy Ghost and united with Sunlight COGIC during that year. She later united with Fairview COGIC, then Greater Roadside COGIC under the leadership of her youngest son, Apostle Larry W. Yarbrough, under which she received her Evangelist Missionary*s License after attending the C. H. Mason Bible College. She later united with Evergreen Ministries, Intl. under the leadership of her oldest son, Bishop Eddie Yarbrough, Jr. until her health failed. She also served with her daughter, Bishop Dr. Sylvia Yabrough at Set Free Ministries of El Dorado, Arkansas.
She served the Lord and the church as Sunday School Supt. Church Mother, Hospitality member, Pastor*s Aid Committee, Prayer Warrior, and member of the Ministers staff. Being the Evangelist that she was, many souls were saved through her ministry, both young and old. She led numerous fasts and shut-ins.
She was the youngest survivor of all her siblings, and was preceded in death by her parents, and her husband of sixty years, one son, Elder Jimmy D. Yarbrough; four brothers, Ervin, Booker T., Woodrow, and infant, O.B. Coggins; five sisters, Myrtle Woods, Ruth Coggins, Eugenia Isom, Maggie Craig, and infant Mayretha Coggins, and two grandchildren., Shymecca and Amber.
She leaves to cherish her memory, four children: Bishop Eddie Yarbrough, Jr. (Carolyn) El Dorado, Bishop/Dr. Sylvia Yarbrough, Apostle Larry W. Yarbrough (Jessie) all of El Dorado, AR and Hettie P. Yarbrough, of Birmingham, AL; daughter-in-Law, Elder Joyce Yarbrough of El Dorado, AR, 13 grandchildren, 31 great grandchildren, and 7 great-great grandchildren, and a host of nieces, nephews, and friends who will miss her tremendously.
Sponsor Content
Comments