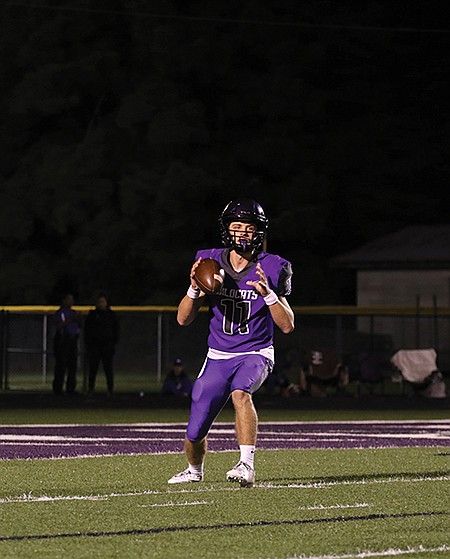 Siandhara Bonnet/News-Times El Dorado quarterback Eli Shepherd drops back to pass during the Wildcats' clash against Benton during the 2019 season. El Dorado hosts Cabot tonight. Game time is set for 7 p.m. from Memorial Stadium.
El Dorado's football season got off to a sluggish start last week as the Wildcats fell to Camden Fairview 45-20 at Memorial Stadium. The path won't get any smoother tonight when former Wildcat coach Scott Reed brings Cabot to town.
The Panthers are 2-0 with wins over Searcy (35-18) and Jonesboro (36-32).
Kickoff is scheduled for 7 p.m. at Memorial Stadium.
El Dorado is still looking for its first offensive touchdown after struggling to run or pass the ball against the Cardinals last week. Coach Steven Jones said senior quarterback Eli Shepherd should start, after missing the season opener with an injury.
"I think the team morale is good. We're ready to get back out there and go to the next game," said Jones. "I think our response will be what it needs to be. I think we'll be ready to compete Friday night. I think we'll put the first game behind us and be ready to go."
When asked what improvements he hoped to see after Game 1, Jones answered, "Execution, just making sure we understand what the call is and we're confident in making a play."
Cabot is averaging 35.5 points per game and features a pair of Division I talents on offense. Quarterback Tyler Gee (6-0, 203) has committed to the University of Central Arkansas. Wide receiver Marlon Crockett (6-4, 190) has committed to Arkansas State University.
"Offensively, they're pro-style, use a tight end. They're spread. They've got a couple receivers who can really play," said Jones.
"They're pretty balanced. They have playmakers in the backfield. Their offensive line does a good job of sustaining blocks and moving their feet. I mean, they're a well-coached team. That's what you expect when you play a Scott Reed-coached team, a team that's well coached."
After struggling against the four-man fronts of Fairview and North Little Rock in the benefit game, El Dorado's offense will go against Cabot's 3-3-5 look. It presents a different kind of challenge.
"They send pressures. They twist. They do a lot of different things with that. It's a whole new defensive scheme," said Jones. Of course, the Wildcats utilize the same defensive formation.
"We go a lot of good-on-good at practice so, defensively, we're seeing what we see every day. We run the same exact defensive scheme. We feel confident we'll be prepared for that.
"Offensively, we've looked a lot more efficient this week. Our guys are ready to go. They're chomping at the bit to get out there and make plays."
El Dorado scored on three special teams' touchdowns last week, a punt and kickoff return touchdown by Jackie Washington and a kickoff return for a score by Deandra Burns.
Jones was asked about the offense and if he would look to establish more of a rushing attack.
"The philosophy offensively is always to take what they're giving us. What they were giving us Friday night was the vertical pass game and we weren't able to make plays," he said.
"They did a good job of stopping the run and mixing it up. When you go three-and-out, you put your defense on the field for that many plays. Our defense was gassed in the fourth quarter. I think our defense played well early on in the game. A lot of their mishaps were attributed to offensive struggles.
"We'll get in going. We'll play together as a team. Sometimes in life you hit a wall. We hit one against Camden Fairview. It wasn't pretty but it's on us to decide whether we're going to try to lock arms and go together and go straight through that wall. I think our players are confident. It wasn't what we wanted and now we have to prove we belong."
As for keys to tonight's game, Jones listed two – make plays on offense and stop the run on defense.
"Those are two things we did not do Friday," he said.
"Here's the deal. I know Friday night was not what we wanted. It was not what our kids wanted. It's not what our coaches wanted. It's not what our community wanted.
"But, in our locker room, we have a confident group of kids that are ready to bounce back and I believe in them. I think we'll be ready to make up for those mistakes in the game Friday and give it our all."
Sponsor Content
Comments