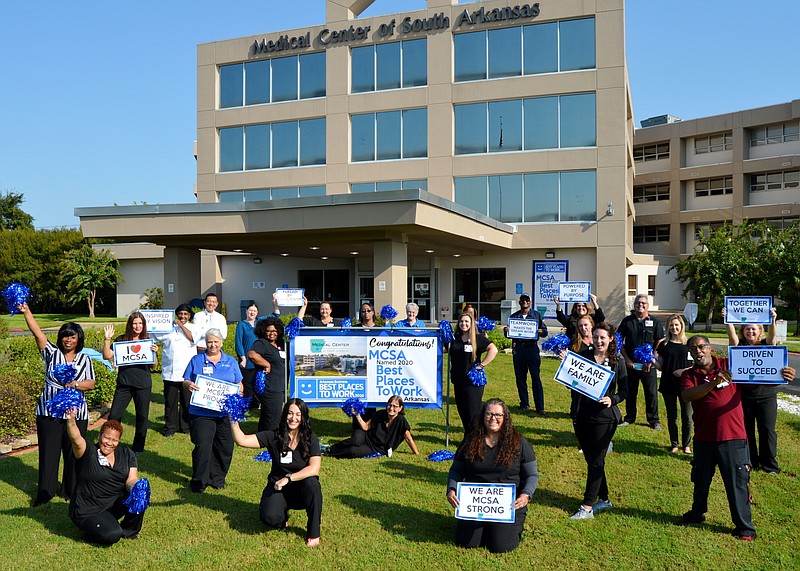 The Medical Center of South Arkansas has been named one of the best places to work in Arkansas by Arkansas Business. Executive staff informed other employees Wednesday with a celebration at the hospital. (Contributed)
The Medical Center of South Arkansas landed on Arkansas Business' "Best Places To Work 2020" for the second year in a row.
MCSA is one of only four hospitals in the state to be listed. In all, 47 companies in Arkansas were recognized.
"As one of the biggest employers in the area, this means a lot to us. Oftentimes we have to compete with places like Dallas and Atlanta for top health professionals and doctors in specialized fields," Scott Street, Chief Executive Officer said. "Having this acknowledgment will allow us to further compete for those physicians."
MCSA employs over 700 staff members and were excited on Tuesday to announce the news to their team members.
"Everyone here has been working so hard and so being able to share this news with them is exciting. We're going to have banners and flyers and we're going to try and make it a celebration," Alex Bennett, Director of Business Development and a proud member of the "Woot, Woot Wagon," gang said.
The "Woot, Woot Wagon," gang is composed of Bennett and Lori DeWese, Marketing Coordinator. Wearing personalized "Woot, Woot" t-shirts and with a pull-behind wagon in tow, the women greet staff members around the hospital with yummy tokens of appreciation, like Twix candy bars with a personalized message wrapped around that reads, "BeTwix you and I, we think you are awesome. Thank you for all you do."
"With the COVID-19 pandemic, we've had to get creative with how to still celebrate our peers without necessarily all congregating in one space. So we decided to bring the party to them with the 'Woot, Woot Wagon' gang," Bennett said.
Gallery: MCSA named among 'Best Work Places' in state
Efforts like this have boosted the morale and team cohesion at MCSA, which in turn has led to the positive employee feedback that put the hospital on the most recent "Best Place To Work" list.
Some of those other efforts include providing 10 minute massages for staff members, free take home dinners from the hospital's cafeteria, an assortment of food trucks to come through, popcorn bags and yoga classes, to name a few.
Like a lot of hospitals around the country, the pandemic has proven to be a stressful time for staff members at MCSA. To help contend with that, the leadership team has provided access to counselors and a COVID Care fund to help assist staff members that may be struggling financially during these times.
LaKeitha Davis, Human Resources Director, has been a significant part in helping to bring about change in staff morale and the employee experience at MCSA.
"These past two years we have really made a big effort to bring about positive change to working here. We work in a high stress job and it is important that we can just provide a smile to not only the patients but each other; you never know what each other is going through or what type of day someone is having," Davis said.
She leads by example and likes to greet, chat and provide a smile to a lot of her peers and teammates.
Showing that leadership and having it manifests throughout the staff in part came from Scott Street. Also known as the 'Chief Energy Officer,' according to Alex Bennett, Street had the leadership team read a book called, "The Energy Bus: 10 Rules to Fuel Your Life, Work, and Team with Positive Energy," by Jon Gordon.
When Scott Street and LaKeitha Davis sat down with the News-Times for an interview, they both came with the book in hand and cited a lot of its teachings as a helpful tool for them to impart on themselves and staff members. MCSA has a renewed energy and it has been noticed by their employees and now by Arkansas Business.
Sponsor Content
Comments