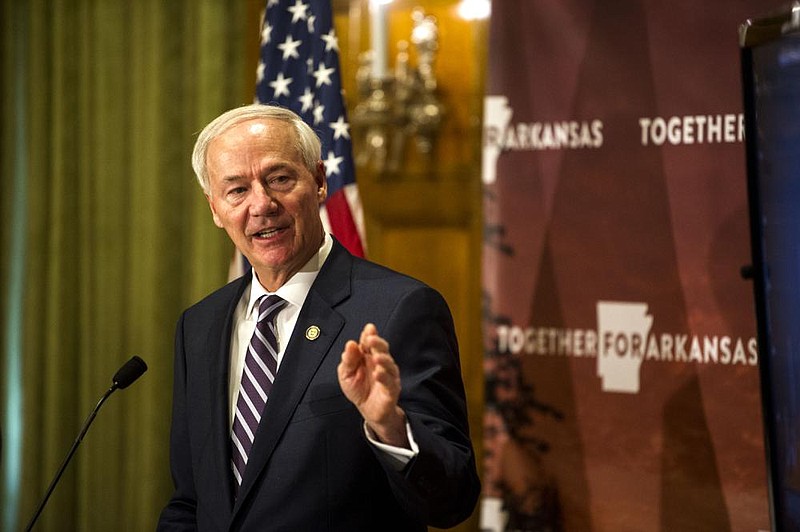 Governor Hutchinson addresses the media during an update on Arkansas' response to COVID-19 on Tuesday, Sept. 8. (Arkansas Democrat-Gazette / Stephen Swofford)
The Arkansas Department of Health reported nine new confirmed COVID-19 cases in Union County Tuesday, bringing the cumulative number of cases identified in the county to 740.
Of those, 677 were considered recovered, up seven from Monday. Active cases rose by two to 41, representing 5.5% of the cumulative case total.
No new local deaths attributable to COVID-19 were reported Tuesday. Twenty-two Union County residents have died as a result of the virus.
According to the ADH, 8,200 COVID-19 test results have returned from Union County, including 7,460 negatives, indicating an overall local positivity rate of 9%.
Arkansas' number of confirmed COVID-19 cases grew by 294 to reach 66,021 Tuesday. Of those, 59,260 were considered recovered, leaving 5,844 cases — 8.9% of the cumulative total — active statewide.
The deaths of nine Arkansans that were attributable to COVID-19 were reported Tuesday, bringing the state's death toll to 917, indicating a state COVID mortality rate of 1.4%. There were 10 more Arkansans hospitalized due to the virus Tuesday than were Monday, 409 in all, and 10 more Arkansans requiring ventilator support Tuesday, 84 in all.
Arkansas Department of Commerce Secretary Mike Preston spoke during a press conference Gov. Asa Hutchinson held Tuesday to announce new unemployment assistance that will be available to those who lost their jobs as a result of the pandemic, with funds provided by the Federal Emergency Management Agency. He said the state's unemployment rate has dropped to 7.1%, representing about 83,000 Arkansans.
"In 12 of the last 13 weeks, we've seen a drop in the continued claims of unemployment," he said. "We still have a lot of work to do and a lot of Arkansans to get back to work, but I'm thankful for those numbers going in the right direction."
The Lost Wages Assistance Program (LWAP), which Preston announced Tuesday, will provide $300 on a week-to-week basis for those who lost their jobs as a result of the pandemic and are receiving at least $100 per week in unemployment benefits. Previously, those who lost their jobs received $600 extra per week through unemployment benefits provided for in the CARES (Coronavirus Aid, Relief and Economic Security) Act; that expired in July, however.
"The President's executive order picks up where that left off," Preston said.
Those who are eligible will receive letters, Preston said. All who are receiving Pandemic Unemployment Assistance will be eligible. Those who receive less than $100 in benefits per week, about 7,400 in Arkansas, Preston said, will be eligible for TANF (Temporary Assistance for Needy Families) funds.
"We will match what the federal FEMA, the LWAP program is, for those individuals," Preston said. "In order to be TANF eligible, you have to be the custodial parent of a child under 18, and also have a family income less than 200% of the federal poverty level; so if you hit those boxes, along with the ones we mentioned before — of being unemployed during those weeks specified (starting the week of Aug. 1 through the present) as a result of COVID-19 — you'll be eligible for the $300 per week through the TANF program."
More information about the LWAP program is available at arknet.arkansas.gov. Hutchinson noted that the funds for the program have not been appropriated by Congress, which is why it will be provided on a week-to-week basis.
"It's not clear on the funding stream for this additional pandemic assistance from the federal government, so we're still negotiating, working with them as to how we can do this over a longer period of time," Hutchinson said.
Hutchinson also announced that the state will purchase 120,000 antigen tests using $4 million provided by the CARES Act. Arkansas has partnered with the Rockefeller Foundation and a coalition of other states to purchase the tests.
"It will allow us to save a significant amount of money on the purchasing in a larger volume, but also, hopefully, to secure a steady supply," Hutchinson said.
The tests will be available in local health units, and Hutchinson said he hopes they will be available in October through the end of the year.
The ADH reported 5,154 new COVID-19 test results Tuesday, indicating a one-day positivity rate for the state of 5.7% based on the number of new tests and results reported. So far in September, the ADH has received 49,115 COVID-19 test results.
Hutchinson said 139 antigen test results were reported Tuesday, with 20 positives and 119 negatives, indicating a positivity rate among the antigen tests of 14.4%. Antigen tests are considered 'presumed positives' instead of 'confirmed cases.'
Since the state began testing for COVID-19, 782,994 test results have returned, including 716,973 negatives, indicating an overall positivity rate for the state of 8.4%.
At 12:45 p.m. Tuesday, Johns Hopkins University reported 6,312,341 COVID-19 cases in the United States. Of those, 2,333,583 were considered recovered, leaving 3,759,435 cases — 59.6% — active nationwide. There had been 189,323 deaths attributable to the virus in the U.S. by Tuesday, indicating a national COVID mortality rate of 3%.
Johns Hopkins reported 27,401,024 COVID-19 cases worldwide Tuesday afternoon. Of those, 18,377,409 were considered recovered, leaving 8,126,902 cases — 29.7% — active around the world. There had been 897,713 deaths attributable to the virus by Tuesday afternoon, indicating a global COVID mortality rate of 3.3%.
Sponsor Content
Comments