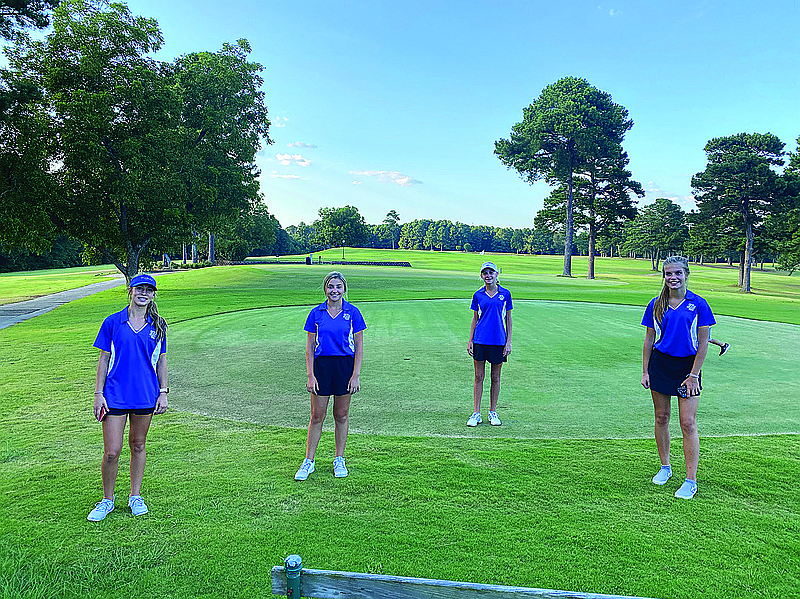 Parkers Chapel's girls' golf team, from left, Reaux McAuliffe, Hannah Brotherton, Bella Frisby and Franzi Kahlert. The Lady Trojans posted back-to-back season's best 9-hole scores last week. - Photo by Contributed photo
Parkers Chapel golf coach Mona Williams wasn't sure what to expect before the season from a senior girls' roster, consisting of just four players – three freshmen and one senior. There was clearly talent available, but the lack of match experience was alarming.
At this point in the season, the only thing alarming is the rate of improvement.
The Lady Trojans turned in back-to-back scores of 142 this week, beating their previous low marks of 147.
On Monday, freshman Bella Frisby shot 43. Senior Hannah Brotherton scored 46 with freshmen Franzi Kahlert and Reaux McAuliffe scoring 53, and 66, respectively, at the Lion's Club.
Before that, the Lady Trojans' top score this season had been 147, recorded three times. The other scores this year were 166, 156 and 162.
"The girls are very conscientious about being able to help their team," said Williams. "Hannah Brotherton has been a little disappointed in her scores recently and she has worked really hard on her own time to improve and it is showing. Bella is always hard on herself and she went (Monday) evening after our tournament and worked on her chipping and putting because she knows that's where she could save a few more strokes. Franzi has been struggling with her swing lately and is putting in more time on the driving range. Reaux is a true beginner and she will get there. She is already hitting the ball more solid and the short game is getter better the more she plays.
"They really want to improve each week and most importantly they are putting in the work to make it happen."
The Lady Trojans followed Monday's performance with another 142 on Wednesday. Frisby recorded a career-high 41 followed by Kahlert's 46. Brotherton and McAuliffe added 55 and 65, respectively.
Sponsor Content
Comments