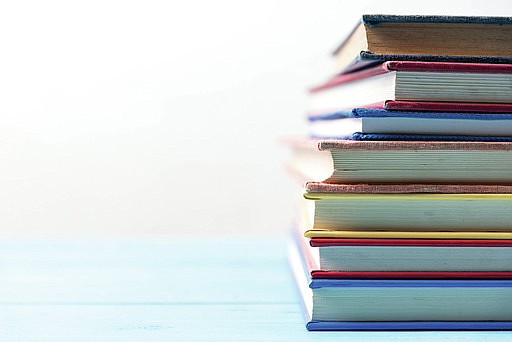 Recently I discovered a great new source for learning about new books, authors, and other interesting news about the publishing world. And it's all because of the pandemic.
For the past five months, I was working from home except for one or two days a week. Soon I developed a routine and discovered that an early-morning walk would energize me for the rest of the day at home. Although I think audiobooks are a great option, I don't really enjoy them myself, so while walking I began to listen to "The Book Review," a New York Times podcast. If you're a reader like I am, it's wonderful—you can learn about new titles and hear interviews with their authors, get updates on the publishing world and sometimes hear the book critics talk about what they're reading. The only downside is I find so many great books that I've added a huge number to my TBR list; the good part is how interesting it is to hear a new perspective as the authors talk about their books and the writing process.
One that I had already decided to read has an almost-local connection: David Hill, author of "The Vapors," is a Hot Springs native, although he now lives in New York. After seeing an early copy last winter, I was intrigued and hoped to schedule the author for our spring literary festival. Sadly, it didn't work out, since his schedule didn't mesh with ours and we had to postpone and make the whole thing virtual in July. But there's always next year!
Some episodes were about books that I had read already, but they still were interesting, like these:
Susan Orlean's "The Library Book" is not just about the fire that destroyed the Los Angeles Public Library in 1986, it's also a tribute to libraries everywhere and how they work. Even though we're such a small library compared to that system, it was fascinating to learn about all the many things that we have in common. One of those is the fantastic people who work in libraries. I'm fortunate to work with some of them, here and across our wonderful state.
Some other good episodes (and books) were "Hidden Valley Road" by Robert Kolker and Dani Shapiro on her memoir "Inheritance," and I was very excited to hear one of my favorites, Kate Atkinson, was the guest in an episode about her novel "Transcription." If you want to read others like "Hillbilly Elegy" and "Educated," try Sarah Smarsh's "Heartland," which is another memoir about growing up poor in America.
Here are just a few that I hope to read soon: Journalist Beth Macy explains how the opioid crisis evolved in "Dopesick." Maybe some time I'll be ready to read about a pandemic, but not now; "The End of October" by Lawrence Wright still looks like a fascinating read as the author described how he researched to create a fictional pandemic and his book was released in the middle of a real one. Another recent interviewee was Isabel Wilkerson, author of "Caste: The Origins of Our Discontents." Listening to her made me want to read about her concepts on the caste system in India, Nazi Germany and race relations in our country. "Prairie Fires: The American Dreams of Laura Ingalls Wilder" about the author of classic children's books and about how she helped shaped our ideas of the Western myth, seems like another good one.
There are a lot of books released every year, and somehow, I missed one about Oklahoma City, which came out in 2018. After I heard author Sam Anderson on the podcast, I added it to my list and now can't wait to read "Boom Town."
So despite aspirations to catch up on reading this summer, I failed to read any of these highly-recommended books, and I ended up absorbed in some completely random ones: Dan Simmons horror and Scandinavian crime. It was a scary summer in many ways, but I was glad to learn about "The Book Review" so that I could recommend it to you.
Lauri Wilson is the cataloging and digital content manager at South Arkansas Community College.
Sponsor Content
Comments