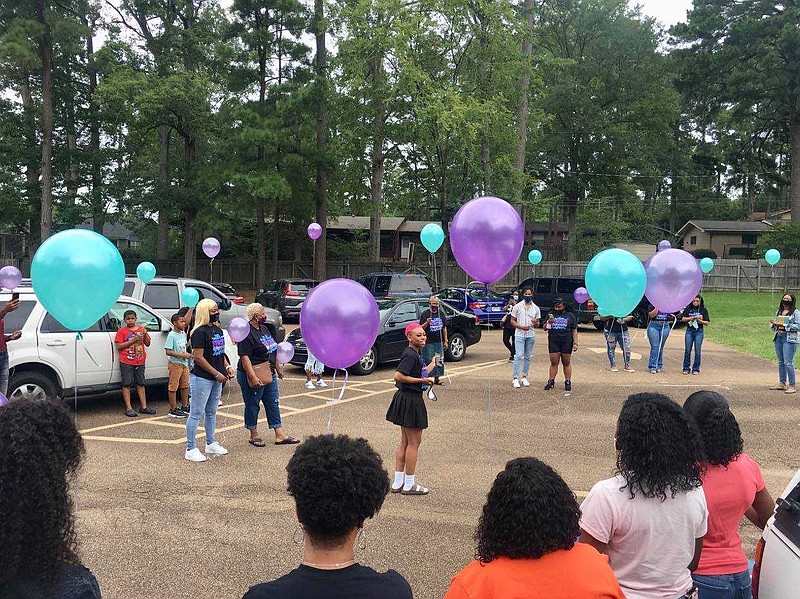 Kayla Hill speaks before a balloon release in remembrance of Alex Hicks, who committed suicide last year. Purple and teal, the color of the balloons, represent suicide awareness. (Marvin Richards/News-Times)
L.I.V.E was the resounding message of "Going Live For Suicide Awareness," Honoring Alex "AJ" Hicks on Saturday at the El Dorado Racquet Club.
Event speaker and author of "Born a Statistic: Living Rejected Agreeing with God", Shaneil "PJ" Yarbrough, took the word 'Live' and used it as an acronym as a tool for the audience to help and engage with those struggling with suicidal thoughts: L.I.V.E was Love, Investigate, Voice and Everyday. She encouraged everyone in the room to take to heart those words when wrestling with suicidal thoughts.
Yarbrough also shared a poem about one of her three suicide attempts. The earliest attempt came when she was 12. Yarbrough spoke in great length about the importance of seeking out help and for everyone to be attuned to their loved ones.
"Every 40 seconds, someone commits suicide. That's around 800,000 suicides a year around the world," Yarbrough stated. According to the World Health Organization (WHO) suicide data report, those numbers are correct.
Another speaker of the event was the Rev. Barry Dobson of St. John Missionary Baptist Church. His message to the crowd was to seek out help and to find the courage to speak up. He reflected on the importance of Saturday's gathering.
"Our community definitely needs events like this. There have been a string of suicides in El Dorado this year and sometimes people don't like to talk about it, but as a community we need to talk about it," Dobson said. "I'm so thankful Kayla had the courage to put this together."
Kayla Hill, a junior at El Dorado High and organizer of the event, was extremely proud of the turnout, she said. Close to 100 people were in attendance, including El Dorado's mayor Veronica Smith-Creer. Almost everyone in attendance wore t-shirts and masks with the event's theme and graphic etched on.
As one walked into the event, they'd see purple and teal balloons surrounding a display picture of the late Alex Hicks, who committed suicide earlier this year. Hicks' family was in attendance and encouraged by the community's turnout and support.
Gallery: Suicide Awareness event held in El Dorado
The balloons continued into the main event room where there was food, music and cupcakes with positive affirmations such as 'U R Not Alone' and 'Strength.' Pamphlets and booklets with information on suicide were available on the tables.
But even with the festive atmosphere, everyone in attendance understood the gravity of the event's mission. To round out the day, El Dorado High School coaches and event hosts DeAnthony and Ashlee Curtis called up counselors, one being Diane Williams of the David H. Preston Center for Christian Counseling, to create a safe space where attendees could ask questions or address any concerns they have around the topic of suicide.
"No one should ever feel shame to speak up. I know people don't like for others to be in their 'business' but when it comes to the matters of life and death, there is no 'business,'" Williams said.
Ezinne Nwude, MD and Chief of Staff at the Medical Center of South Arkansas spoke on the importance of holistic health and how the social health of one's life often gets ignored.
"You have to have good physical, mental and social health. Having good physical health but poor social health does not mean you're healthy. And it is important to make sure we are working on all three daily," Nwude explained.
Kayla Hill closed out the event with some words of her own.
"I'm so thankful you all came and I just hope everyone learned something today," she said. "That was the goal, for everyone to learn and take something away from this conversation."
Her words were met with a standing ovation and the balloons that invited everyone into the event were then passed out to attendees as a send off in a balloon release ceremony that capped off the day's dialogue and festivities.
The National Suicide Prevention Lifeline is available 24 hours a day at 1-800-273-8255.
Sponsor Content
Comments