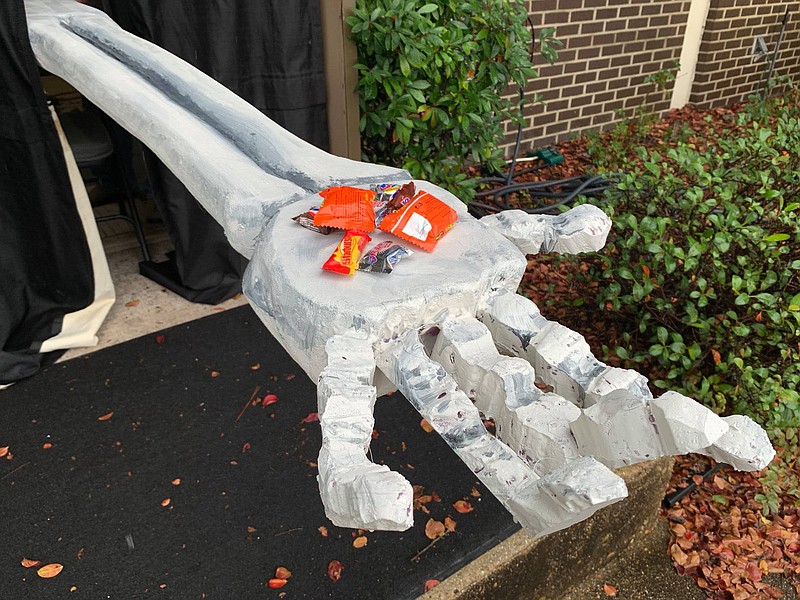 The South Arkansas Arts Center will host "Skeleton King" trick-or-treating today from 3:30 to 5 p.m. (Contributed)
Halloween events are scheduled throughout Union County for today and tomorrow, most aimed at children, but with a few targeted towards adults as well.
Along with the El Dorado Haunt, which continues through Oct. 31 starting at 7 p.m. each night in Parkers Chapel, churches, nonprofits and local businesses have tricks and treats planned for local residents during the most spooky holiday of the year.
Halloween events kick off today at various local businesses marked Safe Stops, including the News-Times, located at 111 N. Madison Ave. in El Dorado. Other Halloween trick-or-treating Safe Stops include: Charlie's Corner, Access Medical Clinic, Simmons Bank (on Grove and Timberlane), Superior Senior Care, Supreme Lending, Victoria Young - Edward Jones, South Arkansas Historical Preservation Society, Corner Post Shipping & Printing, Delek US, Computer Troubleshooters, Integrity Telehealth, All Care Pharmacy, One Heart Dojo, Larry's Pizza, Van Hook Tire Center, Telano Allstate Agency, Slim Chickens, Noalmark Broadcasting Corp, El Dorado Animal Hospital, Aero-Care Home Medical, DRD Printing & Supply, Audibel Hearing Services, Hudson Senior Center, Hudson Memorial Nursing Home, Neely Wholesale & Supply, Union Kennel & Farm Supply, Stars Cinema 6, Medlin's Metal Roofing, The Shaggy Dog Pet Parlor, Country Village Sporting Goods, Taylor Tire and Code 3 Services, as well as several locations in Camden. Safe Stop trick-or-treating will last from 3 to 5 p.m.
Starting at 3:30 p.m. today, the South Arkansas Arts Center's drive-through "Skeleton King" trick-or-treating will be held, continuing until 5 p.m. First United Methodist Church will host the First Family Community Trunk-or-Treat from 5 to 7 p.m. and Missionary Baptist Church, at 3104 E. Main, will host drive-through trick-or-treating from 5:30 to 7:30 p.m.
At 6 p.m., the South Arkansas Historical Preservation Society will host a screening of "Creature from the Black Lagoon." One must register with [email protected] to attend, and concessions will be available.
From 6:30 to 8 p.m. the Boys & Girls Club of El Dorado will host a Halloween CAR-nival, including drive-through trick-or-treating at their North West Avenue facility.
At 9 p.m. Friday, Chris Loggins "Rises" to play a show at the Downstairs Pub.
On Saturday, Scare on the Square will see downtown businesses offering candy to children again from noon to 4 p.m. Starting at 2 and continuing until 6 p.m., Kedira's Kandy Kitchen, located in Mellor Park Mall, will host 'Too Cute to Spook,' another trick-or-treating event.
At 4 p.m. the El Dorado Fire Department will begin their trick-or-treating event, with Sparky the Fire Dog on scene and EFD-style socially-distanced candy distribution, with plans to continue until 6 or until candy runs out. The Union County Animal Protection Society will also start their "Scary or Hairy" costume contest for children and pets in the SAAC parking lot at 4 p.m.
West Side Baptist Church, at 2400 W. Hillsboro, will host a "Sugar Rush" drive-through trick-or-treat starting at 4 p.m. as well and continuing until 6 p.m.
Starting at 5:30 and continuing until 7:30 p.m., Union Baptist Church, at 144 Crain City Road, will host a "No Tricks, Just Treats" event that will include a bouncy castle for younger children that attend. Parkview Baptist Church, at 608 W. 8th St., will open their drive-through Trick-or-Treat Zone at 6 and continue until 7:30 p.m.
On Saturday night, several adult-oriented Halloween events are scheduled. HotShots Sports Bar and Grill will hold a costume contest, with prizes to include $100 cash for first place; a $25 giftcard for second place; and a free entree for third place. The contest will start at 9 p.m.
Marilyn's on the Square will host the Soulpranos Halloween Special from 9:30 p.m. to midnight Saturday.
We at the News-Times also want to see your Halloween costumes! To share photos with us, visit eldoradonews.secondstreetapp.com/Halloween-costumes and submit a photo, or visit us during Safe Stop trick-or-treating today.
Sponsor Content
Comments