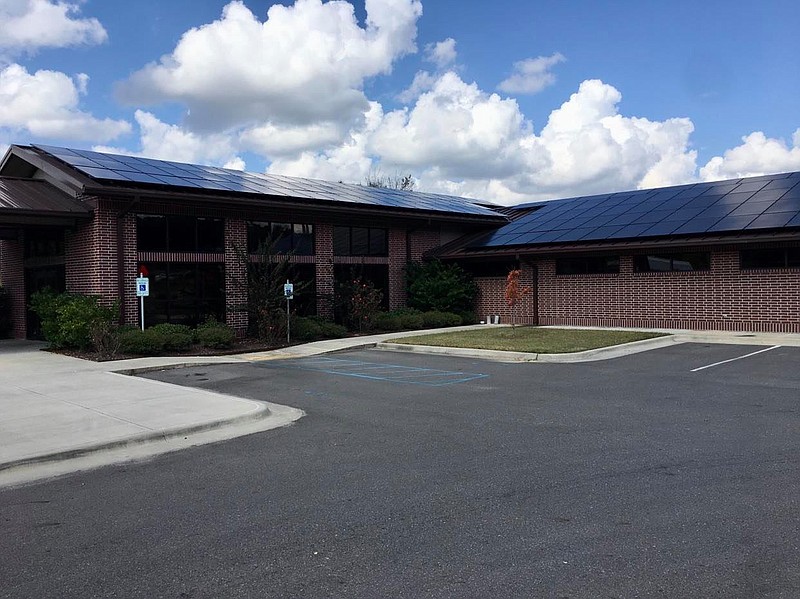 The Family Care of South Arkansas medical clinic recently converted its building to solar energy with the help of AEV Solar, a solar panel company based in Little Rock. Dr. Robert Watson said the conversion will save the business an estimated $279,000 over 25 years. (Marvin Richards/News-Times)
If one were to drive down North West Avenue in El Dorado, they would see a relatively new feature atop the Family Care of South Arkansas medical clinic: AEV Solar, residential and commercial solar contractors based in Little Rock, recently installed solar panels to the facility.
According to AEV Solar, the clinic is one of the first medical facilities in the area to go 100% renewable. They also estimate that the clinic will save over $279,000 over the next 25 years thanks to the conversion. When asked why the clinic decided to pursue solar energy to power its facility, Dr. Robert Watson said it seemed economical.
"A friend of mine put in some solar panels for his house and I asked him, 'who put those on for you?'" Watson explained. "And he gave me a contact at AEV. So, after speaking with them and learning that Matthew Shepherd (R-El Dorado), Speaker of the House (Arkansas General Assembly), made it so that you can get enough solar panels to cover up to 98% of your previous year's electric bills, tax breaks, return on investment, and it only taking about seven years to pay off these panels; I went on ahead and did it," Dr. Watson said.
When speaking with the News-Times, it was evident early on the passion Watson has for renewable energy and investing in things that are not only good for the environment, but also high-tech. He's owned a couple of electric cars. In the waiting area of the Family Care clinic, one will see descended down from the ceiling a three-wing modern and contemporary ceiling fan. Besides being energy efficient, it's eye-catching and a conversation piece. Watson's enthusiasm for being earth friendly extends to his home as well.
"I also had AEV come out to my house and they calculated my energy bills. And after everything was figured out, I had them install solar panels to my house and they did such a wonderful job," Watson shared. "My bill is zero now."
One of the hesitations people have towards solar panels is the upfront cost, but as Dr. Watson has learned, the out of pocket costs are not what they used to be.
"The way the system is structured now, solar does not come with an upfront cost," Jaimin Vashi, AEV founder and electrical engineer, said. "Solar panel installations will be financed by Arkansas Federal Credit Union, they have partnered with us so that for any commercial property, the solar panels are the collateral itself. So the business owner doesn't have to put his property up to get this financed."
"Second, the monthly finance bill is already lower than the business owner's monthly electric bill. So there is zero financial load or change from what the owners were already paying," Vashi continued.
"We started this company with the motto, 'If we don't make a killing it is okay but let's change the energy infrastructure of Arkansas,'" Vashi said. "Our goal is to first install solar panels at a cost effective point."
Vashi broke down how their motto and goal manifest specifically with the Family Care of South Arkansas clinic.
"For example, the average monthly electric bill for their clinic was $500-600 a month. The cost of solar financing for a customer is less than $400 a month. So no upfront costs, your bills (electric) go down to zero dollars and on top of that you're paying a financing bill that is less that the original overhead (electric) bills you were paying. Seems like a no-brainer," Vashi explained.
And because the panels have a 25-year warranty after they're paid off within the first five to seven years, Watson will practically pay nothing for energy for the next 18 years thereafter and it is how the company arrived at the estimated $279,000 in savings for the clinic.
Vashi is one of the three founders of AEV Solar. His other two partners include Kevin Mach, who oversees software, and John Ekdahl, who oversees sales and construction. According to AEV's website, they partner with and carry products from companies like Tesla, Solar Edge, LG Chem, Generac and more.
Solar panel installations are the launching pad for AEV but they have an ultimate goal in mind.
"For example, if ten businesses adapt solar then the next step is to get a Tesla battery in. Commercial batteries are available through Tesla… so our goal is to install cost effective solar panels, make people like the product, increase the adaptiveness of it and then install a commercial battery where people can be their own battery blast," Vashi said. "People can share electricity with existing lines, with their neighbors, without having someone intervene. That is the ultimate goal of our company."
Watson consistently praised AEV Solar when talking with the News-Times and said he appreciates the attention to detail they provided him.
"They are one of just 200 companies that have been certified by Elon Musk (Tesla founder) to install these panels. They do an excellent job and if you have any complaints, they fix it. They're obsessive compulsive when installing these panels and that's what you want when you decide to make a financial gesture this big," Watson said.
"The core of our message to people is what we were able to accomplish with Dr. Watson is no longer a dream. It is no longer a heavy financial burden. Solar energy has been made cost effective and Dr. Watson should be the prime example for other surrounding businesses. Solar is one of the only improvements you can do to your property and actually add substantial value to it and it pays for itself," Vashi concluded.
Sponsor Content
Comments