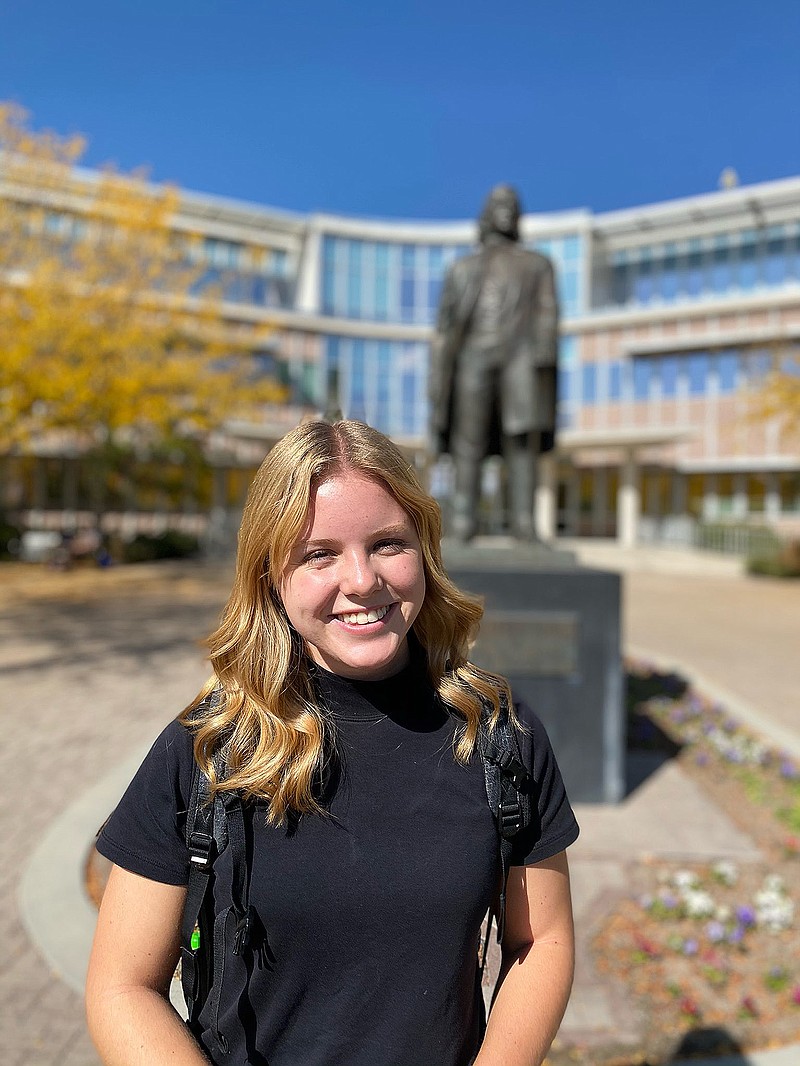 Now that she's studying at Brigham Young University, Lorin Utsch's main focus is her academic career. Seeking to make a difference in the world, she's majoring in journalism, with a minor in international development and plans to potentially attend law school after her undergraduate studies are complete. (Contributed)
Life can move fast, which tends to be overwhelming for some. El Dorado graduate Lorin Utsch has always seemed comfortable with the speed. Whether in the classroom or in the water or through her music, she has swum at a torrid pace.
Utsch graduated a year early from El Dorado in 2019. She is currently a sophomore at Brigham Young University with a 4.0 grade point average. She said she has no regrets about foregoing her senior year of high school.
"I used to have some doubts about graduating early, but then the pandemic hit, and now I am very grateful that I was able to get my freshman year of college in before all of the craziness," she said. "My freshman year was very helpful in my process of figuring out a more detailed plan for my future as far as career and studies. It gave me great groundwork to set me up for success this semester and I am grateful that I was able to figure all of that out early, so as not to feel behind now."
Utsch is majoring in Journalism, with a minor in International Development.
"I am taking classes to hopefully double major in International Relations," she explained.
Utsch, who was also a standout violinist in high school, said her focus is squarely on academics these days. Her goals in life are special, almost grandiose. Her accomplishments as an athlete were something to behold as well.
Utsch moved to El Dorado from Kansas City as a junior in high school. She competed in the state swim meet in 2019, finishing second in the 50-yard freestyle and 100-yard freestyle.
Had she swum her senior year, Utsch could've challenged for state championships and, undoubtedly, earned opportunities to compete at the collegiate level.
"When I moved to El Dorado and enrolled in classes for my junior year there, I decided that I wanted to graduate early since I already had most of my credits fulfilled already," Utsch explained.
"I had thought about swimming in college but never very seriously because I knew I wanted to focus on academics. I grew up swimming on the same team as all my siblings, so it was definitely a family-bonding activity to go to meets and cheer each other on. Once I started swimming more competitively, it really taught me just how much I can accomplish through intentional effort and it has given me a background that now keeps me focused on health and fitness even when I no longer swim. I miss swimming mostly due to the team aspect of it. Before I moved to El Dorado, I was swimming so much that I would see my coaches and teammates more than my family. It definitely was not a sustainable lifestyle, which is why I shifted my priorities after I moved. But I'm grateful for the friendships that grew from it. After I moved, swimming allowed me to meet like-minded people and continue to pursue something that made me happy. But the real joy of swimming is hard to replicate now that I do not have a team, so, in that way, I miss swimming."
Inside the most distinguished academic burns a competitive fire. Being so close to a state championship and not touching it was a bitter pill.
"At that point, I knew that the future held something more than just swimming for me. I knew going into that meet that it would be my last one so, though it would've been nice to win, I was more so focused on appreciating everything else swimming had brought me," said Utsch. "It was bittersweet, but I knew that chapter had ended so I didn't really allow it to keep me from graduating early."
Due to the COVID-19 pandemic throwing a soggy blanket over the Senior Class of 2020, Utsch's decision proved correct for a number of reasons. Her family moved while she was enrolled in Utah.
"My family actually just moved to Houston, since my dad works for Murphy," she said. "During normal schedules, I get to see them on holidays and over the summer, but a perk of quarantine is that I was able to spend most of the year at home with them."
Utsch said it is with some sadness her swimming and violin interests have waned. Classes eat up most of her schedule, which doesn't leave time for hobbies.
"However, I have become a master at multitasking and have found a great appreciation for audiobooks, especially when listened to at double speed," she said proudly.
"I have gotten more involved with the Melvin J. Ballard Center for Social Impact here on campus. I am currently working as a teacher's assistant for the social impact class called 'Do Good. Better,' and I am also a content editor for Ballard Brief, which is a database of research papers on various social issues. It has been super fun to combine my interests in social issues and writing, and everyone I work with is super inspiring, even if I have only met them over Zoom."
Big dreams
With athletics and music in her rearview, Utsch's plans for the future are quite large, although not yet carved in stone.
"I have loved writing for as long as I can remember. My 7th grade English class is really where I realized I enjoyed academic writing," she said. "As far as my passion for journalism, I entered college with two knowns - that I liked to write and that I wanted to be able to make a positive impact on the world. Because of this, I sort of defaulted to journalism, but after I began taking classes that were journalism focused, I began to realize just how much I enjoyed it. This being said, I still want to keep my future open to other opportunities that may allow me to have a greater impact, hence why I am considering law school. While my career path is not set in stone, whatever I pick will be sure to have a focus on writing and social impact."
The connection between journalism and law school isn't uncommon. Then again, a love of writing doesn't always lead to becoming a lawyer. Utsch was posed the very basic question – why?
"Right now, I am planning on going to law school because I think that is where I can have the greatest impact. I am super interested in social issues and human and civil rights, specifically the conditions of refugees and human trafficking victims, so if I continue a professional career in journalism, I would love to do some form of international reporting or investigative work. I will definitely continue to write while I am in college though," she answered.
"For right now, law school is my future academic plan, because the research I have done has shown me that a lot of the social issues I am interested in have legislative and judicial contributing factors or legislative and judicial potential solutions. I want to be able to give a voice to groups that feel they have none. I am particularly interested in the groups that are widely acknowledged as being victims of social injustice yet are continuing to be harmed. It intrigues me that such situations are openly seen as human rights problems but are still being perpetuated with little improvement of the overall issue. This idea is what brought me to become interested in human trafficking because it is viewed as a travesty by society and everyone seems ardently against it, and yet the United States has the most child victims of sexual exploitation and the human trafficking industry is the fastest growing criminal enterprise in the world. These people who are trafficked are restricted in their individual fight for rights, which I believe is why we should all be even more passionate and intentional in our help. While speaking up and drawing global attention to the issue provides great awareness and can lead to impactful change, I feel that people right now are aware, but the change is not yet occurring. By navigating the legal system to create heavier prosecution on human traffickers and child exploiters, and by working with the legal systems of other countries to enact sex tourism restrictions, I feel that we can create lasting and broad change to the entire issue. While subsequent measures will have to be taken to ensure the aftercare of these victims, I believe that an initial crackdown on the industry as a whole is a step in the right direction. As a journalist, I can call attention to the issue and put social pressures on both the traffickers and on the legislatures that allow the room for such an industry to grow. As a lawyer, I would be able to influence that legislation, and at least represent the victims in a way that can give them reparations and hopefully lead to policy change."
Sponsor Content
Comments