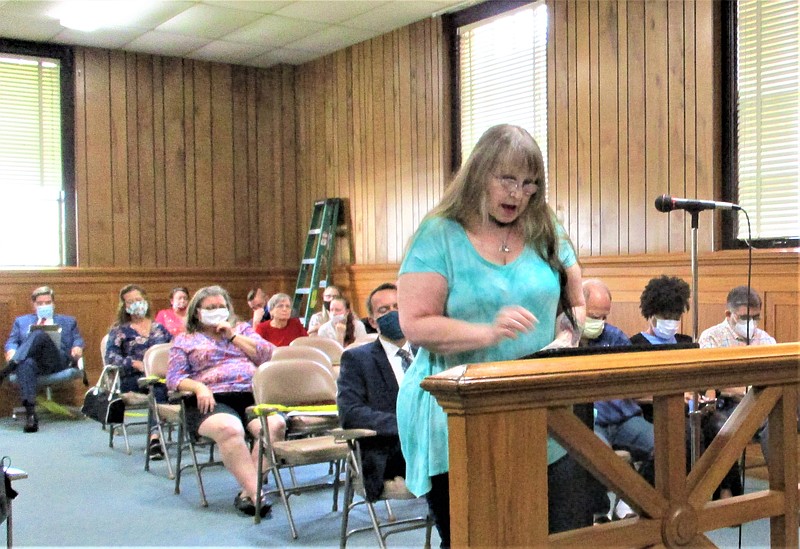 Shelli Henderson, a resident of Sunset Road, addresses the El Dorado Planning and Zoning Commission during a public hearing about a rezoning request that was submitted by T Ricks convenience store on Junction City Highway/U.S. 167. T Ricks is planning to install diesel fuel tanks on its existing footprint and is seeking to rezone undeveloped, residential property to expand its parking lot. Sunset Road residents opposed the petition during the public hearing Oct. 13. Henderson shared her perspective as a former truck driver. (Tia Lyons/News-Times)
The El Dorado Planning and Zoning Commission denied a request from a local convenience store to rezone a piece of property to expand its parking lot — a move that would accommodate plans to install diesel fuel tanks on the existing footprint of store property.
The petition from T Ricks, 3300 Junction City Road, came with much opposition and lots of questions, which planning and zoning commissioners are seeking to clarify.
One such question is when T Ricks would be eligible to file another petition with the city to rezone a piece of undeveloped land from a residential designation to commercial to build a gravel parking lot.
The parking lot would accommodate increased large-truck traffic that is anticipated with the installation of two new diesel fuel tanks on the store's existing footprint.
For now, Sunset Road residents, who vehemently objected to the petition from T Ricks, can rest easy.
The EPZC held a public hearing about the petition Oct. 13. After hearing from several neighborhood residents and attorneys who represent various interests in the matter, commissioners denied the T Ricks' petition as presented.
Sunset Road residents, city and Union County officials filled the El Dorado City Council Chamber, as much as social distancing requirements would allow, for the lengthy meeting.
Some of the overflow crowd listened on from chairs that were set up outside the Council Chamber in the atrium of City Hall.
Acknowledging that the situation was already emotionally-charged, Kelly Halstead, chairman of the EPZC, started the meeting by laying out a timeline for the petition and asking attendees to be respectful.
In the interest of time, commissioners dispensed with their regular business and solely focused on the T Ricks' petition.
Ten Sunset Road residents signed up to speak during the public hearing and initially, Halstead said each would be allotted approximately three minutes to speak.
Just over an hour into the meeting, commissioners waived the time limit in response to an objection by Council Member Willie McGhee, who contended that opening remarks by Halstead and a presentation from attorney Jeffrey Stone, representing JAMMIN Investments, LLC, on behalf of T Ricks, had taken up the meeting to that point.
"You took at least 10, 15 minutes and you gave Mr. Sawyer 45 minutes, so it's not fair to give the people on Sunset Road three minutes," McGhee told Halstead.
McGhee and Council Member Andre Rucks — who also attended the hearing — represent Ward 3, which encompasses Sunset Road.
Petition
On Aug. 13, JAMMIN Investments, LLC, filed the rezoning petition with the city to rezone 8.45 acres of land on the west/northwest side of the store.
Prior to the filing, Sunset Road residents had already heard about the purchase of the property by T Ricks and possible plans to add a "truck stop" to convenience store operations.
Halstead previously explained that she first heard about the matter from a Sunset Road resident in late June or early July.
Since a formal request from T Ricks had not yet been filed with the city, Halstead said she advised the resident to send a letter of opposition to City Clerk Heather McVay's office.
A petition to prevent the rezoning followed on July 1 and contained 22 signatures from Sunset Road residents.
Other residents sent letters and flooded City Hall, city officials and EPZC members with calls to express their discontent with T Ricks' plans, arguing that such an expansion could lower residential property values and lead to increased noise, lights, traffic, fumes, litter and illicit activities, such as drugs and prostitution, that are commonly associated with truck stops.
A public hearing that had been set for September was postponed at the request of Sawyer, who experienced a family medical emergency.
Legal notices announcing the public hearing were posted and re-posted in the News-Times for the initial hearing and the hearing that was rescheduled for Oct. 13.
Such notices must be posted at least 15 days prior to an EPZC public hearing.
On Oct. 13, Sawyer said his clients will move ahead with plans to build a canopy with two diesel fuel tanks whether or not the rezoning request is approved.
Approximately 2 of the 8.45 acres will be used for the parking lot expansion, he said.
"The idea is that trucks would enter on the east side of the store and circle around back to the new diesel pumps," Sawyer explained. "That area would be used for truck parking. That would allow trucks to park, turn around and do whatever they need to do."
The 8.45 acres stretches toward residential property lines on the north side of Sunset Road, which is about two blocks south of T Ricks.
Sawyer said a wooded area that measures more than a "football field" serves as a natural buffer between the convenience store and the neighborhood.
Sawyer's comments pointed to a question about the amount of acreage that was included in the petition versus the acreage that T Ricks actually plans to use for the parking lot expansion — issues that were later raise by attorney Gary Burbank, who provided legal clarity about the petition that had been submitted.
Burbank and planning and zoning commissioners asked how close the expansion would come to the Sunset Road neighborhood.
Council Member Mike Rice, who represents Ward 1, made similar statements, saying that a more detailed legal description of the property and its intended use is required.
Burbank also questioned the request to rezone the property from R-1 (single family residential) to C-4 (neighborhood commercial), which complements neighborhood land uses and limits 24/7 business operations and land usage to 5 acres.
"So, the very least we can do is follow our own rules and what this petition is filed on to be was a petition to rezone 8.4 acres to C-4 and neither of those is what's being presented today," he said.
"I don't believe it's legal and I know it's not fair to represent it to be one thing, publish it in the newspaper and have the neighbors all here and have it turn out to be something else," Burbank continued.
He said that C-2 (general commercial) would be a more appropriate designation because it allows for activity such as the plans that were proposed by T Ricks.
Sunset Road resident Shelli Henderson was among several residents to voice her opposition to the rezoning petition.
Henderson shared her perspective as a retired truck driver and pointed to several regulations that pertain to the truck driving industry.
For instance, she said engines in refrigerated trucks cannot be turned off and because the engines are so loud, many lodging establishments refuse to rent to truckers.
Henderson said she visited truck stops across the country during her 27-year career as a truck driver, telling commissioners, "I've never seen one near a residential area."
"T Ricks is not a truck stop. It's a convenience store. It's a yard-bird stop. In trucker language, a yard-bird stop is a place where you can get day-old fried chicken," she said.
Henderson also noted that T Ricks is not a 24-7 operation and does not need a truck stop component because the Arkansas Welcome Center is located across the highway from the convenience store.
Additionally, she said local trucking companies and other industries to which truckers haul and pick up loads have diesel fuel stations on their properties.
Henderson also said that despite efforts to curb crime at truck stops, she has witnessed such illegal activity as prostitution and drug and human trafficking, noting that she was once "beaten up" when she intervened in such activity that involved a child at a truck stop.
Sunset Road residents also expressed concern that if the full 8.45 acres is rezoned, the new zoning designation leaves room for additional expansion in the area.
After hearing from petitioners on both sides of the matter and a brief recess upon the request of Sawyer to confer with his client, the EPZC denied the T Ricks request.
Kinslow initially said the commission could table the matter and T Ricks could withdraw the petition, revise it and resubmit it after details identifying the actual acreage that will be used and the appropriate zoning designation are clarified.
He said such a situation has never arisen in the history of the city's zoning ordinance, which was adopted in 1997.
There was also a question about when the rezoning petition could be resubmitted.
Per EPZC bylaws, if a petition is denied, the petitioner must wait a year before resubmitting the same or a similar petition.
However, a petition may be submitted sooner if the EPZC determines that it is a different petition, Halstead explained.
Commissioners ultimately denied the request as presented and Halstead and Kinslow said they would research the matter further.
Sponsor Content
Comments