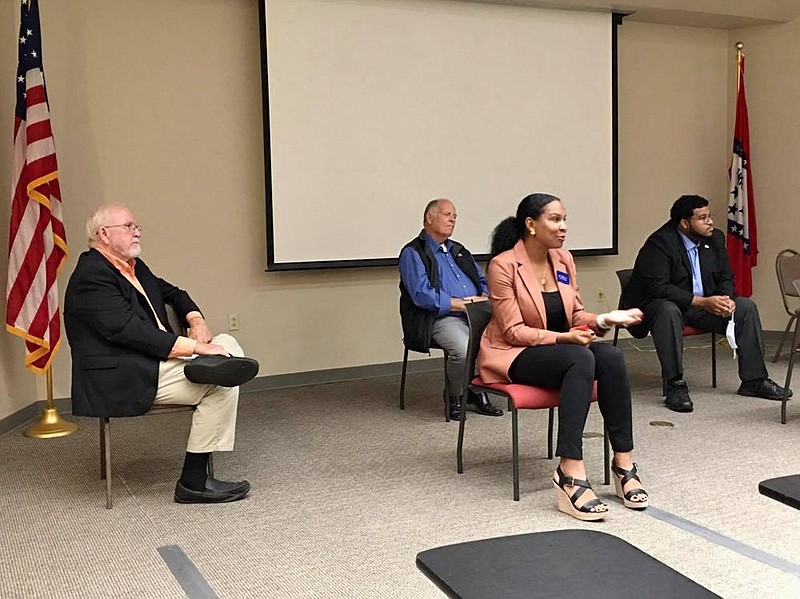 Several candidates for office appeared at Thursday evening's political forum, organized by the local chapter of the NAACP. Pictured in the foreground is Keidra Burrell (D), who is running for State Senate District 27; behind her, from left, are Frank Gilbert (L), who is running for United States Congress District 4; Dean Storey (R), incumbent Union County Justice of the Peace for District 4; and Ricky Dale Harrington (L), who is running for United States Senate. (Marvin Richards/News-Times)
The National Association for the Advancement of Colored People (NAACP) held a political forum entitled "Know the Issues" on Oct. 15 at the South Arkansas Community College library. This is the second political forum within a span of two weeks that the NAACP has hosted.
A substantial crowd was in attendance, wearing masks and socially distancing themselves within the auditorium.
The first part of the forum centered around the 2020 Voter Guide that outlines Arkansas Ballot Issues voters will be faced with general election. The voter guide presentation was produced by the Public Policy Center at the University of Arkansas System Division of Agriculture. Robin Bridges, Union County Extension Agent, led participants through the voter guide.
"This is the third time that Janice Bush has invited me to come and speak to members of the NAACP in Union County and to present the issues that will be on the ballot, so I'm thankful for that," Bridges said.
Bridges went over each issue that Arkansans will get to vote on this year, including making permanent a 0.5% sales tax for state and county roads (Issue 1); changing the term limits of members for the state's General Assembly (Issue 2); and possibly changing the citizen initiative process and votes required for legislative proposals (Issue 3). Everyone in attendance got a voter guide and the floor was open for questions during Bridges' presentation.
After the voter guide presentation concluded, the forum shifted into a panel discussion featuring the state and national candidates up for election.
Pastor Horace Charles, who moderated last week's NAACP political forum, was back to moderate this week's panel. He started the discussion with an opening that was familiar to those in attendance the week before.
"I would like to welcome our viewers, both here in the United States and around the world. And for those of you joining us live stream, I am Horace Charles and welcome to the NAACP Situation Room," Charles said, eliciting laughter from the audience.
Charles' lighthearted comedy continued as he settled the audience before getting into the issues facing voters.
"I will tell you like Liz (Elizabeth) Taylor told her ex-husband, 'I won't keep you long,'" Horace Charles said, drawing further laughter from the crowd.
The candidates sat in socially distanced chairs in the front of the auditorium. The candidates in attendance included Democrat Keidra Burrell, running for State Senate District 27; Libertarian Ricky Dale Harrington, Jr for United States Senate; Libertarian Frank Gilbert for U.S. Congress District 4; and Republican Dean Storey, incumbent Union County Justice of the Peace for District 4.
Republican Senator Trent Garner, who is seeking re-election for State Senate District 27, was also in attendance but had to leave early due to a prior commitment - his anniversary. He gave an opening statement and answered one audience question before he left.
Garner talked about being a native to El Dorado, his family background, his years of service in the National Guard and as a Green Beret, where he served two tours in Afghanistan; he said his history led him to want to be of service to El Dorado and Union County.
"My mom always told me, 'don't forget your raising; know where you came from.' I left here, joined the military, got my education and came back here," Garner said. "But as soon as I could, I came back to south Arkansas, because we are a great place down here and we can continue to advance our community."
Garner closed his statement by offering his contact information to the audience and encouraging them to reach out to him. His invitation prompted an audience question from Democrat Kensel Green, who is running for the Ward 4 - Position 2 seat on the El Dorado City Council.
"On June 10, I sent you an email and I'm sure you get a lot of them. But I'm concerned because I read an article on a local inmate that died because of COVID-19. So I'm under the impression that inmates are being underserved as it relates to health care… do you have any plans on how we can correct how we are giving health care to inmates and if so, what are they?" Green asked.
"There were mistakes made and we can always do it better. But what I can tell you is there was a real concerted effort in the state Senate and General Assembly to help out our inmates," Garner responded. "My philosophy is 'do the crime, you got to do the time,' but those are still people, they still have a life, they still have a family… so it is very important that we keep them safe as best as possible." Garner apologized to Green for not responding to her email and thanked the audience before leaving.
Gallery: NAACP "Know the Issues" Political Forum
Charles proceeded with the remaining four candidates, asking a litany of questions.
"What issue or issues caused you to seek office, and what do you plan to do about it?" was the opening question Charles presented to the candidates.
Keidra Burrell: "I'm from New Orleans, Louisiana and I was raised by a single parent and I saw the impact of education in our community. Through quality education I saw the impact of access to health care. When I was the Chief of Staff for the city of Pine Bluff, I saw those things dwindling away. Our schools were taken over by the state and no one was screening for our children. So my husband and I talked about it, prayed about it and felt it was time for our community to have a voice that cared for the needs of the community instead of a personal agenda. I don't have a personal agenda, I just want our community to be great."
Frank Gilbert: "There isn't a single issue that drove me to run for election. It is the fact that our country is in serious trouble. It has gotten that way…well longer over the course of my lifetime. And it is because the old parties, Democrats and Republicans, have run our country exclusively for more than 150 years. Every problem we face is either caused by or exacerbated by the duopoly of Democrat and Republican party politics. You have suffered, I have suffered, our country has suffered, and our children, grandchildren and their children will suffer unless we do something different. I want to do something different and I want to do it this election."
Dean Storey: "I think there are some contributions that I, as a retired person, can address. Some of those have to do with voting. For example, we now have a new voting system. We now have voting centers and you don't have to go to your former place to vote. You can vote anywhere in Union County. Roads have always been a big part in being a Justice of the Peace. There was a move to try and close off a part of Hinson Road and we were able to fight that off. And it has allowed people to come and go to El Dorado, as they have been for over 100 years."
Ricky Dale Harrington, Jr: "Did everyone see the presentation on the ballot issues? Did it make you angry? It made me angry, not because of the presenter but because of Issue No. 3. From 1992 to 2014 to now, we have seen a change in term limits. We see the people who have the power, representing us, giving themselves more power. I'm one of you and this is what led me to want to run for office… I see there's inklings of authoritarianism in our own government, that got me fired up and that's why I'm running. We have people in power that are only concerned about themselves, concerned about their cronies, concerned about how much money they make. That infuriates me and I hope it infuriates you and that you will take that energy to the polls this November."
Charles asked several questions that pertained to Black Lives Matter, the Confederate monument in downtown El Dorado, principles versus partisanship, COVID-19, Union County economics, health care, the idea of "Make America Great Again" and more.
Given that the panel was held in part to provide constituents a comparison between candidates, the last question Charles asked dealt with this matter. He set up the question by talking about his background as a basketball referee and how in the game of basketball there are simple violations and there are also fouls.
"In this political game, has your opponent committed simple violations or are they about to foul out?" Charles emphatically asked, garnering a collective "ooh" from the audience.
Keidra Burrell: "Well I believe my opponent (Sen. Garner) is about to foul out because I'm going to win. That's it. He has had four years to make a change and make a difference. I don't know about you all but I haven't seen it. So he has fouled out, and I'm going in."
Frank Gilbert: "Bruce Westerman (Gilbert's opponent) is a fine gentleman. But like a lot of us, he has committed both fouls and violations. The violations we can live with. The hard foul is wrapped up in this: the voters of Arkansas voted to make medical marijuana legal in this state. Wouldn't believed it would have happened in my lifetime… every member of the Arkansas delegation, including Mr. Westerman, voted against that law. All four of our congressmen don't give a damn about what you vote for, what you think or what you want. And those folks need to be out of here."
Dean Storey: "I'm thankful I don't know what my opponent (Gary New-I) stands for. So therefore I don't have a stance on any of his positions and I will go with that."
Ricky Dale Harrington, Jr: "Everyone knows whom I'm running against (U.S. Senator Tom Cotton). I don't know if that is all I need to say, but let me go ahead and say something anyways. If you have a sitting senator that says we shouldn't give Americans or certain groups of Americans 'no quarter,' you know what that means. And that's all I will say on that."
'No quarter' is in reference to a June 1 Tweet that Sen. Cotton posted suggesting the outlawed military practice as a response to the national protests in the aftermath of George Floyd's death.
"And, if necessary, the 10th Mountain, 82nd Airborne, 1st Cav, 3rd Infantry—whatever it takes to restore order. No quarter for insurrectionists, anarchists, rioters, and looters," Cotton tweeted out. "No quarter" is a military term that implies enemy combatants in battle wouldn't be captured but killed instead.
After the candidates responses to the last questions they all made final remarks and thanked everyone for coming out and engaging with them on the issues facing voters this November.
Charles concluded the night by telling the candidates voters will hold public office-holders accountable.
"It is my view that we don't just see you during election time. This time we will hold you accountable through the public office pledge you all have signed. Should you be elected, the office you hold should change you. You must bring to the office dignity, not pride; honesty, not lies; justice, not hate; character, not chaos; respect, not name calling; giving, not taking; unity, not division. That's what we want to grow when we plant our voting seed in you."
Sponsor Content
Comments