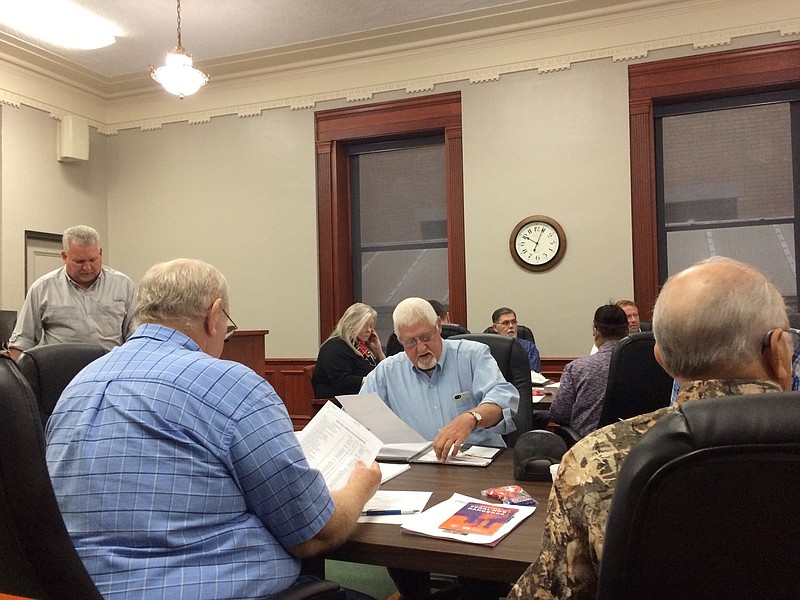 The Union County Quorum Court met Thursday, where they briefly discussed their support for Issue 1, a ballot initiative Arkansas voters will decide on during this year's general election. (Caitlan Butler/News-Times)
The Union County Quorum Court passed a resolution last month supporting Arkansas Issue 1, a ballot issue that will appear on all state residents' general election ballots this year.
"Issue 1 puts $538,000 (to) $540,000 into the highway budget for the county. And in addition to what the county gets from Issue 1, all of the incorporated cities in the county get a share of that tax also," Union County Judge Mike Loftin said.
Issue 1 would make permanent a .5% sales tax that is currently set to expire in 2023. According to a voters guide produced by the University of Arkansas Extension Service (UAEX), the tax generates approximately $300 million each year, about 30% of which is distributed to county and city governments for county and city roads.
The resolution was passed unanimously by the Quorum Court, members of which spoke about Issue 1 again on Thursday, when the body held its October meeting.
"This is very important for the whole state of Arkansas and every municipality that we get this tax passed," said Cecil Polk, Justice of the Peace for District 6. "It's not a new tax; it's ongoing."
The tax was originally put into place in 2012 with Constitutional Amendment 91, which was also a ballot issue that 52% of voters approved. Approximately 30%, or about $88.1 million, of the revenue generated from the tax has been turned back to counties and municipalities annually since the tax went into effect in 2013.
Loftin said Union County receives about $1.3 million for roads from the tax each year.
"Our part that goes to the road department, that I desperately need, is $540,000 a year," Loftin said, explaining that the rest of the funds are distributed to the municipalities within the county. "It won't be any additional tax to what you're paying now."
The sales tax, which does not apply to groceries, has thus far helped to fund 16 highway improvement projects to completion through the state Department of Transportation, as well as 12 that are currently under construction, including several in south Arkansas. A plan to widen six miles of Highway 82, in Union County, is also planned to start construction later this year, according to the Connecting Arkansas Program website.
An ARDOT representative recently spoke to the El Dorado Rotary Club about Issue 1 and the upcoming Hwy. 82 widening project, saying it is a high priority for the department.
David Archer, District 7 Engineer for ARDOT, said that once the Hwy. 82 widening project is complete, the road will be reverted back to the city of El Dorado. He touted the addition of two roundabouts on Hillsboro Street that will be constructed as part of the project, saying he's found them easy to use.
"These will be the first in south Arkansas that I've been around," Archer said. "I think it'll be a lot better than the traffic lights, personally."
Ongoing work on Highway 167, which connects El Dorado to Little Rock, is also part of the Connecting Arkansas Program. Archer said during his recent presentation that once that work is completed, potentially by early 2022, there will be a multi-lane highway the entire length of the drive to Little Rock.
Archer estimated that the .5% sales tax Issue 1 would provide for costs the average Arkansan about $8 each month.
Improving transportation was a significant aspect of Gov. Asa Hutchinson's 2018 reelection platform, as well. A statement he issued in February, 2019 estimates that improving most of the state's most-used roadways would create 3,900 jobs and generate $8 billion in economic activity over 10 years.
According to the voters' guide produced by the UAEX, Arkansas ranks among the top of states in the country in the number of miles of public roadways; however, the state ranks among the bottom in state funding for those roads.
Hutchinson is scheduled to visit El Dorado Monday to speak about Issue 1; he will appear at the Murphy Arts District (MAD) Amphitheater pavilion at 2:30 p.m. that day. He has publicly supported voting for the issue, including in the previously referenced statement, when he originally announced his intention to ask the state General Assembly to refer the issue to the ballot this year.
"Issue 1 is good for our businesses, our safety, and our future. But most of all, it's good for you. By voting for Issue 1, you can help fix those damaging potholes and keep our supply lines running, all without raising taxes and making sure the money goes where it's supposed to go," Hutchinson wrote in an opinion column for the Arkansas Democrat-Gazette on Oct. 15. "Potholes make our life harder and cause costly damage to our cars, and waiting in traffic means lost time and fuel by sitting still. But good roads help keep food, supplies and medicine on the shelf at our local grocery stores. They also keep our children safe on school buses, and our loved ones with access to first responders in emergencies."
According to the UAEX voters' guide, opponents of Issue 1 have said they do not support the ballot measure for reasons including promises from lawmakers not to increase taxes; the lack of provisions for public transportation within the Connecting Arkansas Program; and the potential for mismanagement of funds, among other reasons.
"The county's road budget is almost $6 million (per year)," Loftin said. "We have about $2 million a year in a budget line strictly for asphalt, and that's mostly where this ($540,000) goes. It's very important to Union County as a whole, because the cities use that money for street repairs and overlay and all that kind of stuff too."
Sponsor Content
Comments