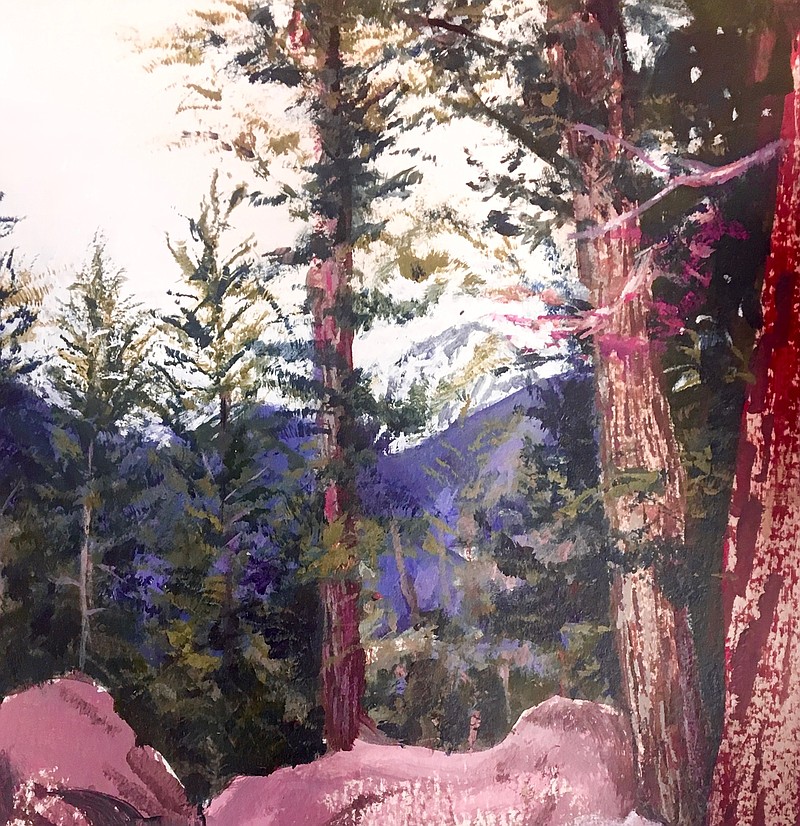 "Landscapes are around the corner in our backyard, just add some contrast and vivid colors," local artist Maria Villegas, who will host a four-part watercolor workshop starting Tuesday, said. (Contributed)
The South Arkansas Arts Center is inviting the community to sign up for a four-part Watercolor Workshop taught over Zoom by local artist Maria Botti Villegas.
The Zoom classes will be held on Tuesday nights, with the first class experience scheduled for Oct. 20 from 6 to 7:30 p.m. and continuing the following three Tuesday evenings. This can be a fun and interesting way to hone your skills or start a new hobby… virtually!
In this workshop, Ms. Maria as she is affectionately called by her students, will teach participants how to paint a landscape from Arkansas, the Natural State, and will demonstrate how to choose an appropriate landscape from a photo, a magazine or by viewing a setting. From drawing and sketching to painting with watercolors, Ms. Maria will give her students the confidence to create a colorful landscape.
This is a workshop intended for beginners as well as more experienced watercolor painters. It is a painting workshop, but basic notions of perspective, composition and landscape drawing will be taught. Class cost is $125.
"I like to stimulate students to take sometimes a first step in creating a landscape," Villegas said. "In Arkansas we are surrounded by wonderful hills, native prairies, strong tree trunks and powerful sun light. Let us take advantage of this incredible environment to create our own particular way of envisioning the world around us."
Villegas, a muralist, illustrator and multidisciplinary artist, was born in Buenos Aires, Argentina. She holds a five-year degree from Pueyrredón School of Fine Arts in Argentina. In 1992, she moved to El Dorado and became an Arkansas Arts Council Artist-in-Education (AIE artist).
As a working artist, she has participated in numerous exhibits and competitions in Arkansas, Louisiana and other states, winning many awards including the 2001 scholarship from the Committee of The National Museum of Women in the Arts in Washington, D.C. She has also painted 30 public murals in Arkansas and Louisiana.
Villegas has been a teaching artist at the South Arkansas Arts Center Arts Academy and an AIE artist in the school system in levels K-12 for more than 25 years. Maria also teaches art forms and art therapy at her studio as a way to channel myriad emotions. She shares her art with her husband, artist Jorge Villegas, her students and with Lulu and Krishna, her cats.
For more information on this art experience, call the SAAC office to register at 870-866-0707 or visit saac-arts.org. SAAC is located at 110 E. 5th St. in El Dorado.
Sponsor Content
Comments