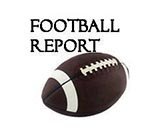 PARKERS CHAPEL – Junction City's triumvirate backfield of Jamal Johnson, K.D. Smith and A.J. Ivory combined for five touchdowns, as the Dragons knocked off Parkers Chapel 53-14 in an 8-2A clash at Victor Nipper Stadium on Friday night.
Smith had 164 yards and two touchdowns on 15 carries, while Johnson chipped in with 149 yards and two scores on 15 carries in the win for Junction City, who had 395 of their 445 yards of total offense on the ground.
The Dragons (3-2, 1-1) overcame a sluggish start to top the Trojans (1-6, 0-2), who lost their fifth straight.
As was the case last week against Fordyce, Junction City turned the ball over on each of their first two possessions, and the Trojans took advantage with Trace Shoup firing a 45-yard strike to Lancer Clark to open the scoring at the 8:55 mark of the first quarter.
Junction City answered just 1:51 later with Johnson scoring on a 3-yard run to tie the game at 6-all.
The score remained unchanged through the end of the first quarter thanks to the Trojans' defense making a goal-line stand late in the stanza.
However, the Dragons would extend their lead in the second period.
Following the goal-line stand, the Trojans went three-and-out, and after a short punt, the Dragons drove 33 yards in just two plays with Johnson scoring on a 12-yard run to give the Dragons their first lead of the game. Johnson added the 2-point conversion to make it 14-6.
The Dragons' defense then came up with a big play, as Corey Dubose intercepted a pass and raced 36 yards to paydirt with Johnson's 2-point conversion pushing the lead to 22-6 with 9:42 left in the half.
Parkers Chapel sliced into the lead after a dropped snap on a punt near the goal line set up a 1-yard run by Shoup with Edison Thompson's 2-point conversion run making it 22-14.
But the Dragons answered on the ensuing possession with Smith scoring on a 25-yard run and adding the 2-point conversion to give Junction City a 30-14 edge at halftime.
The Trojans opened the second half by driving into the red zone, but turned the ball over on downs.
Ivory then scored on a 4-yard run and added the 2-point conversion to push the lead to 38-14 with 4:01 left in the third quarter.
The Dragons capped the scoring in the contest with Smith scoring on a 45-yard run with Gabe Richard connecting with Cam Frazier on the 2-point conversion in the third quarter before Kam Torrence scored on an 8-yard run with A'Donnis Jones' extra point in the fourth quarter making the final margin.
Junction City will host Hampton next week.
Parkers Chapel will hit the road to face Fordyce.
Sponsor Content
Comments