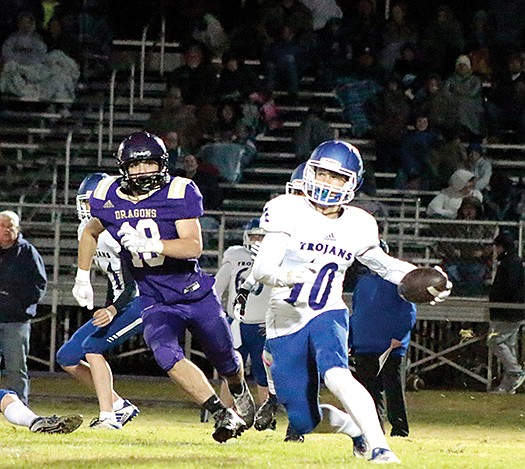 Caleb Slinkard/News-Times In this file photo, Parkers Chapel's Trace Shoup (10) tries to elude Junction City's Tate Barnett (18) during their 8-2A clash in 2019. The Union County rivals collide tonight at Parkers Chapel with each school coming off of a loss a week ago. Game time is at 7 p.m.
Two schools looking to build momentum toward November collide tonight in Union County.
Fresh off of playing their first game in 28 days, Junction City heads to Parkers Chapel for an 8-2A clash.
Game time is set for 7 p.m. from Victor Nipper Stadium.
The Dragons (2-2, 0-1) fell to defending 2A state champion Fordyce 21-6 last week with two early turnovers leading to scores that gave the Redbugs a lead that turned out to be insurmountable.
The Trojans (1-5, 0-1), who are playing their final home game of the regular season, dropped their fourth straight after falling to Bearden 36-0.
Prior to facing Fordyce, Junction City hadn't played since topping Foreman on Sept. 11, and Parkers Chapel coach Elliot Jacobs knows the challenge that lies ahead for his team.
"You can definitely tell that they had been off for a couple of weeks," Jacobs said. "You always worry about conditioning there, but Junction competed hard, had a couple of miscues early, and if they don't have those, it's probably a different game.
"They're the same Junction team they've been. Very dominant up front, great skill kids, very well-coached. It's going to be a tough opponent for us. You had two of the top teams in the state competing last Friday, and we've got them in back-to-back weeks. We've got Junction first, and we've got to play a perfect game to have a shot to be in it."
Junction City coach Brad Smith said the early turnovers were pivotal.
"We gave them two early ones," Smith said. "Not taking anything away from Fordyce, they're a very good football team. We gave them the ball on our end twice within the first six minutes of the game, and they cashed in. We made a big goal-line stand right before halftime.
"It seemed like in the second quarter, we caught up with the speed of the game as far as not used to seeing somebody that fast and that quick just because we haven't been playing. We played a lot better from that point on, but it still wasn't good enough though. Everybody wants to always make an excuse or whatever. You can't drop the football in a big game like that, and that's what got us."
Since beating Lafayette County last month, Parkers Chapel was downed at Prescott and fell just short in losses to Magnet Cove and Murfreesboro before dropping their 8-2A opener to Bearden, but Jacobs said the score doesn't reflect on the performance of the Trojans' defense against the Bears.
"Defensively, even though the score doesn't show it, it was by far one of our better games," Jacobs said. "Other than two big plays, we kind of held them at bay. Offensively, we had a few too many turnovers that led to easy scores for them, and a couple of special teams miscues, so really defensively, we only gave up only two or three touchdowns and they were both blown coverages for us.
"It's stuff that we have to get corrected. I thought our kids played hard. We had a chance, it's just offensively, we've got to figure out what we can do to put some points on the board."
The Trojans' offense has been up and down, having been shut out twice, but also averaging 27 points per game in their other four games. For Jacobs, translating good execution from practice to games is something he and his staff are working on.
"It's my fault for not having the coaches and players ready," Jacobs said of the offense's performance. "We executed perfectly in practice, and we've got to figure out what makes Friday different than any other day. We've got to be able to take our good practices and turn them into good performances on Fridays.
"We haven't done that the last few weeks. It's something we have to correct as coaches and players. We've got to keep getting better every day and know that eventually, it's going to click for us."
Smith said the Trojans have continued to evolve as the season has progressed.
"They've got good kids, and it looks like they're making progress every week," Smith said. "They lost the guy that made them go, and they're still searching in that regard, but they're a very dangerous football team."
A year ago, the Trojans and Dragons collided in the final week of the season to determine the 8-2A champion, and Smith said his players enjoy the rivalry.
"It's just a game that our kids look forward to playing," Smith said. "They see each other. They know each other. They're friends. They talk all the time. They play on summer baseball teams together. It's a good-natured, friendly rivalry."
With four weeks left in the regular season, it's easy to start looking forward to the postseason, and Smith said the Dragons will work diligently on improving before seeing where their path takes them.
"Get better, assess your performance and assess which direction you want to go, then work on getting there," Smith said. "See things that you need to improve upon and work on it. Our goal is to get to Little Rock. Last year, we won this game here and Fordyce had to go on the road. They had some long trips, but they ended up getting there and winning the whole thing. We did that in '09. Bearden beat us. We got on the road, and I think it was close to a thousand miles for three trips. We won the title off Bearden in '09. Getting there is the key."
For Jacobs, limiting big plays will be crucial for the Trojans to have success.
"Defensively, we've got to limit their big plays, try to make them punt as much as possible," Jacobs said. "Offensively, if we get good field position, we've got to end it with points. No turnovers. Special teams, no big plays or turnovers."
Smith said he is looking for a better performance in all facets from his team.
"We've got to play better on both sides of the football," Smith said. "We've got to execute better. We've got to quit doing silly things, protect the football, establish both lines of scrimmage a little bit better."
Sponsor Content
Comments