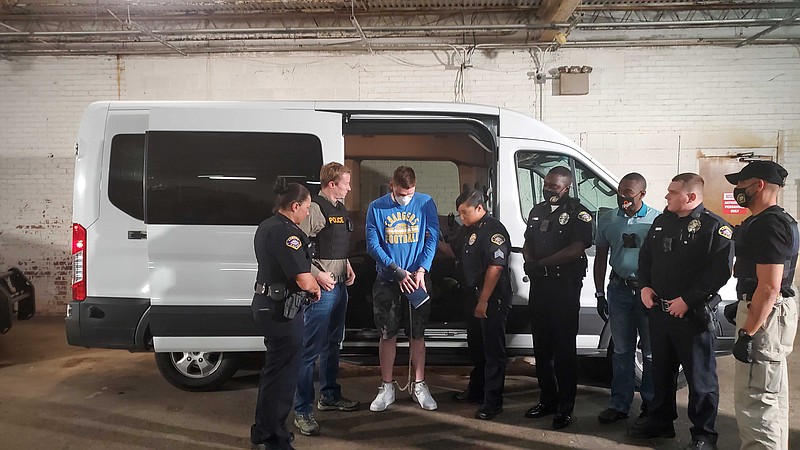 Jory Worthen is escorted by a host of police officers as he arrives at the Camden Police Department Thursday afternoon. Worthen is charged with two counts of capital murder related to the homicides of Alyssa Cannon and her son Braydon Ponder. (Bradly Gill/Camden News)
Camden Police Department Officers arrived Thursday afternoon with Jory Worthen in custody after a sixteen month long manhunt for the double homicide suspect.
Worthen is charged with two counts of capital murder for his alleged involvement in the deaths of 25 year old Alyssa Cannon and her four-year-old son Braydon Ponder.
A warrant filed by Camden Police Department in June of 2019 details a note found at the crime scene allegedly left by Worthen that states, "I'm sorry. I should have stopped drinking, and Alyssa was trying to kick me out because of Sydney. I lost it and finished it with instant regret. I have to die and be with them. I can't stay here. My dad can have all of my things if he wants them. I should have got help a long time ago. If I can't have them and be with them nobody can. I wish I could go back."
At the time of the murders, Cannon had a restraining order against Worthen, but he was still living with her.
Worthen allegedly fled in Alyssa's vehicle, which was later found abandoned in a parking lot in Seattle, Washington. The Western Arkansas United States Marshals Task Force was brought into the investigation to assist with apprehension since Worthen had crossed state lines and was believed to be armed and dangerous.
The investigative efforts by all agencies involved with Worthen led them to a hotel in Burbank, California on Oct. 5. After being identified by law enforcement, according to a press release from the U.S. Marshals, Worthen ran from law enforcement, but was found and taken into custody after a short foot pursuit.
On Thursday, Worthen arrived in the custody of the Camden Police Department, who sent officers earlier in the week to obtain him from California.
Worthen exited a van, in chains and wearing a San Diego Chargers shirt, holding a book. He was then taken into the Camden Police Department and booked.
"Today's has been, as I've said — it's been a long sixteen months, and it brings us one step closer today. Jory Worthen is in police department custody here in Camden. He's being booked in and in just a few (minutes), he'll be transported to the Ouachita County Jail, and he'll be housed there until tomorrow at 1:30, where he'll have his first appearance in front of a judge. We're really relieved. I know this has been a long hard road for Angela (Cannon, Alyssa Cannon's mother) also and hopefully we're one step closer to where we want to be," CPD Chief Boyd Woody said.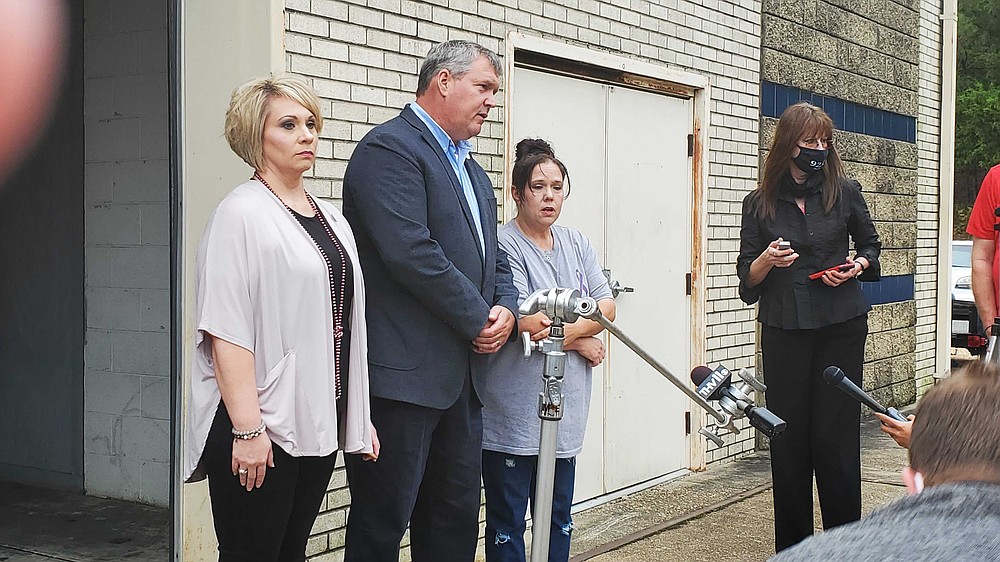 Camden Police Public Information Officer Dana Wetherbee, CPD Chief Boyd Woody and Angela Cannon, the late Alyssa Cannon's mother, await the arrival of Jory Worthen, who is suspected in the murder of Alyssa Cannon and her son Braydon Ponder, Thursday afternoon. Worthen was extradited from California to Camden Thursday. (Bradly Gill/Camden News)
The Camden News spoke to Angela Cannon shortly after Worthen's arrival. She said that she plans to go to the Ouachita County Detention Center where Worthen is being held to look him in the eye.
"I'm so relieved and so thankful that I know where he's at," Cannon said emotionally. "I don't have to stay awake at night wondering where he's at or if he's hurting someone else. I'm so thankful to the U.S. Marshals and to Camden Police Department (Chief) Bo Woody, Lt. LaRhonda Moore. They have gone above and beyond trying to get him found and I'm thankful to all of them. And maybe now I can have some peace."
Sponsor Content
Comments