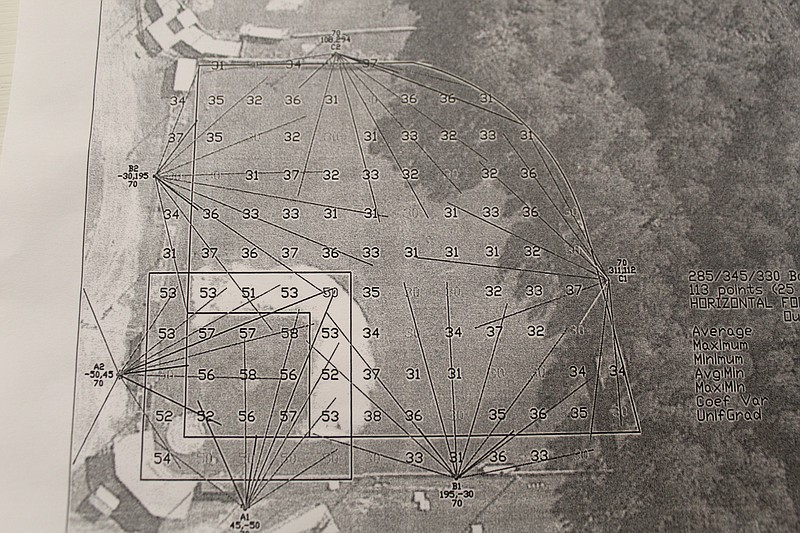 This schematic, shown during the September 14 Smackover Council meeting and drawn by the company that later offered the winning bid for the project, shows how the layout for the new lighting at the SHS baseball field. The council accepted the bid during a special meeting on October 2.
The Smackover City Council initially decided to move forward on the bid process for lighting and pole replacement at the Smackover High School baseball field on September 14.
On October 2, the council held a special meeting to review and select a winning bid. The sole bid, made by GeoSport Lighting, was accepted during that meeting.
According to the meeting minutes, the total cost will be $186,509.
GeoSport Lighting has completed lighting projects in Arkansas and several surrounding states for schools including Baylor University, Southern Arkansas University and Conway High School, according to the company's website.
The company also provided the initial schematic for replacing the lights at the field which was presented to the council by Mayor Bobby Neal during the September 14 meeting.
According to this schematic, the new lighting layout will consist of six poles with affixed LED lights. The poles, currently wooden, will be replaced with metal poles.
During the September 14 meeting, several council members also asked about seeking financial assistance from the Smackover-Norphlet School District.
Neal attended a September 23 SNSD School Board meeting and discussed the project with the board at that time, offering them a pre-bid cost estimate.
Neal confirmed during the Council's Monday, October 12 meeting that the School Board has agreed to contribute $90,00 to the project.
"It will be a big help," Neal said.
Although an exact date for the project starting was not given, Neal said during the September 14 meeting that the council should look to move forward with the bidding process to allow time for the project to be completed by the start of baseball season in early February.
Otherwise, there was no old or new business conducted during the October 12 meeting. The council approved the previous meeting's minutes, paid the monthly bills, approved the financial report and briefly discussed the money to be contributed by the School Board before adjourning.
The next Smackover council meeting will be on Monday, November 9.
Sponsor Content
Comments