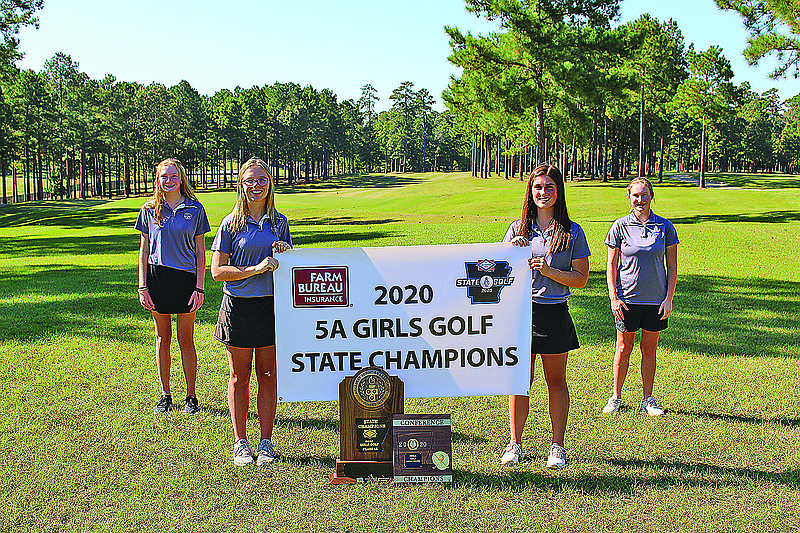 El Dorado's girls golf team Left to right: Hope Walthall, Lani Hammock, Aubrey Marx and Alexa Hulsey. The Lady Wildcats ended a 10-year drought, winning their seventh state title since 2000. - Photo by Contributed photo
Between the years 2000 and 2010, El Dorado boasted the top girls' golf program in the state. The Lady Wildcats won six state championships during that decade and were led by future college players such as Amanda McCurdy (Arkansas), Laura Beth Bevill (Tulsa), Liz Wells (SMU) and Emily Sinclair (Ouachita Baptist).
But, after Sinclair led El Dorado to the title in 2010, the Lady Wildcats went on a 10-year drought, never really getting close to the top spot.
The dry spell was snapped two weeks ago. The Lady Wildcats climbed back on top in a different manner, however, getting a total team effort instead of relying heavily on an individual performer.
"Our recent surge has come from simply having several kids that have grown up playing golf, getting old enough for high school golf," said El Dorado coach Chris Ezell, who led five girls' teams to state titles. "We have had teams in the 2004 - 2011 or so that had multiple junior tournament golfers in the program, but we had a spell after those years, where the numbers just weren't there with very few kids that had grown up playing tournament golf and I recruited softball and baseball players to fill out the rosters."
Ezell pointed to other factors that have spiked El Dorado's golf programs.
•"Art Noyes brought in the Kids N Golf program to El Dorado in 2013 and we are now getting kids at the high school age, that have learned golf etiquette, rules and competed in competitive events through the Kids N Golf program. Some branched out from there and went out into the region to compete in other forms of junior golf tours, events and golf camps. Art has also added a Prep Golf program to keep those older more experienced golfers playing in events year around. You can't really get great at golf just playing the four months of the high school season. It takes more commitment than those few months of the year."
• "Natalie Bolick also joined our program over the last few seasons. She makes running a golf program this big really operate smoothly. We are one of the few programs that have varsity and JV golf teams. She helps keep the kids on the golf course working on their game instead of having to let them miss days of practice when we have matches going on. We work really well together. I even talked her into helping with the softball team as well. I am so thankful for her efforts and time she puts in with our kids. Having a JV program that feeds the varsity teams has really helped keep the program from dropping in numbers over the years and we now have kids that can really push the varsity golfers to stay on top of their game."
•"Having a facility like Mystic Creek for our kids has also been a huge reason for our success. The practice area is one of the best I have seen across the state and the course itself challenges every golfer. It is the toughest course in the state and that makes any challenges from the other courses we play easier to overcome. Pro Casey Wroot, Superintendent Scott Kuhn, and Murphy USA have been so helpful to our program this season, including hosting the 5A South Conference Tournament."
Sponsor Content
Comments