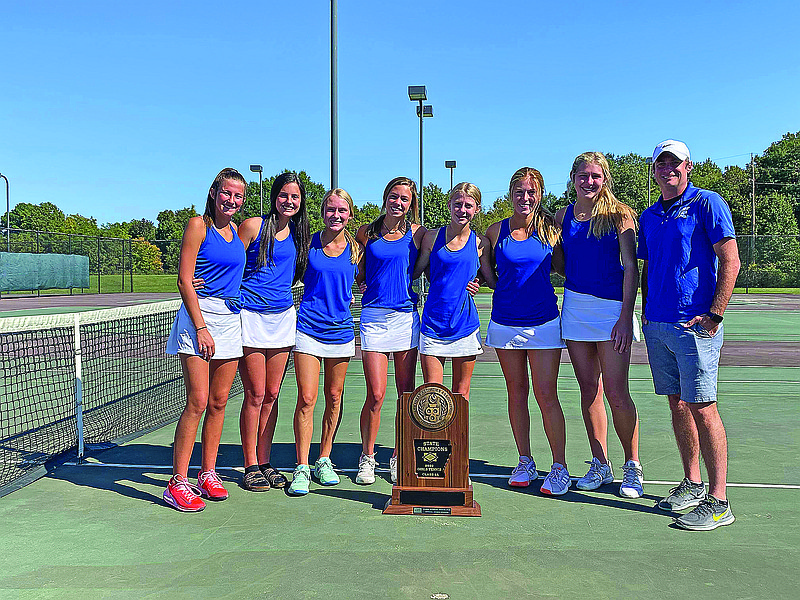 Parkers Chapel's girls won the 2A State Tennis championship Tuesday in Jonesboro. Pictured, from left, Macie Wood, Madison Sullivan, Ali Looney, Rebekah Hardy, Bella Frisby, Drue Thomas, Kallie Martin and Coach Casey Rapp. - Photo by Contributed photo
Parkers Chapel's Lady Trojans showcased their team depth Tuesday and won the 2A State Tennis Championship in Jonesboro. Doubles led the way with PC's Ali Looney and Bella Frisby beating teammates Macie Wood and Drue Thomas in the championship match.
"The key to winning the state championship was getting as many points as possible on the first day to take some pressure off for the semifinal round," said PC coach Casey Rapp. "On day two, our goal was to win both doubles so we could lock anyone else out of scoring any more points.
"I am very satisfied with how my team performed. I couldn't be more pleased. Literally everyone on the team played impressively both boys and girls."
The Lady Trojans dominated, scoring 14 points to beat second place Haas Hall Bentonville's 7. Conway Christian (6), Ridgefield Christian (4), Riverside (2), West Side Greers Ferry (2), East Poinsett County (1) and Murfreesboro (1) rounded out the girls' scores
Parkers Chapel scored six to finish third in the boys' competition behind Haas Hall (12) and West Side Greers Ferry (10). Conway Christian (3), New School (3), Riverside (2), Crowley's Ridge Academy (1) and Acorn (1) rounded out the boys' totals.
Every Lady Trojan who stepped on the court, won a match and scored a point for the team.
In singles, freshman Kallie Martin advanced to the semifinals and captured third place with Rebekah Hardy, winning her first round match to add to the team total.
For Looney, this was her second doubles state championship but her first team title. Looney and Frisby edged Wood and Thomas 6-3, 7-5 in the finals.
"It was good. I'm really happy, especially because this is my senior year. I really wanted to end it with a win," Looney said. "But us winning as a team, too, was something I was really looking forward to and wanting because we had a good opportunity to."
Looney, playing with Kenlee McAuliffe, advanced to the state quarterfinals as a freshman, won state as a sophomore and was state runner-up as a junior.
Frisby, a freshman, was competing in her second varsity state tournament. She played in the 2A State Golf Tournament earlier.
"I'm super excited, kind of sad that my partner is leaving me," said Frisby. "I'm just going to miss Ali. That's all I have to say."
Looney and Frisby opened play Monday with wins over Cedar Ridge (6-3, 6-1) and East Poinsett County (6-0, 6-1). Thomas and Wood beat Haas Hall Bentonville 6-1, 6-0 in Monday's opener and West Side Greers Ferry 6-3, 6-2 in the second round.
The Looney-Frisby combo didn't drop a set in the tournament or during the season for that matter. Their teammates proved their most difficult opponents. They also met in the finals of the district tournament.
"I think it was way more difficult just because you play them all the time in practice," said Looney. "We all know what we're all good at. They know our weaknesses and we know theirs. It was a lot more difficult because we play them so much."
Looney and Frisby led 5-3 in the second set before Wood and Thomas rallied, tying the set at 5-5. The top seeds won the crucial next game at 30 before securing match point when a lob landed out of bounds.
"It was really stressful because it was so close and we were already ahead 5-3," Looney said. "I don't know, I was just trying to help myself and Bella just stay calm and just chill out and focus on the next point. I think it kind of got in our heads when it got real close but we pulled through."
"I just had to stay calm. We both did," said Frisby. "It was very stressful. I just didn't want to mess up for her."
"My doubles teams did phenomenal," said Rapp. "The girls' doubles final was an intense match. I have never seen either team play so well."
PC also got a lift in singles from Martin, who won by walkover in the first round before outlasting Harley Gentry of West Side Greers Ferry 6-4, 7-6 (12-10). Martin fell in the semifinals on Tuesday to eventual state champion Lexa Farmer of Haas Hall 6-0, 6-1 but bounced back to take out Caroline Huff of Conway Christian for third place 6-2, 6-1.
Hardy won her opening match on Monday over Alexis Beekman of Riverside 6-2, 6-2. Hardy fell in the second round to Huff 6-3, 6-2.
The Trojans' doubles team of Austin Looney and Spencer Frisby battled to the finals and finished as the state runners-up to lead PC's boys. Freshman Jackson Dison placed fourth in boys' singles.
Sponsor Content
Comments