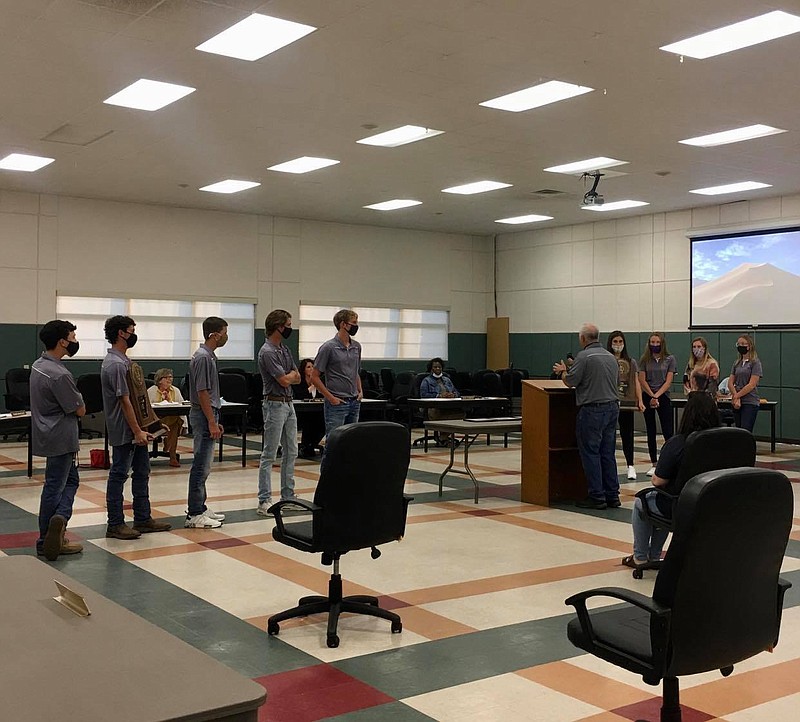 The El Dorado School Board held its regular monthly meeting on Oct. 12. The meeting started off with recognizing the 2020 5A Boys and Girls State Golf Champions, Preston Howard, Aaron Ezell, Miller Wallace, John Brooks Elia, Keaton Michael, Lani Hammock, Alexa Hulsey, Aubrey Marx, Hope Walthall, Coach Chris Ezell and Assistant Coach Natalie Bolick.
This was the first Girls State Championship since 2010 and the first Boys State Championship since 1987, according to the district.
"We started off our season by winning the 25th annual Wildcat Invitational that we've been hosting for that long," Coach Chris Ezell said. "We started off with a bang and carried the momentum forward."
"We didn't really lose any of our matches this year. The ones we did lose were to bigger schools or rained out matches where we only got to play nine holes," Ezell added.
Ezell also thanked Murphy USA and Mystic Creek Golf Club for hosting both golf teams. The El Dorado Country Club has been the teams' home course for a decade but because of course conditions this year, El Dorado Boys and Girls golf clubs had to turn to Murphy USA and Mystic Creek.
Both teams came to the front of the T.A.C House, where Monday's School Board meeting was held, trophies in hand. Coach Ezell introduced each member of both squads and acknowledged his Assistant Coach, Natalie Bolick, who he said was hiding in the back.
"She's not going to get out of this," Coach Ezell laughingly said.
"I tried," Bolick said as she walked to the front to join the student athletes.
"Natalie Bolick joined our program last year and is instrumental in the instruction that we provide to the golf teams," Ezell said. "She's an excellent assistant coach, I couldn't ask for a better one."
The 5A Boys and Girls State Golf Champions weren't the only ones recognized that night for their accomplishments. Barton Jr. High School also gave out their monthly awards. Student of the Month went to Bella Rothwell. Rothwell is an eighth grader and a few of her teachers submitted her in part for her positive attitude, enthusiasm and willingness to assist in the classroom.
Barton Jr. High's Classified Employee of the Month is Tiffani Streetman.
"I would have never in my dreams imagined winning employee of the month," Streetman said. "It is because of the incredible example set by faculty and staff at Barton that I love doing my job."
The Teacher of the Month was awarded to Mary Thomas Hodnett. It was said that Hodnett is in part known for being able to bring a smile to any student or coworker's face. She's also known for her love of pickles.
"We (teaching team) realized that we all love pickles so we eat and go through a jar a week," Hodnett said, eliciting loud laughter from the audience.
The school board meeting concluded with announcement of EHS Student Council officers, Barton Jr. High School Principal report by Mark Smith, a Special Education report by Shawn Lamkin, and a Coordinated School Health and School Based Health Center report by Debbi McAdams.
Sponsor Content
Comments