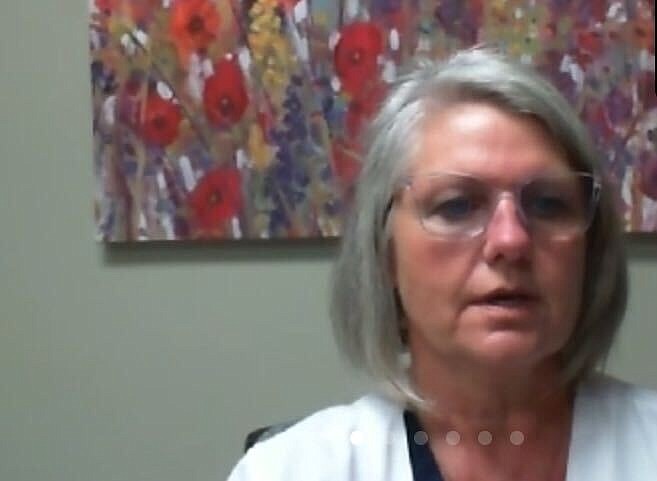 Certified genetic nurse Tammy McKamie spoke to the El Dorado Rotary Club Monday about the benefits of genetic testing. (Screengrab)
The El Dorado Rotary Club hosted Tammy McKamie, a genetic certified nurse at the Christus St. Michael Health System in Texarkana, on Monday at their regular meeting, where she spoke about the health benefits of genetic testing.
McKamie, who has worked as a medical professional for nearly 40 years, is the only credentialed genetic certified nurse in Texas, and also serves patients from Arkansas. On Monday, she discussed her specialization in genetics and the role one's genes may play in determining whether they develop cancer during their lives.
While 90% of those who develop cancer do so because of environmental and lifestyle factors, such as smoking or being exposed to carcinogenic chemicals, McKamie said some people are at a heightened risk due to genetic factors.
Almost every person is born with 23 pairs of chromosomes, half of which are inherited from their biological mother and the other half of which are inherited from their biological father.
"On each one of these chromosomes, there are thousands of genes. If I add up all the genes in this DNA, we're going to have about 20,000 genes, and each one of those has a purpose," McKamie said.
Some of those genes' purposes are to protect the individual from developing cancer, she said, a medical breakthrough that was discovered in 1994 during research for the Human Genome Project.
"God gave us genes to protect us from cancer," McKamie said. "We have two of each gene that they've discovered so far. … One gene may protect you from multiple cancers, so if one's defective, you may be at risk for multiple cancers."
Rotarian Art Noyes asked whether genetic predisposition to cancer may have been related to actress Angelina Jolie's decision to undergo a double mastectomy (breast removal) several years ago.
"Yes, Angelina's mother had ovarian cancer, so she had this genetic testing years ago," McKamie said. "She did the genetic testing and she had a genetic mutation in one of these genes. … Angelina had never had cancer, but she had the genetic predisposition toward it."
In Jolie's case, McKamie said, there was likely a mutation of the BRCA 1 or 2 gene, which can heighten one's susceptibility to several types of cancers, including breast cancer, ovarian cancer, prostate cancer, colorectal cancer and other types.
For those who opt not to undergo preventative surgeries, like Jolie's mastectomy, knowing of any genetic defects can still help medical professionals that care for them, since they will be aware of their increased risk level. Those who do have a genetic predisposition to some types of cancer should undergo earlier and more frequent screenings so that any cancer that does develop can be treated sooner, McKamie said.
"If you started out with this defect, we would not wait til 40 (years old) to do a mammogram … we would start much earlier," she said. "Everybody knows that if you detect cancer early, you're more likely to survive it."
McKamie said a defect in the BRCA 1 or 2 gene can heighten a woman's risk of developing breast cancer significantly. For someone without a gene defect, the risk at 40 years old is about 0.5%; at 50 years old, about 2%; and at 70 years old, about 7%. For a woman who does carry a hereditary risk, the likelihood that they will develop breast cancer by age 40 increases to 10 to 20%, depending on which BRCA gene the defect is in; by age 50, the risk is 33 to 50%, and by 70 the risk is 58-87%, McKamie said. For men, the risk of breast cancer increases from 1% for the general population to 7% for those with a genetic defect.
"People take it for granted that everything's working … but if you knew that one of these was defective and you were at a higher risk for cancer, you might be more healthy, more conscious," McKamie said.
At Christus St. Michael, McKamie offers consultations for those who would like to undergo genetic testing to determine whether they might be at a heightened risk for developing cancer. First, she will take a detailed family medical history and explain to her patient how one's genes might increase their risk for cancer. Following that, she will draw one tube of blood from the patient and send it to a laboratory, with a typical turnaround time of two to three weeks, she said.
"This testing is now even evolved to the point to where if you have cancer, the physicians will use it to determine the best type of drug to use to treat you," McKamie said. "I get a lot of consults from our cancer physicians and oncologists because they need to know what type of drug to use to treat this person."
McKamie noted that Medicare pays 100% for this sort of genetic testing, and most other medical insurance companies follow their lead; additionally, should any out-of-pocket costs emerge once a patient's sample reaches the testing lab, a representative from the lab will call the patient to ensure they still want the testing done.
Before a patient comes to Texarkana for a screening, McKamie will screen them over the phone to ensure they will qualify for coverage for the genetic testing, she said. Those who are interested in a consult can contact her at 903-614-2654 or [email protected]
"[Cancer diagnostics and treatment] just really evolved, and it continues to evolve," McKamie said. "This is the way of the future now."
Sponsor Content
Comments