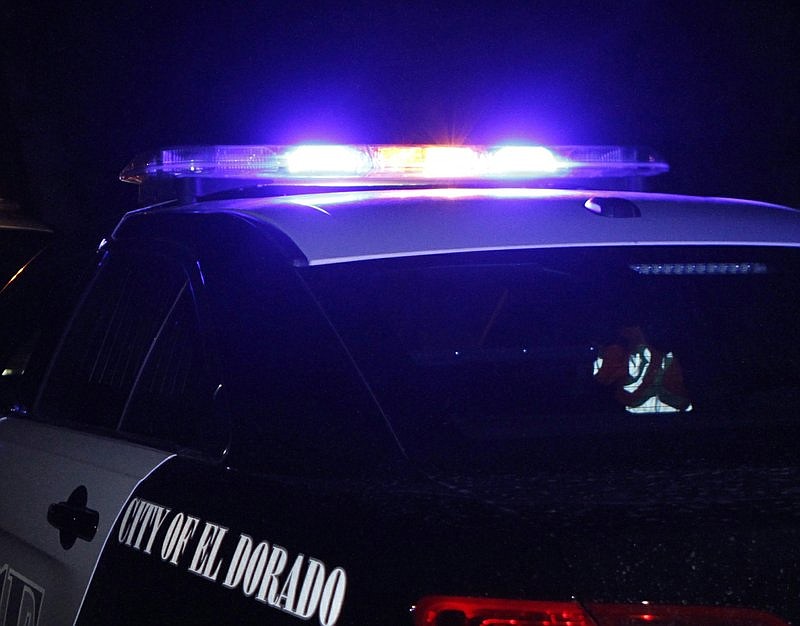 Local residents are asked to show their support for law enforcement by lighting a blue colored light outside their home or place of business today. (News-Times file)
The Peacemakers of El Dorado and Union County, an organization formed to support local law enforcement, are encouraging community members to partake in "Blue Lights for the Blue Line" on Oct. 13.
To participate, residents are asked to add blue porch lights or Christmas lights to the exterior of their homes to show law enforcement officers support. According to the group's Facebook page, law enforcement support groups around the country are organizing this community event. The significance of the Oct. 13 date is 10-13, radio code for "officer down" or "in need of help."
"What I like about this event is that it is visual. It is very easy for our police officers and sheriff deputies to see the support," Melinda Gatheright, Peacemakers of El Dorado and Union County organizer, said. "They drive by a home or a business, a church and see those blue lights, they know that's a sign of support for them."
The Peacemakers of El Dorado and Union County describes itself as a group of citizens, churches, and businesses supporting the Union County Sheriff's Office, Union County Jail and El Dorado Police Department officers and their families.
Gatheright reflected on how the group came to be.
"My family has always been pro-law enforcement. So back in June we saw all the events taking place around the country regarding law officers and all the divisiveness," Gatheright explained. "So as a family we decided to do something for the El Dorado Police Department and the Union County Sheriff's Office. We started out with meals for both departments over the course of June and July. And after being moved by their (law enforcement) stories and seeing the steady turbulence in our country, we decided to make this an ongoing thing."
Gatheright shared one officer's story that moved her family to create the Peacemakers of El Dorado and Union County group.
"A younger officer asked if we would pray for his family. He talked about how being an officer wasn't just dangerous for him, it was dangerous for his family. He said he used to meet his family to eat in a restaurant after work, in his uniform, but he no longer feels comfortable wearing his uniform when out with his family because it makes them a target due to all the current stigmatization," Gatheright said.
As part of their efforts to show support, the group has fundraised money to buy gifts for local law enforcement that includes gift cards, words of encouragement, baked goods, gift bags and more. Their Facebook page has several posts with pictures of local law enforcement holding up the very gifts that the organization gives.
"These police officers have been protecting us for many, many years and have done a very good job of it. They are the people we grew up with, our kids go to school with their kids. We need to make sure we are judging them and supporting them based on what's happening in our own community and not what's happening nationally," Gatheright said.
Blue Lights for the Blue Line will take place on Oct. 13. The Union County Courthouse, the Murphy Arts District, City Hall, along with a host of businesses and residents are slated to participate in the community event.
Sponsor Content
Comments