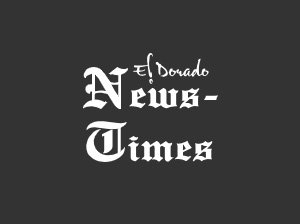 After weeks of wrangling and growing frustrations, a public hearing for a rezoning request at a local convenience store has been reset for noon Tuesday in the Council Chamber of City Hall.
The El Dorado Planning and Zoning Commission is expected to hear details about the petition from JAMMIN Investments, LLC, to rezone just over 8 acres of land behind T Ricks, 3300 Junction City Road, from R-1 (single family residential) to C-4 (neighborhood commercial).
The purpose of the request is to make way for a project to install diesel fuel tanks to the existing footprint of T Ricks and add a gravel parking lot "to allow a safer way to navigate to and from the (convenience store)" and the new fuel pumps, according to the rezoning petition.
The only ingress/egress for the gravel parking lot will be Junction City Highway/U.S. 167.
The 8.45-acre area that is intended for the lot is undeveloped and stretches toward residential property lines on the north side of Sunset Road, which is just south of T Ricks.
Sunset Road residents have expressed opposition to the rezoning request by filing a petition of their own to prevent the rezoning of the property, saying that the addition of a "truck stop" would intrude into the residential neighborhood.
Since learning about proposed plans for the undeveloped property, Sunset Road residents have also flooded City Hall, El Dorado City Council members and members of the planning and zoning commission with phone calls and letters of protest.
Council Member Willie McGhee — who, along with Council Member Andre Rucks, represents Ward 3, where Sunset Road and T Ricks are located — has also vented his displeasure with the delay of a public hearing about the rezoning request.
McGhee has addressed the matter during several recent city council meetings, starting Sept. 10 when he said that an initial public hearing on Sept. 8 was postponed, putting on hold the opportunity for Sunset Road residents to publicly voice their concerns about a proposed project that would affect their neighborhood.
"But just because the lawyer couldn't make it or something, (these) people were actually put on hold again … and it just didn't seem right because (the) people out at Sunset have been very patient," McGhee said.
"Most of them out there have lived out there all (their) life, raised their kids and now they're raising grandkids. I just don't think they should have to wait another 30 days to voice their opinion just because the lawyer couldn't attend for the other side," McGhee continued, adding that he had spoken to EPZC chairman Kelly Halstead about the matter.
The Sept. 8 meeting would have also been the EPZC's regularly scheduled meeting — noon on the second Tuesday of the month.
Timeline
Halstead explained that the rezoning petition was filed Aug. 13, noting that a Sunset Road resident initially contacted her about the proposed T Ricks' project more than a month before the petition was filed.
"He said he had heard that the property had sold near their home and T Ricks wanted to put a truck stop in. He said several neighbors were upset about it and they wanted to oppose it," Halstead said.
"I had not heard about it yet and I told him they (T Ricks) had not filed a petition to rezone and I told him to send a letter to (City Clerk Heather McVay)," she continued.
A petition to prevent the rezoning request was filed in McVay's office July 1 with 22 signatures from Sunset Road residents. Several letters and emails opposing the project followed in August.
Per the city's zoning ordinance, a public hearing is required for rezoning requests and a public notice must run at least 15 days before the hearing is scheduled.
A notice about the hearing appeared in the Aug. 18 edition of the News-Times.
"Our next regular meeting was Sept. 8, which was less than a month after the petition was actually filed so we had the hearing set right after Labor Day weekend," Halstead said.
During the Labor Day weekend, Halstead said she received a call from JAMMIN Investments/T Ricks' attorney Jeffery Sawyer, who said he would not be able to attend the public hearing Sept. 8 due to a family medical emergency and he asked if the hearing could be rescheduled.
Halstead said she obliged.
"I just don't think that they (Sunset Road residents) should have to wait another 30 days to voice their opinions just because the lawyer couldn't attend for the other side. I just don't think any legal action was going to be done," McGhee contended Sept. 10. "I just don't see how the person couldn't have come, even if the lawyer wasn't going to be there.
"These city committees and commissions are supposed to be a buffer for the city council … It's our duty to make sure the people on these commissions do their jobs and not just prematurely cancel meetings just because they can," he continued.
After hearing from two Sunset Road residents that the public hearing had been postponed, McGhee said he spoke with McVay and Halstead.
"And it just seemed like, 'Oh, well.' I don't think that's the way we should do business with citizens that's concerned about their home," he said. "They initially find out from … a friend that it was going to be canceled. They didn't even get notified from someone in authority."
Halstead said she immediately notified other EPZC members and the city clerk that the Sept. 8 meeting would be rescheduled and she reached out to a Sunset Road resident and asked the resident to apprise any neighbors who had planned to attend about the change — all during the Labor Day weekend.
Halstead and McVay also said they spent the weekend reaching out to Sunset Road residents for whom they had contact information. Halstead said one resident called her over the holiday weekend.
"She asked me why it was being rescheduled because she was very upset and I understood. I explained that I thought it was the right thing to do because of his family situation and it was less than a month since the petition had been filed," Halstead said.
Mayor Veronica Smith-Creer said she did not receive a notification about the cancellation until Sept. 8 and she subsequently spoke with Halstead and McVay.
"My concern, after speaking with one of the residents, was the way they were notified, or the lack of being notified," Smith-Creer said, adding that she suggested a mass notification system or possibly hosting meetings via video- or teleconferencing.
She also said the way Sunset Road residents were notified about the cancellation was "unprofessional."
Added McGhee, "They already think that no one's listening and there's no one that cares about their concerns and (Sept. 8) proved that."
Halstead said she promised the Sunset Road resident with whom she spoke during the Labor Day weekend that she would try to reschedule the public hearing prior to the EPZC's next regularly meeting on Oct. 13.
However, the effort stalled and two potential dates were scrapped because the EPZC would not have been able to convene a quorum.
Halstead said she notified Sawyer that the public notice had to be re-posted for the Oct. 13 meeting and the second notice appeared Sept. 27 in the News-Times.
Anxious to meet
McGhee again broached the topic during the Sept. 24 city council meeting and expressed disappointment that an "emergency session" was not planned before the EPZC's October meeting.
"I think that's unacceptable … People were calling me, the mayor and they even called (Ward 4 Council Member Judy Ward). They were very vocal and upset," he said.
"I really don't blame them because the perception is, like, 'You're not giving me my voice, you're not giving me my platform where I can voice my opinion and you're giving the other person time to do whatever they need to do,'" McGhee said. "I just truly believe, and I'm just going to say this, that if it was any other ward besides Ward 3, we would have gotten something done a little faster."
At the time, Rucks said that he had met with T Ricks' lawyer, visited the site, looked at the plans for the project and was reassured that efforts were under way to make certain that the proposed project would not intrude into the Sunset Road neighborhood.
In their petition to prevent the rezoning, residents expressed concerns about a potential decrease in property values, illicit/criminal activity, litter, traffic and other issues..
"That's what we discussed (Sept. 24) and I told him I still want to see some things in writing, see some things unfolding because as it stands now, I still stand with the constituents," Rucks said. "(The petitioners) said they're not … even going on that road at all. As a matter fact, their gas station parking lot is where they're going to do the changes."
He encouraged other city officials to walk the site and learn more about plans for the project.
Council Member Mike Rice previously said he had visited the site and he told McGhee that he favored a specially-called EPZC meeting/public hearing on the matter.
During a city council meeting Oct. 8, McGhee confirmed with McVay that the hearing is still scheduled for noon Tuesday.
Halstead said the EPZC is anxious to hold the public hearing and allow residents to speak out about the matter.
Commissioners also want to hear more information and clarify some of the elements of the proposed project at T Ricks. For instance, she said some of the details in renderings of the plan appear to conflict with details in the legal description of the property.
"As you can understand, we have lots and lots of questions from the petitioner when we have this public hearing. It's not really clear if they want to rezone that whole 8 acres. I think T Ricks has a lot of explaining to do," Halstead said. "We're ready to listen and we're ready to give everybody some closure, one way or the other."
"We're asking everyone to come to the meeting with an open mind and please be respectful of everyone there," she continued. "We do a lot of research and the implication that we don't care was very upsetting. We care about residents and we care about this community."
Sponsor Content
Comments