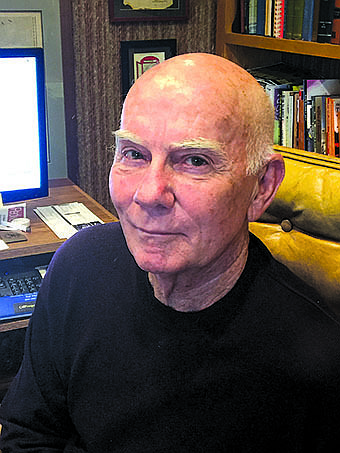 Is El Dorado a progressive city? Well, I guess it's how you judge the city, because if you just look at the population over the past 20 years, you could easily say we're regressing. Yes, we've lost population, but to me that isn't the deciding factor in whether a city or town is or isn't progressive. Just being bigger is not always better. So let's take a look back from the late 1970s until today.
I picked that time frame because I recently ran across a picture of the south side of El Dorado's downtown square taken in the late 1970s. Wow! A look at that shot vs. today's actual square, and you would have to be blind not to recognize the vast improvements. It literally rings 'a progressive city,' and our population loss seems insignificant.
Well, it seems all the work that downtown merchants and property owners did over the past 40 years has paid off, and the 60s and 70s downtowns, which were near slums, are now a beacon of a progressive city. In fact, according to Roger Brooks, a Seattle destination expert, who devised the MAD entertainment district, "The downtown entertainment district concept wouldn't have been possible without the downtown renovation." That renovation culminated in 2009 with our downtown being named by the National Main Street organization as being "America's Best Main Street Downtown." Downtown El Dorado beat out over 500 towns from all across the nation.
But before we pat ourselves on the backs and rest on our laurels, we should understand a city or a downtown is never a static entity. It is always changing, and unless those changes are positive, the town or downtown will slip back until all traces of a progressive city disappear.
Yes, that is just a fact, and I'm sorry to say, we're slipping back toward our disgraceful looking past. No, it's not obvious yet, but when it does become clear that downtown El Dorado is rapidly regressing, it will be extremely difficult to reverse the slippage. A downtown is very similar to what one environmentalist commented about the environment: "Everything is connected." That's exactly the way a great downtown survives.
As we look at downtown El Dorado it's easy just to nod and say. "Well, our downtown is sure better than .' You fill in the blanks. Actually, considering the terrible shape that so many downtowns find themselves in, that's not a compliment. We should be proud of the way our downtown looks, and not comment that "too much has been done for downtown."
El Dorado's downtown may look healthy, but its stores and restaurants are struggling. Over the past 40 years, the improvements made and the dozens of businesses and restaurants that have been added were a joint effort of the city, property owners, retail merchants and restaurant owners. Every item which makes a progressive downtown has been linked together to create what you see today in our downtown. And when any of those critical items are ignored it effects every business or restaurant in the downtown.
Items such as systematically reducing the downtown trees degrades the entire downtown. The award statements made when our downtown was selected as America's Best Downtown pointedly commented on the value that downtown trees contributed to the area. Over the past several years, and increasing recently, dozens of downtown trees have been removed and not replaced. That is taking away from the overall ambiance just as sure as when a store closes. During past administrations, a Tree Board was formed and all trees that died or had to be removed were replaced. But we're seeing a huge net loss today, and it's not only the trees. The City refuses to maintain and replant City Hanging Baskets and City Sidewalk Planters.
Yes, every item that is ignored or disregarded reduces the overall downtown. But of course landscaping is certainly not the only downtown problem we have facing us.
Our downtown is suffering, as almost all downtowns are, from the effects of the pandemic. The pandemic has reduced downtown foot traffic tremendously, and since the City has fired and not rehired a Downtown Parking Attendant, the customer traffic has been reduced even more. But it not just 3-hour parking. There is no enforcement of handicap parking, blocking alleys, loading zones, or any other parking restrictions. That has gone on for over 18 months and has cost the overall merchants and restaurant owners thousands of dollars in sales. The City Council has tried to help by transferring the parking enforcement to the police department, but the Chief said he thought it would be sometime next year until he'd get around to hiring someone. That means no parking enforcement during the fall Christmas shopping season.
"You're all heart Chief! Why don't you put an officer walking a downtown beat? The parking violations are everywhere, and not just the three-hour customer parking. You have several officers who could sure use some exercise."
I guess the question is… Do we have a downtown that is worth maintaining and devoting just a few of the tax dollars that downtown property owners pay to its maintenance, or should the downtown just be ignored? As we consider that question it really comes down to the value of the 20 block shopping area we call Downtown El Dorado.
Is a viable, beautiful downtown something we should protect and be proud of? Downtown is the center of town, but not only the geographic center, but the spiritual center of town. It's where everything starts or happens, and a town's downtown is what a town is judged by. A good friend of mine was instrumental in the renovation of downtown San Antonio, Texas, and his task force had as its goal this phrase: "When the center of your city is considered a failure, your whole town is considered a failure."
No, our downtown is not a failure… yet. It's alive and beautiful, but it's not in good health. The pandemic, along with the disregarding of ordinances by the city and the systematic destruction of the downtown tree canopy, along with the failure of the police department to regulate parking, will slowly but surely cause what was one the shining example of how a city can reverse years of neglect and once again be a symbol of community pride to slip back until our downtown will once again will be a community embarrassment.
The pandemic is causing a terrible hardship on the downtown businesses and restaurants. It seems to me that the mayor's office and the police department should be doing everything possible to help these struggling retail stores and restaurants survive. But instead of helping, they are actively hurting the downtown business community. The downtown business community is not asking for a handout. All the downtown wants is for the city to enforce its ordinances and honor its commitments.
Richard Mason is a registered professional geologist, downtown developer, former chairman of the Department of Environmental Quality Board of Commissioners, past president of the Arkansas Wildlife Federation, and syndicated columnist. Email [email protected]
Sponsor Content
Comments