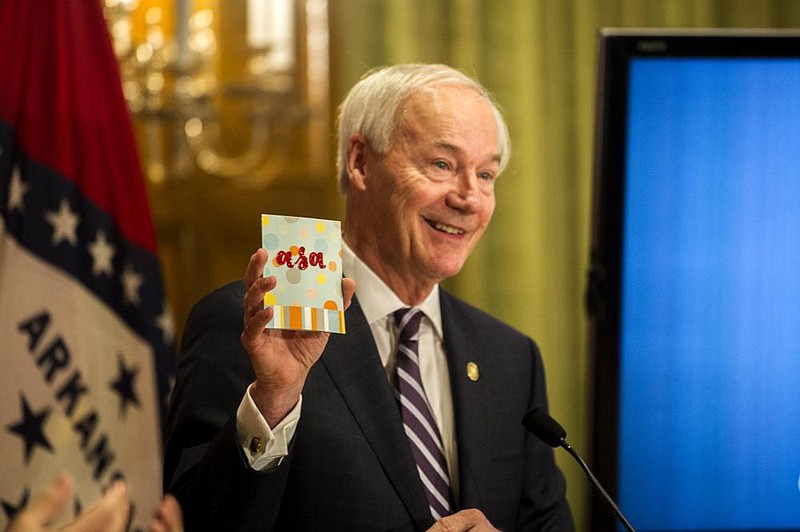 Governor Hutchinson shows a card he received from a child asking him about Halloween celebrations during a weekly address on Arkansas' response to COVID-19 on Tuesday, Oct. 6. (Arkansas Democrat-Gazette / Stephen Swofford)
The Arkansas Department of Health reported three new COVID-19 cases in Union County Tuesday, bringing the cumulative number of cases identified locally to 948. The cases in the county Tuesday included 908 confirmed cases, up three from Monday, and 40 probable cases, no change from Monday.
According to the United States Centers for Disease Control, the PCR (polymerase chain reaction) tests that determine confirmed cases are more sensitive than the antigen tests that determine probable cases.
No new local deaths attributable to the virus were reported Tuesday. Forty-seven Union County residents have died as a result of the virus. In the Southwest Public Health Region of Arkansas, where Union County is located, 96 people were hospitalized due to the virus Tuesday, including 40 in intensive care units and 18 on ventilator support.
Five new recoveries were reported in Union County on Tuesday, bringing the total number of local residents considered recovered to 865. There were 36 active cases in the county Tuesday, down two from Monday and representing 3.8% of the cases identified locally. The active cases in the county Tuesday included 30 confirmed cases and six probable cases.
An ADH report dated Oct. 5 on COVID cases in nursing homes in the state showed that 14 residents of Hudson Memorial Nursing Home had died as a result of COVID-19.
The nursing home report also showed five active COVID cases, three in residents and two in workers, along with four recovered workers, at Advanced Health and Rehab of Union County; 57 active cases, 39 in residents and 18 in workers, along with 13 recovered workers, at Hudson; and one active worker case at Oak Ridge Health and Rehab.
The ADH reported 28 new negative test results returned from Union County Tuesday, indicating a one-day local positivity rate of 9.7% based on the number of new cases and results reported. In all, 10,540 COVID-19 test results have returned from Union County, including 9,592 negatives, indicating an overall local positivity rate of 9%.
In Arkansas, the cumulative number of COVID-19 cases grew by 641 to reach 88,071 Tuesday. The cases in the state Tuesday included 84,230 confirmed cases, up 532 from Monday, and 3,841 probable cases, up 109 from Monday.
The number of Arkansans considered recovered from the virus grew by 833 Tuesday to reach 79,885. There were 6,708 active cases in the state Tuesday, 214 fewer than there were Monday and representing 7.6% of all the cases in the state. The active cases in Arkansas on Tuesday included 5,970 confirmed cases and 738 probable cases.
Governor Asa Hutchinson delivered his weekly COVID-19 update Tuesday, first paying tribute to Pine Bluff Police Officer Kevin Collins, who was killed in the line of duty Monday afternoon.
"We express sorrow on that, and also tribute, and today I've directed the United States and state flag fly at half-mast in honor of Officer Kevin Collins," Hutchinson said.
Hutchinson also announced a new directive regarding nursing home visitation Tuesday after sharing a letter he received from a nursing home resident who said they missed their family. The new directive will allow visitation at nursing homes after they have gone 14 days without any positive cases, as well as individual visitation for residents whose health has been impacted by the inability to see their loved ones.
"This is a very, very important step that is necessary and is the right thing to do," Hutchinson said. "We are very concerned about continued good health in our long-term care facilities, and we're going to continue to emphasize quality care … quality screening and the protections to reduce the cases in the nursing homes; but we have to have some of that visitation under medically necessary circumstances," he said.
Hutchinson said medical concerns such as depression and disordered eating in nursing home residents contributed to his decision to update the directive on visitation to such facilities.
The governor also shared a letter from Parkway Elementary School student Amanda Elizabeth Carter, the subject of which was Halloween.
"If we can go to school, then I think we should certainly be able to trick-or-treat," Carter wrote.
Hutchinson agreed, he said, and went on to provide guidance determined by the ADH for ways to celebrate Halloween safely, including: wearing a cloth face mask instead of or in addition to a costume mask; limiting the number of homes children visit while trick-or-treating; accepting and eating only factory wrapped candy; and participating in low-risk activities like carving pumpkins, decorating one's home or hosting a virtual costume contest.
"Amanda, we want Halloween to happen here … with appropriate health care guidance and doing the right thing, as you suggested," he said.
Hutchinson also acknowledged President Donald Trump and First Lady Melania Trump's COVID-19 diagnoses.
"With the President and First Lady of the United States testing positive and the President being hospitalized, what I see across Arkansas is a new level of seriousness and carefulness about COVID. There is more consistent masking, there is more consistent following of guidelines," he said.
He urged Arkansans to get a flu vaccination so the state can avoid a "twindemic" of widespread cases of both COVID-19 and the seasonal flu this winter.
"We should all be reminded of the seriousness of COVID and, as we enter flu season, we have to remember that there is potential of flu and there is the potential for COVID," he said. "We have viruses running around in the nation; and because of flu season, because of the risk of COVID, we don't want double trouble this winter, so we encourage everyone to get the flu shot and to continue to be careful of COVID."
ADH Secretary Dr. Jose Romero said an updated report from the White House Coronavirus Task Force showed "impressive" declines in cases in key areas of the state.
"Which shows that we are making progress; but those advances are tenuous and can be fragile, so we need to keep in mind that the mask mandate, social distancing and washing our hands is extremely important," Romero said. "We know that this is a highly contagious virus and we have very good ways of preventing transmission and that is with the use of a cloth mask and, again, physical distancing."
Dr. Ivy Pfeffer, a deputy commissioner for the Arkansas Department of Education, also announced Tuesday that the state would implement a new program to help school districts identify and engage with virtual students who are struggling in that environment.
The deaths of 22 Arkansans that resulted from COVID-19 were reported Tuesday, bringing the state's death toll to 1,469, indicating a state COVID mortality rate of 1.7%. There were 523 Arkansans hospitalized due to the virus Tuesday, including 237 in ICUs and 99 on ventilator support.
"We do have adequate hospital space, there is sufficient room for the cases. We're not in a most difficult circumstance, but we want to see those numbers go down over time," Hutchinson said.
Hutchinson said 7,216 COVID-19 test results returned to the ADH Tuesday, including 6,157 PCR test results and 1,059 antigen test results, indicating a one-day positivity rate for the state of 8.9% based on the number of new cases and results reported. Romero noted that so far in October, 45,712 PCR tests and 4,196 antigen tests had been performed in Arkansas.
Since the state began testing for COVID-19, 1,111,017 results have returned to the ADH, including 1,022,059 negatives, indicating an overall positivity rate for the state of 7.9%.
At 5:30 p.m. Tuesday, Johns Hopkins University reported 7,492,442 COVID-19 cases in the United States. Of those, 2,935,160 people were considered recovered, leaving 4,346,566 cases — 58% — active nationwide. There had been 210,716 deaths attributable to the virus in the U.S. by Tuesday afternoon, indicating a national COVID mortality rate of 2.8%.
Johns Hopkins reported 35,643,796 COVID-19 cases worldwide Tuesday afternoon. Of those, 24,812,742 people were considered recovered, leaving 9,784,486 cases — 27.5% — active around the world. There had been 1,046,568 deaths attributable to the virus by Tuesday afternoon, indicating a global COVID mortality rate of 2.9%.
Sponsor Content
Comments