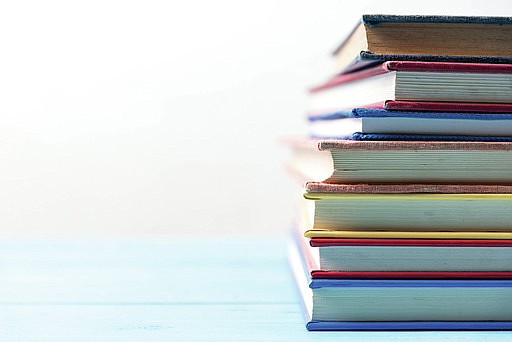 If you're in the mood for reading about horror this Halloween month, there are lots of choices. You really don't even need to turn to a book—just turn on the evening news.
On second thought, a book might be a way to escape from reality and into imagination, where heroes conquer evildoers, pandemics are cured and spirits are simply fading memories of happier times.
Real horror fans like me won't settle for happy endings too often, but scary tales are more than just witches, vampires, ghosts, zombies and the usual Halloween trappings. Horror can be found on any street, any town and almost any family.
Imagine if you will a perfectly normal home on an affluent street in London—like the house in "The Family Upstairs" by Lisa Jewell. It's a normal home and average family… at least until the parents befriend a group of people who come to visit, and who worm their way into the home and life of a family. Multiple narrators will keep you guessing: Exactly who is who? You won't know who to believe while reading this twisted tale of dysfunctional families.
Dan Simmons is an author I've just started to read, and he writes about horror in many forms. In "Song of Kali," an American writer treks to Calcutta with his wife and infant daughter. Bobby, working for a publisher, is searching for a famous Indian poet who supposedly has a new epic poem for publication. However, M. Das has been out of the public eye for years. In India, the little family finds a city full of thieves, trash, illness, slums and other horrors. Bobby finds himself drawn into a web of intrigue that leads to tragedy.
Closer to home, scary stories abound in our state. Read "Supernatural Arkansas" by Alan Lowe and Jason Hall, and you'll want to take an October haunted house tour. Then there are some creatures you can't really make an appointment to see, like the Lake Conway Monster, or the Skunk Ape who's notorious for his incredibly bad odor. Arkansas is also home to the White River Monster near Newport and the Gowrow monster near Self. We also have plenty of poltergeists, spirits and those mysterious lights that we heard about around the campfire.
In "Haunted Little Rock" by Linda L. Howell, you'll learn about some haunted places that you might have seen, but never knew the stories about, such as Taborian Hall (formerly the Dreamland Ballroom, now Arkansas Flag and Banner), Robinson Center Music Hall, Little Rock City Hall and many others in our capital city. On the way there, you've no doubt driven past Woodson Lateral Road after you leave Sheridan. The book describes the legend about why it's known as a road to avoid if possible.
Whether you believe in them or not, many people swear to have seen manifestations of long-departed residents of homes, or simply unknown spirits gathering around certain places. Have you heard of the Allen House in nearby Monticello? It's the setting of "A Haunted Love Story" by Mark Spencer. This majestic old home has quite a story and had several owners and families who lived there over its century-long history. The house has been featured on the TV shows "Ghost Hunters," "Paranormal Witness" and several others. Presently, the author and his family reside there. According to the book, when they saw the home, they wanted to buy it, even after hearing the rumors that it was haunted.
Even Jonesboro, often called the "City of Churches," has its share of ghost stories that you can read about in "Haunted Jonesboro" by Edward L. Underwood. One of the most famous is of Charlie, the ghostly projectionist at the old Strand Theater (now the Forum). There's something about theaters: Our own Rialto Theater is mentioned in "Supernatural Arkansas," and it's well-known as a south Arkansas haunted site.
Yes, it's certainly time to get into a ghost story mood: The air is chillier, and the days are ending earlier. It's the season to light up a fire pit and see who has the best and creepiest stories!
Lauri Wilson is the cataloging and digital content manager at South Arkansas Community College.
Sponsor Content
Comments