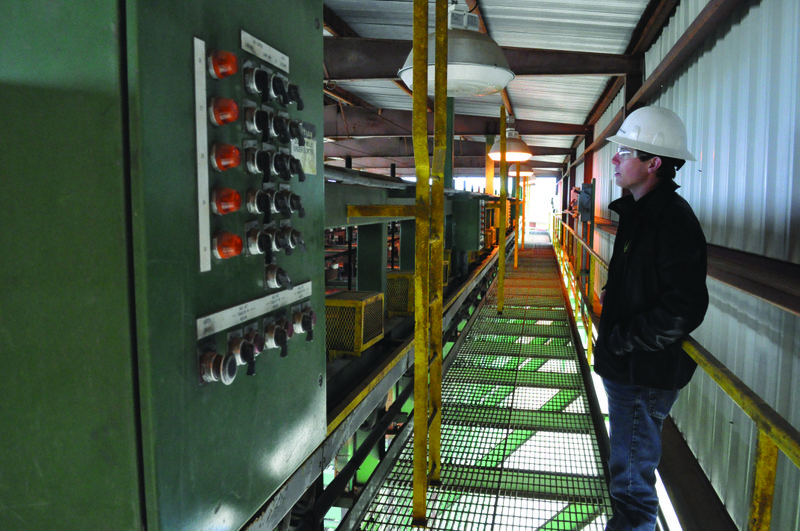 FILE — Engineer Zachary Strahan walks through the former Georgia-Pacific sawmill in this 2017 file photo.
The Union County Quorum Court voted to back Resolute Forest Products with a grant application to the state to purchase equipment for the local sawmill formerly owned by Conifex and Georgia Pacific, which Resolute Forest Products purchased in February.
Last Thursday, the Quorum Court met and unanimously approved a resolution to allow the county to apply for a Community Development Block Grant through the Arkansas Economic Development Commission on behalf of Resolute Forest Products.
A letter from Arkansas Commerce Secretary Mike Preston to Debbie Johnston, United States public affairs director for Resolute Forest Products, outlines the stipulations of the grant award.
According to the letter, the AEDC will commit up to $590,000 in CDBG grant funds to the county to be used by Resolute Forest Products at the facility, so long as the company creates at least 118 new full-time jobs with an average wage of $22.94 an hour within three years of the project's completion.
The sawmill, located at 5428 Junction City Highway, has been idled since August, 2019. Before Conifex purchased the sawmill, it was owned by Georgia-Pacific. It had been closed for nearly a decade when Conifex purchased it in 2015. Conifex invested $80 million in the facility and reopened it in 2017.
District 1 Justice of the Peace Mike Dumas said the new jobs would be for mill workers.
Grant funds awarded for the project will be administered by the Southwest Arkansas Planning and Development District, per a second resolution passed unanimously on Thursday allowing Loftin to enter into a contract for SWAPDD's administrative services. He said the county has previously worked with SWAPDD to administer such grants.
In January, Resolute Forest Products announced plans to purchase the El Dorado sawmill, stating that the company would invest $20 million to gradually restart the mill's operations this year.
"This transaction will provide immediate scale in the attractive U.S. South, with quality assets in a rich fiber basket, close to growing end-markets," Yves Laflamme, Resolute Forest Products president and chief executive officer said in a January press release. "Scaling our lumber business forms a key part of our stated transformation strategy. This transaction will also diversify our lumber production: when operating to capacity, almost 25% of our production will be in the U.S. South."
Along with two other mills located in Glenwood, Ark. and Cross City, Fla., the El Dorado mill will produce construction-grade dimensional lumber and decking products from locally-sourced southern yellow pine for distribution within the U.S. The El Dorado facility has the capacity of 180 million board feet.
Sponsor Content
Comments