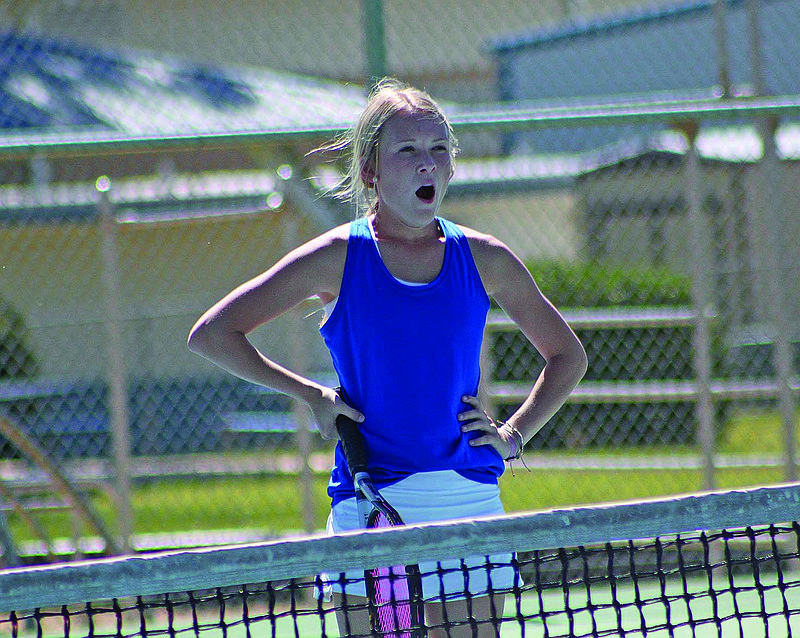 Parkers Chapel's Ali Looney gets caught in a moment of relaxation between points during the conference tennis tournament. Winning a state championship in one sport and finishing as state runner-up in another was hardly boring for the senior Lady Trojan. Looney was named Sports Alley/News-Times Fall Sports Female Athlete of the Year. - Photo by Wes Taylor
It was another ho hum Fall sports calendar for Parkers Chapel's Ali Looney. The senior earned All-State in two sports – tennis and cross country – won an individual state title in tennis, won a team state title in tennis and finished second in the 2A State Cross Country Championships.
Some might call that an incredible career. For Looney it was just another October and November.
Few athletes have been more dominant in the Fall than Looney, who was named Sports Alley/News-Times Fall Sports Female Athlete of the Year for the fourth time.
In her career, Looney was a four-time cross country All-Stater and earned All-State in tennis three times. She also earned All-State in track as a freshman. On the court, she won two doubles' state championships, was state runner-up and advanced to the quarterfinals as a ninth grader.
"Beyond her contributions in athletic talent, Ali has been a model representative of Parkers Chapel," said PC tennis coach Casey Rapp. "Ali is an amazing person and has a bright future ahead. I have thoroughly enjoyed watching her progress over the past four years and will definitely miss her greatly."
Looney has played five sports for the Lady Trojans, including basketball, softball and track. Cross country was not her first choice. Ironically, she has already received three offers from colleges for cross country.
"When I first started running, I honestly never would have thought I would have continued to do it in high school and I certainly never thought I would have a chance to do it in college," said Looney. "Basketball and tennis have always been my favorite sports, but I never thought I would be good enough to play in college. I realized running was my best sport when I started getting interest from colleges during my junior year."
Looney won four of the six races in which she competed this season. Her second place finish at the state meet was the best of her career. On the tennis court, she teamed with Bella Frisby to capture the 2A State Doubles championship. The duo's only loss of the season was in the Overall.
"Ali has been a tremendous asset to the Parkers Chapel tennis team over the past four years," said Rapp. "She came into the sport not knowing much but picked it up very quickly because of her natural athletic ability. She has been a state runner up and a two-time state champion. Those are some pretty impressive stats."
While Looney, who led the basketball team in scoring as a junior, turns her attention to the hardwood, she's excited about her future beyond high school. While she had a difficult time settling on just one sport, she will have to make a tough choice soon.
"My future in cross country will largely depend on what career path I decide to take. I'm still undecided on what I want to do but running cross country in college will also help pay for me to go to school," she said. "I also think it would be fun to train and compete with a group of girls who are my teammates. My career at PC running cross country has made the most fun memories and it is something I'll definitely never forget. When I started this journey, I never thought I would have the opportunities that are ahead of me, so I am thankful for that."
Sponsor Content
Comments