Dr. Richard C. Pillsbury retired in 2014 after 35 years of practicing medicine in El Dorado. He'd had an idea for a book encompassing several of his passions: history, medicine and Texas.
In 2015, the fictional United States. Army Ranger and current graduate student Jake Duncan was born, setting the stage for "The Time-Traveling Texan."
After months of research, Pillsbury had a major setback: a cancer diagnosis. Years of treatment would follow, with writing serving as a much-needed respite. Over the following three years, amid cancer recurrences and treatments, Pillsbury made progress on "The Time-Traveling Texan" and had a working draft in the spring of 2020.
The book was in a category all its own – an alternate history within a historical framework, an action-packed adventure and a poetic romance with complex characters.
"The Time-Traveling Texan" follows Jake, who finds himself stuck in the year 1836, when Texas was a deserted war zone and the future was uncertain. Jake bonds with an escaped slave, Nate, and they make their way across the wild terrain, encountering friendly and hostile groups along the way. He meets a tough-as-nails widow named Kate, and they begin to fall for each other. After weeks in the past, Jake isn't sure he wants to return to 2020.
Pillsbury knew he needed professional help to bring his novel to an audience, and eventually he found Linda Tucker of Emerald Publishers, a company with a team of dedicated professionals to guide authors through getting a book published independently.
"Working with Emerald reminds me of my team in the book and how closely they worked together," Pillsbury said. "I have no words for how grateful I am to Linda and the entire Emerald team."
Through Emerald's sister company, Cup & Quill, he began work with a professional editor and proofreader, Dr. Jessica Hammerman, who is also a history professor. Isaac Peterson, the design lead with 20 years of experience in the field, lent his talent to designing artwork for "The Time-Traveling Texan."
"Jake's adventures in time fit the real framework of events and it made the book exciting, especially from a historical perspective," Peterson says. "Editing can be a long, intense experience, but, once we heard about Rick's situation, we made the process as efficient as possible without taking any shortcuts."
Even with treatments that zapped his energy, Pillsbury focused on every detail and worked with Hammerman and Emerald on his characters and structure.
"He might not have realized that we were working in a faster, more intense way than we normally would, but he was up for it," Hammerman adds. "He was always able to hash through the fine details of character and plot in a kind of a marathon sprint format."
With news in September that treatment options had run dry and Pillsbury had mere months to live, Emerald sprang to action to fast-track the book to put a copy in his hand before the end of October.
Emerald fast-tracked design and focused exclusively on "The Time-Traveling Texan." For the cover, Peterson sought inspiration by looking at western novels and fonts. He selected two, one of which was named "The Dead Saloon," and Peterson finished the cover in a few days versus the normal few weeks.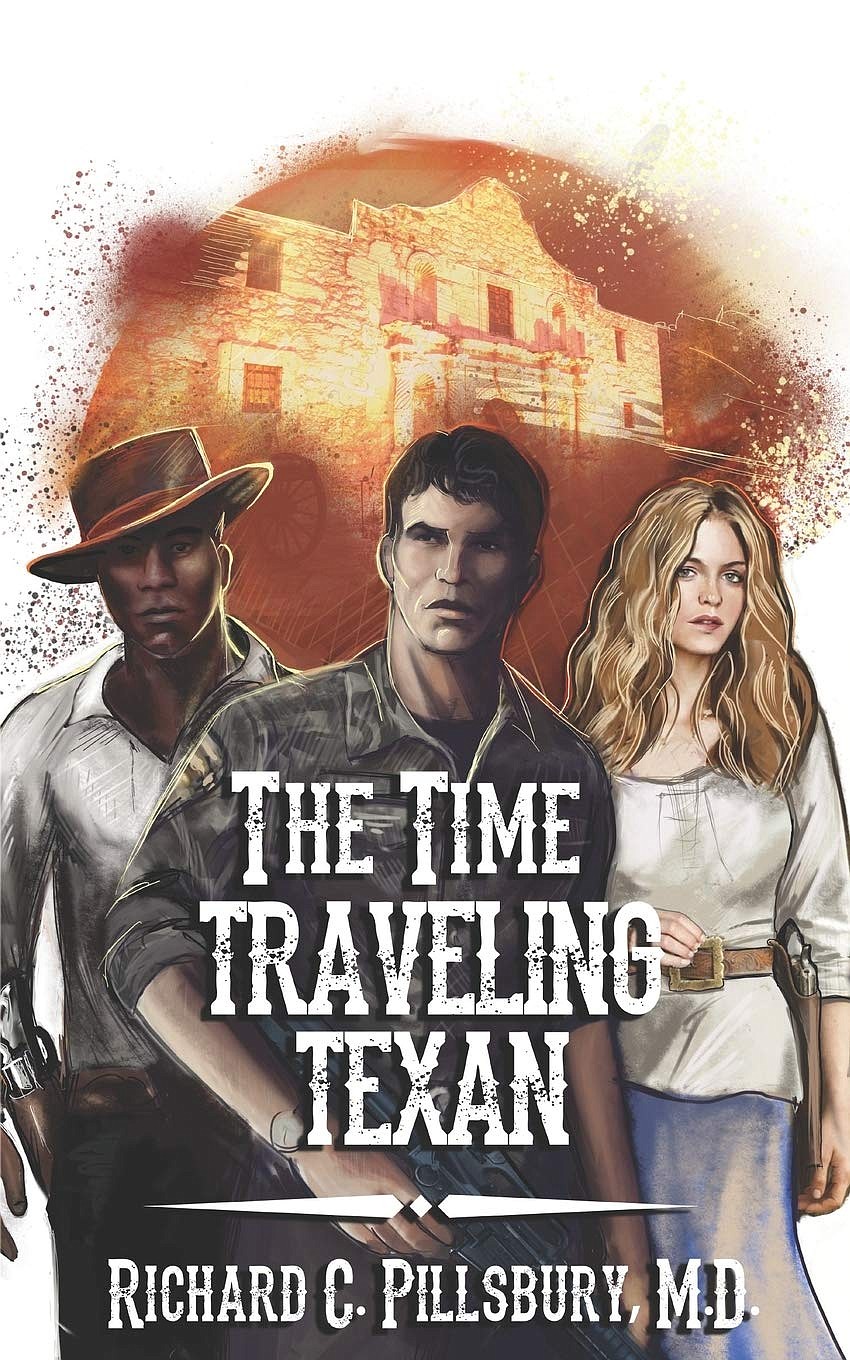 "Isaac really captured the spirit of the three main characters in the cover," Pillsbury says. "It is almost as if he knew how I saw these characters in my head. Seeing it for the first time took my breath away and made me realize this was really going to happen."
On October 22, the book was available for purchase on Amazon, several weeks before anticipated. Pillsbury's son was the first person to receive a copy and the first person to get an autograph.
"The first time I held the book, I had an immense sense of pride and accomplishment," Pillsbury said. "As a physician, I used the scientific part of my brain, and, in writing this book, I used the artistic part of my brain."
Producing the book was a labor of love for Emerald as well. Peterson remarked that even if Emerald reviewed this project without knowing the author's situation, they would have felt the book was special, and getting to know Pillsbury made this one of the best projects they have ever done.
"Rick was much faster than other authors we work with since we had expedited the timetable," Peterson says. "Having learned more about his condition and what he is going through, it can't have been easy to always muster that energy, and we are only now becoming aware of his great generosity as a person, especially now that we have an idea of the huge community of people waiting to read this book at least in part because they love Rick."
"The Time-Traveling Texan" mixes compelling characters with historical fiction. It is an exciting yet intimate portrait of early Texas history. Those who like a good cowboy story, passionate romance, or a strange sci-fi twist will love "The Time-Traveling Texan." The book is available on Amazon.