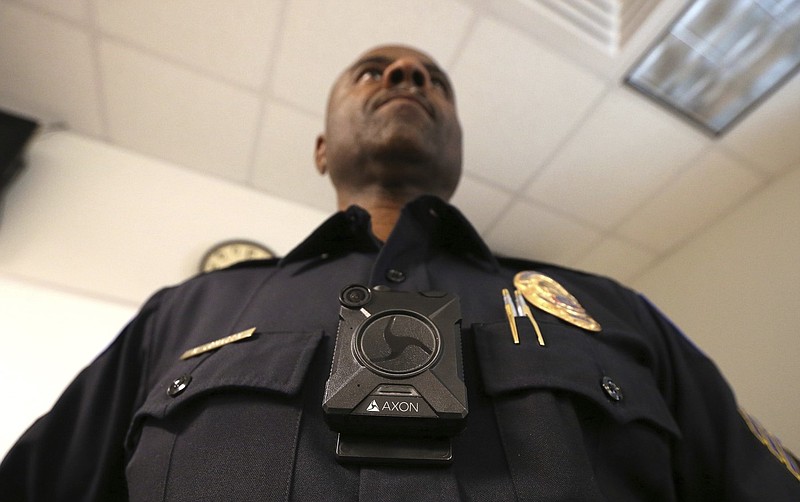 A police officer shows off the Axon Body 2 body camera in this July 2019 file photo. - Photo by AP / Ross D. Franklin
The Union County Quorum Court voted unanimously Thursday to allow the county to enter into a five-year $217,602.70 contract with Axon Enterprise on behalf of the Union County Sheriff's Office.
By entering into the contract, the UCSO will be able to purchase new body cameras and TASERs for each patrol deputy; the contract also provides for cloud storage of footage from the body cams.
Sheriff Ricky Roberts said the UCSO has employed body cams for about seven years, and that while deputies are mandated to turn on their body cameras any time they get out of their patrol vehicles, the Axon cameras will be programmed to automatically turn on any time a deputy draws their TASER or firearm.
"Every time an officer pulls his gun — draws his gun — it automatically turns his camera on, so we don't have to worry about 'he didn't turn his camera on,'" Roberts said.
The camera footage will also automatically live-stream on a deputy's supervisor's phone if the deputy pulls his weapon. Roberts said the UCSO is working to have the live-stream capability extended to the dispatch office on-site as well.
"When he (a deputy) pulls his gun, it goes automatically to his supervisor's phone, so he (the supervisor) can watch it en route, and we're hoping to implement that into our dispatch center, so that if an officer gets in trouble, it'll show his camera in the dispatch to see what's going on," Roberts said.
The cost of the contract will be paid out over five years: $44,362.22 the first year and $47,505.78 the subsequent four years. The total cost was discounted by $21,865.20 for equipment already owned by the UCSO. Roberts said his office will pay for the cameras and TASERs from funds raised through the jail's commissary sales, which the UCSO receives a percentage of.
District 4 Justice of the Peace Dean Storey asked whether the jail would raise prices on commissary items, and Roberts said that is not part of the plan.
Roberts noted that Axon is the sole distributor of TASER products in Arkansas. Axon provided a "sole source" letter demonstrating that the products were not available from other vendors; Roberts asked the Quorum Court to consider that in order to allow the UCSO to skip the bid process it would typically undergo. Entering into the five-year contract will allow the UCSO to send any TASERs or body cams that break or require maintenance in without any additional cost to the county, he said.
"It's sort of like a lease-to-own kind of deal," Roberts explained.
Since body cam footage will be stored indefinitely to a cloud server, prosecutors will be able to access it without anyone from the UCSO needing to burn copies to a disc or flash drive. Roberts said that will cut down on the amount of paperwork and administrative work the patrol captain is responsible for.
"I think it's a no-brainer," District 6 JP Cecil Polk said. "Whether it be any idiot coming up here and pulling a gun and shooting a police officer or racial profiling, it doesn't matter. You've got to be protecting yourself at the court."
"This is for the protection of our citizens, as well," District 3 JP Greg Harrison added.
Roberts said he hopes all deputies will be able to be outfitted with one of the new body cameras by the end of the year.
Sponsor Content
Comments