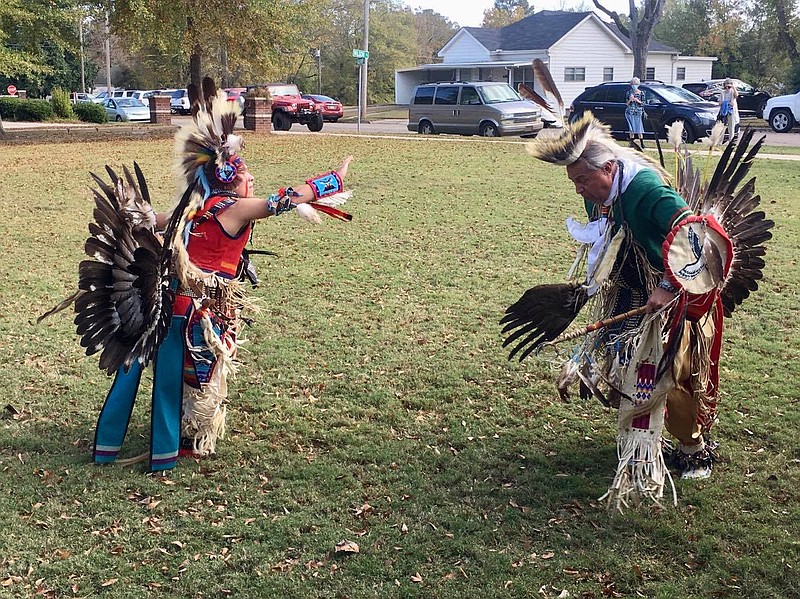 The South Arkansas Historical Preservation Society held a Pow Wow commemorating Native American History Month on Saturday, Nov. 14.
Pow Wows are a way for Native Americans to meet, dance, socialize, and honor their cultures according to PowWows.com.
A sizable crowd gathered on the side lawn of the SAHPS facility in El Dorado on what was a warm and sunny day. To open festivities, Steve Biernacki, SAHPS executive director, talked about the importance of recognizing Native American History month and how it is his goal as executive director to make the SAHPS more inclusive of all the cultures and groups of people that have helped to build and shape south Arkansas.
As Biernacki was speaking to those in attendance, the sound of beads and bells clanging began to fill the air. In the near distance, members of both the Kiowa tribe and United Lumbee Nation of Northern California could be seen coming from the entrance of the museum, adorned in ornate and meticulously handcrafted traditional Native American garb.
Gallery: Preservation Society celebrates Native American History Month
Vibrant colors and feathers were prominent in their attire. Billy Barham, an elder member of the Kiowa tribe, shared the story behind the specific feathers worn.
"The feathers we're wearing are specifically from the Golden eagle," Barham shared. "Golden eagles are hunters and fly higher than other eagles. They are heavily revered among Native Americans."
He also shared the process for obtaining a Golden eagle.
"It takes four to five years to get a Golden eagle. We have to go through WildLife and Fisheries. Once one of the eagles unfortunately dies or is killed, we have to go through them to obtain the bird for our usage," Barham said.
Barham was joined by his grandson, Caleb Gray, who made his entire ensemble.
"You can't get this from Walmart," Barham said as he introduced Gray to the crowd, drawing laughter.
The two would then proceed to partake in a couple of traditional Native American dances and celebrations, one referred to as a "sneak up." While dancing, the attire worn came to life as the beads, feathers, and bells made a dance of their own as Barham and Gray's bodies were in motion. The audience attentively watched as the two danced and chanted, sometimes garnering the slowing down of cars driving by that also wanted to catch a glimpse.
Barham and Gray were not alone in dancing. Krystal Whitecloud, of the United Lumbee Nation of Northern California and Lanie Crawford, a member of the Kiowa tribe, danced in place while the men danced, a traditional custom of Native American women at Pow Wows, Barham said.
"Ladies dance in place in Northern style and in a circle in southern style Pow Wows," Whitecloud said. She also shared a fable on how the "turkey got its gobble" with the audience.
Both ladies also wore a long and elegant shawl on their arm.
"Wearing a shawl is a show of honor and respect before entering a circle or Pow Wow," Whitecloud shared.
After the sharing of Native American history and costumes, attendees were invited inside of the SAHPS facility to view the Native American History exhibit that will be on display until Christmas.
The exhibit is an extensive collection of Native American artifacts, photos, dress, and even a tipi. November is Native American History month and the SAPHS encourages all to come out and learn more about people and customs that are often overlooked and culture-stripped, as Biernacki shared with those in attendance on Saturday.
Sponsor Content
Comments