The Arkansas Department of Health and Arkansas Center for Health Improvement recently released public health recommendations for celebrating Thanksgiving in a way that is safe and limits the transmission of COVID-19.
As communities around the state see their COVID caseloads and hospitalizations rising, both institutions are urging Arkansans to consider altering their holiday plans to ensure the wellbeing of both themselves and their neighbors.
According to the ADH, the following persons should not participate in any kind of holiday gathering due to the high risk of exposing a loved one or community member to the virus: those currently experiencing symptoms of COVID-19; those who have tested positive for COVID-19 and are still within their 10-day isolation period or are still experiencing symptoms of the virus; and those who have been exposed to COVID-19 and are still within their 14-day quarantine period.
Additionally, one should check with their loved ones, particularly those who are more vulnerable to the serious effects of COVID-19, such as elderly people or those with pre-existing health conditions, what their thoughts on gathering for the holidays are; if they are not comfortable gathering, one can consider hosting virtual events with video technology, as the ADH recommends.
If one's family does choose to gather, the ADH advises that all participants should be masked except when eating or drinking and socially distance from one another with at least six feet at all times. One might also consider asking those family members who will participate in the gathering to quarantine in the two weeks leading up to the holiday, and perhaps limit participation to a number of people who can safely socially distance within the space the gathering will be held in.
Dr. Jose Romero, ADH Secretary, explicitly advised this week against bringing a loved one who resides in a nursing home or assisted living facility home for the holidays.
"I am going to come forward today and state that I strongly discourage that persons living in assisted living, living in congregate settings, be taken away from those congregate settings and have Thanksgiving or holidays with their families. Roughly speaking, there is a 30% increased chance that you could become infected and die," Romero said Tuesday. "We have seen an increase in the number of deaths since the liberalization of visitor restrictions in nursing homes, and we are concerned this is going to continue so at this time, I, as Secretary of Health, am not recommending this be done for the upcoming holidays."
In its holiday COVID guidance, the ADH outlines low-, moderate- and high-risk holiday activities. Low-risk activities include hosting a small dinner with household members only; hosting a virtual gathering using video technology; participating or watching holiday programs from one's vehicle or virtually whenever possible; and participating in online instead of in-person shopping.
Moderate-risk activities include having a small dinner party with fewer than 10 family members or friends outdoors, with masks and social-distancing measures in place; visiting a pumpkin patch, Christmas tree farm, walk-through lighting display or other holiday venue that is outdoors and where mask enforcement is in place and social distancing of six-feet can be maintained; and in-person shopping outside of peak hours.
The ADH recommends avoiding high-risk holiday activities, which include travelling outside one's local area; in-person shopping on Black Friday or other peak holiday shopping times; large indoor gatherings with friends and family that do not live in the household; and attending other large holiday gatherings where large numbers of people are together.
On Thursday, ACHI President and CEO Dr. Joe Thompson held a press conference where he offered additional advice for those who plan to gather on the holidays. He recommended that only those residing in a household together have Thanksgiving with one another, but, acknowledging that some people will gather no matter what, he outlined 10 steps families can take to stay as safe as possible while gathering.
They were:
Limit gatherings to 10 or fewer people

Ask anyone with COVID symptoms to refrain from attending

Safeguard those with chronic health conditions, such as those residing in nursing homes

Eat outside, weather permitting; otherwise, open windows and turn on vents inside

Assign one person to serve all guests in order to avoid sharing serving utensils

Limit the length of time the event goes on

Maintain social distance at any events one attends

Wear masks when not eating or drinking

Sanitize and wash one's hands frequently

If planning to stay overnight, maximize the time spent outdoors, maintain social distance and wear a mask throughout the duration of the visit
"I want for everybody to enjoy a safe Thanksgiving, to enjoy a COVID-free Thanksgiving … but for the general population in Arkansas and communities, that safety is several months away," Thompson said. "We know what works. Masks work; this is a respiratory virus. Social distance works; gravity helps bring those (respiratory) droplets down."
Thompson said those planning to partake in holiday events should plan with others who will be in attendance today what they will do to mitigate the risk of spreading COVID-19; if they can't agree, he suggested staying home this Thanksgiving. One should also start restricting any unnecessary outings today if they plan to attend a holiday gathering.
Those who plan to travel or have guests in their home should be tested for COVID-19 no later than the Monday before Thanksiving, Thompson said. That date is Nov. 23.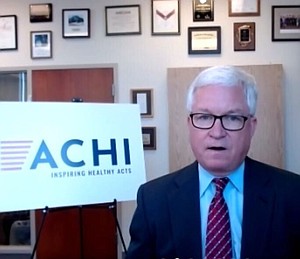 Dr. Joe Thompson, president and CEO of the Arkansas Center for Health Improvement, held a virtual press conference Thursday, where he outlined strategies Arkansans can take to celebrate the upcoming Thanksgiving holidays safely. (Screengrab)
Thompson predicted that the state would reach a new high of over 2,000 cases by this week's end during his press conference Thursday; his prediction turned out to be correct, as over 2,300 new COVID-19 cases were identified in Arkansas Friday, according to the ADH. He said he thinks the state will see 3,000 cases in one day by next week.
"We have lost that control. … What we see in numbers in the state is not only are those numbers going in the wrong direction, they are accelerating in that direction," Thompson said. "Clearly the risk is growing and we do not have control of the spread of this virus. … I think it's important for each of us to do our parts."
To learn more about how to celebrate the holidays safely, visit healthy.arkansas.gov and achi.net.