When Bishop Dr. George Calloway Jr. was interviewed by a News-Times reporter for a story about his military service, he was just days away from knowing if he would be elected to the District 7 seat in the Arkansas House of Representatives.
The U.S. Navy and Vietnam War veteran faced incumbent Sonia Eubanks Barker in the General Election on Nov. 3 and the anticipation and sense of excitement about the possibility of serving the community from a state platform was palpable.
While it was Calloway's first foray into the state political arena, it was not his first time holding a public office or effectuating public service.
He previously served an unexpired term for a seat that had been vacated on the El Dorado City Council. Calloway is also the former vice-chairman of the El Dorado Works Board, which administers the city's 1-cent sales tax, which is earmarked for economic development, municipal infrastructure and quality-of-life projects.
He provides spiritual guidance to scores of congregants as pastor of St. James Baptist Church.
Calloway's life's endeavors speak to a passion for serving the community — an extension of a decade of service to his country as a member of the U.S. Navy.
The experience, training and skills he developed in the military are reflected in other areas of his life as a community leader.
A native of Topeka, Kansas, Calloway said he is El Dorado-raised and El Dorado-dedicated, having spent nearly his entire life in south Arkansas, save his birthplace and time spent in the military and college.
Calloway's parents moved from El Dorado to the Midwest in January of 1950 and he was born the following month. The family returned home two months later in April, larger than when they had left.
The junior Calloway's leadership qualities were evident as a student at Washington High School, the former, all-black high school that closed its doors when El Dorado public schools desegregated in 1969.
Now Washington Middle School, the school building is, incidentally, located on Martin Luther King Jr. Boulevard across from the church where Calloway serves as pastor.
Calloway is a member of the WHS Class of 1968, which is a year ahead of the last WHS graduating class of 1969.
A member of the National Honor Society, president of the WHS Marching Band and president of the 1968 student body were just a few of his extracurricular activities.
U.S. Navy
Upon graduating from WHS, Calloway turned to military service by enlisting in the Navy and completing boot camp in Orlando, Florida, where it did not take long for him to emerge as a leader.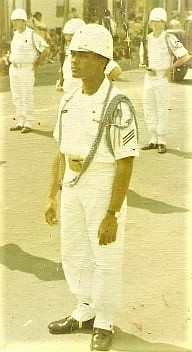 He served as Recruit Chief Petty Officer of his company during boot camp training before moving on to Submarine Training School at two New England locations — New London, Connecticut, and New Port, Rhode Island.
From there, Calloway headed to Radio Communication Training at the former United States Naval Training Center at Bainbridge in Port Deposit, Maryland.
Calloway said he was then assigned to duties in San Diego, California, before shipping off to Japan to meet his first active-duty submarine en route to the Vietnam War.
"I was a Radio Communication Technician in the Pacific Fleet. I served during the Vietnam War in the South Pacific from 1971 to 1974 on the USS Darter, a fast-attack diesel boat, and the USS Snook, a nuclear (Fleet Ballistic Missile) submarine," Calloway shared, adding,
"I was the first and the only African American on board when I served on the USS Darter."
That distinction led to the position of Defense Race Relations Facilitator and Trainer, a post that Calloway held during his last four years of military service.
"During the 70s, we had major racial conflicts in the United States military and across the country. I served as a facilitator in Europe, Spain, Guam, the Philippines, Hawaii and stateside on the east and west coasts from 1974 to 1978," he explained.
Returning home
Following an honorable discharge from the Navy in the late 1970s, Calloway returned to El Dorado and focused on transitioning to civilian life and furthering his education with the help of the GI Bill.
He enrolled in an apprentice program with Entergy, then AP&L, in 1979 and landed a job that unfolded into a 31-year-career with the power provider — first as a relay technician/engineer for 20 years and then as a supervisor for another 14 years.
Calloway's faith and spirituality not only guided him through his educational and career pursuits but also directed him to answer a loftier call.
During his tenure with Entergy, Calloway also earned an Associate of Arts degree from South Arkansas Community College and a bachelor's in theology from the National Theology Seminary.
He went on to complete course work for master's and doctorate's degrees in Christian education in 2001 and 2004, respectively, and a second doctorate in humanitarianism in 2010, the same year he retired from Entergy.
"It took a while but by the grace of God, I finally completed my college degrees. I retired from Entergy Corporation as the (metering supervisor for Entergy's South Arkansas division)," he recalled.
Calloway has dutifully served as a man of the cloth for more than four decades. He was ordained as a bishop in 2002 and served as an instructor for the United Theological Seminary for 10 years.
He is president of the El Dorado-Union County Fellowship Alliance and of the Congress of Christian Education for the Friendship District Baptist Association.
Looking for other ways to be of service, Calloway eventually turned his attention to public office.
In 2009, he threw his hat in the ring for a special election to fill an unexpired term on the El Dorado City Council. The Ward 3, Position 2 seat was vacated in January of that year following the death of Council Member Jimmy Reed.
Calloway's bid was unsuccessful but a series of changes with the Ward 3, Position 2, council seat and the unfortunate passing of another candidate in the 2009 special election would place Calloway in the position nine years later.
The late Tony Henry, also a U.S. military veteran, clinched the win and succeeded Reed.
Henry won two additional terms in the 2010 and 2012 elections before launching a campaign to run for mayor in 2014.
Kensel Green then ran for the Ward 3, Position 2, seat and was elected for the next two terms.
Green, then Kensel Spivey, stepped down with six months left on her second term in 2018 to prepare for her upcoming wedding with husband Jeremy Green and for a move to Ward 4.
Henry was appointed to Green's unexpired term and to the post he previously held. He won a re-election bid for the seat in the May 2018 preferential primary election.
Henry was to have been sworn in at the start of 2019 to begin a new two-year, elected term but sadly, he passed away Sept. 1, 2018, due to health complications. He was 63.
Later that month, Calloway was sworn in to fill the unexpired term for Ward 3, Position 2.
At the time, he expressed sorrow for Henry's passing and said he saw the appointment as an opportunity to honor Henry's life, legacy and service to the community.
Hopes of running for a full,elected term in the November 2018 General Election were dashed when the Union County Democratic Party Committee selected current Ward 3, Position 2, Council Member Andre Rucks as its nominee.
Rucks secured the seat in an unopposed race during the General Election that year. He also ran unopposed in the primaries earlier this year to win a second two-year term.
By the time Calloway was appointed to the city council in 2018, he had served several months on the El Dorado Works Board and had been voted as vice-chairman.
He abstained from any council votes that pertained to EWB issues and during stints on both city bodies, Calloway gained firsthand knowledge and insight into how city government tools and resources can best serve the best interests of the people.
Next stop, the Arkansas House of Representatives
With that in mind, Calloway began looking to broaden and sharpen his political acumen. In May 2019, he announced plans to run as a Democratic candidate for representative of Arkansas' District 7 seat.
"The reason I want to serve in this position is because I see the need for laws that are people-friendly and giving a strong possibility for a second chance at life," he said.
"We need programs like the city of Atlanta, Georgia, has that create a means of transition from being incarcerated to [integrating] back into the community as a citizen [who] is an asset [versus a] liability," Calloway continued.
He said he has received overwhelming support from his family — wife Alice Faye Richmond-Calloway, three daughters, four sons and more than 15 grandchildren —, the local faith community and the people of south Arkansas.
Calloway said he is heartened by that support, which is one of several factors that bolstered confidence in his abilities to hold state public office.
His Christian values and experience in the U.S. Navy also informed his campaign.
In 2018, Calloway was named Veteran of the Year by Meet Me at the Court and The Bailey Family and he said he wants to continue to give back to a community that has honored and recognized him.
By the end of the night on Nov. 3, Calloway learned that he would not be able to do so from the state Capitol building in Little Rock, at least not now. Barker retained her seat in a decisive victory of 6,011 - 4,094, according to the unofficial results.
The news may have been disappointing but Calloway's showing in the race was respectable and encouraging — perhaps encouraging enough to run again in 2022.
Until then, Calloway said he will keep working to improve the quality of life for residents in south Arkansas as he has always done, by identifying the needs of the community and heling to fill them in whatever capacity he can.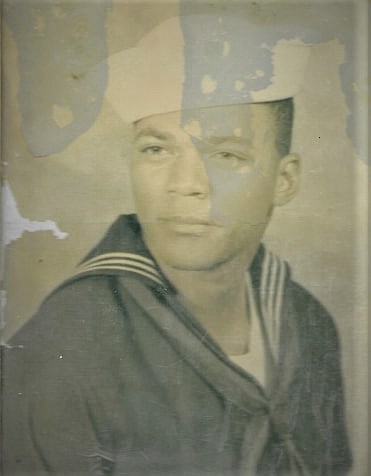 George Calloway served in the United States Navy during the Vietnam War. (Contributed)