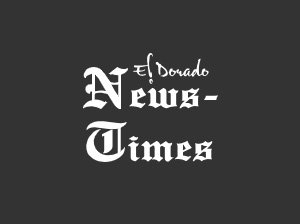 The El Dorado Parks and Playgrounds Commission is putting the final touches on a park improvement plan that, so far, has a total budget estimate of $1.6 million.
On Nov. 4, commissioners reviewed the latest draft of the plan, including cost estimates, that had been prepared by Robert Edmonds, director of public works.
The EPPC has been working on the plan for two years, starting in the fall of 2018 with a tour of city parks and following up with soliciting feedback from local residents with public hearings and invitations to contact commissioners and city officials with ideas and suggestions.
The effort was slowed this year because of the coronavirus (COVID-19) pandemic, which forced commissioners to cancel regular meetings for much of 2020.
The group met last February and did not regroup until late September to resume discussions about the plan.
Now, the EPPC hopes to review and finalize the details this month and present a funding request during the El Dorado Works Board's regularly scheduled meeting in December.
The EWB administers the 1-cent city sales tax that is directed toward economic development, municipal infrastructure and quality-of-life projects.
Fifteen percent of tax revenue is dedicated to community development projects.
Of the 15%, 6% is dedicated to parks and playgrounds, including sports, recreational and outdoor venues and projects.
Proposed projects that had been discussed prior to the EPPC's Nov. 4 meeting included the addition of public restrooms to at least three city parks; renovation of existing or construction of new restrooms/changing rooms at the Mattocks Park swimming pool; expansion of the basketball courts in Mattocks Park; resurfacing the tennis courts in Mellor Park; a new workshop/storage building at Lions Club Municipal Golf Course; and the addition of picnic tables, BBQ grills, benches, pavilions and more to city parks.
Commissioners had been awaiting cost estimates for the Mellor Park tennis court project and those details and more were included in the draft that was submitted by Edmonds Nov. 4.
The tennis court rehab is estimated at $200,000.
Additional details and cost estimates were listed for equipment purchases and maintenance, including:
• Leveling, hydro seeding and irrigation for the ballfield at Neel Park, which is heavily used for soccer.
• A greens roller, sweeper, mini excavator, commercial herbicide sprayer and sod cutter for Lions Club.
Edmonds said some of the equipment will also be used for other city parks and outdoor recreation spaces.
For instance, he said the excavator could be used at the El Dorado-Union County Recreation Complex and the sweeper for the recreational trail that encircles the golf course, Union County Fairgrounds and the El Dorado School District soccer fields.
Revisions and clarifications
Commissioners also revised and clarified parts of the plan.
Edmonds and Ken Goudy, chairman of the EPPC, noted that funding from the city parks budget has already been allocated for the LCMGC workshop/storage building and irrigation improvements, estimated at $30,000 and $200,000, respectively.
"Those will not be a part of that (EWB) request," Edmonds said.
An estimated $153,000 was added to the plan to surface the trail that surrounds the golf course.
Commissioner Alexis Alexander said she had received inquiries about the matter.
"There's people that don't feel like they can run out there safely because it's not smooth enough," she said.
Edmonds said users of the high-traffic, 2.25-mile trail have asked about asphalting since it opened seven years ago and he said the entire route could probably be asphalted for $153,000.
Goudy said he occasionally uses the trail and while he was aware of periodic wash-outs in some areas after heavy rains, he did not realize the trail was "that unlevel."
"I just wanted to look at that possibility before we go and ask for money because if it's something that can be done and something that we can get added into this, then … I say add it in there. If people have been asking for it, I mean, what does it hurt to ask?" Alexander said.
Commissioner David Hurst reminded commissioners that they previously discussed installing another set of basketball hoops to Lions Club Park, which sits on the west side of the entrance of the municipal golf course at the intersection of 19th Street and Martin Luther King Boulevard.
The EPPC agreed that the popular park draws crowds. A new set of goals were installed during the last round of park improvements in 2015.
Commissioner Brian Jones noted that neither of the existing goals at Lions Club Park have nets.
"They tear them down as fast as you can put them up," Goudy said.
He added that metal chain nets last longer, noting, "But there's so much play on them and when everybody dunks on them and do all that, it just takes a toll."
Commissioners also discussed the possibility of relocating the Lions Club basketball courts because the current spot is close to the street — which poses a safety hazard.
The pointed to a vacant lot across the street as a potential site and Edmonds said he would research the matter, including who owns the land.
New EPPC Commissioner Karen Hicks said she would also like to see a basketball court added to Neel Park.
Hicks said many middle school-age children live in the neighborhood surrounding the park and several play basketball with portable goals that are set up in the street.
Goudy said he thought it was good idea because it fits within the EPPC goals to make city parks as safe and family- and user-friendly as possible.
Hicks also suggested that the city remove old, dilapidated dugouts from Neel Park.
The dugouts are not used by the soccer groups and spectators who frequent the park, she said, adding that removing the dugouts would help to prevent "unwanted traffic in Neel Park."
"Actually, I think they kind of turn into bathrooms sometimes," said Hicks.
As for other components of the improvement plan, Edmonds said it is up to commissioners to decide which parks they would like to add more picnic tables, BBQ grills and pavilions.
Hurst suggested grills for Mellor Park, saying that many birthday parties are held in the park and families load grills onto pickup trucks to transport to the park.
"I would think that you probably wouldn't want grills at the dog park," Alexander said, referring to Mitchell Park, which has a pet enclosure on its south end.
Goudy said a new, "nicer" pavilion is also planned for Mellor Park.
Commissioners discussed adding striping for pickleball to at least three of the six tennis courts in Mellor Park.
They previously suggested building public restroom facilities in at least three city parks but on Nov. 4, the discussion shifted to adding new restrooms to most city parks.
According to figures provided by Edmonds, the buildings, which include single units for men and women, are estimated at $30,000 each.
Sponsor Content
Comments