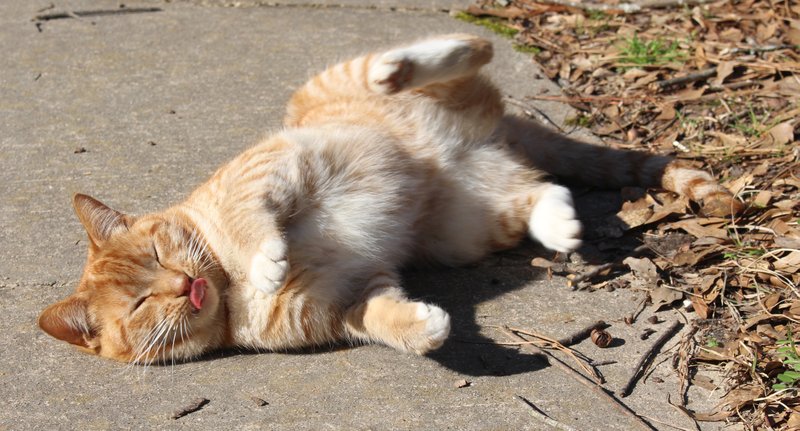 Sun bathing: A stray cat rolls in the sun on East 8th Street. The Union County Animal Protection Society introduced a trap-neuter-return program for El Dorado's stray cats in March, 2019. (Madeleine Leroux/News-Times)
The El Dorado City Council will soon begin preparations for the 2021 city budget and one item the council will consider is a request to continue supporting the Union County Animal Protection Society's Trap Neuter and Release (TNR) program — and possibly, the city's dog control service.
Council members heard a report on the TNR program during a regular meeting Nov. 5.
Last January, the city council approved $10,000 from the El Dorado Works tax to support the program within city limits.
The TNR program was launched in March of 2019.
UCAPS sets humane traps to capture, spay and neuter and administer rabies shots for homeless cats to help contain stray and feral populations and the nuisances they can cause in El Dorado and Union County.
The city council's OK for funding was based on a recommendation from the El Dorado Works Board, which had already approved UCAPS' funding request.
EWB members later presented the proposal to the council for final consideration.
The EWB administers the 1-cent, El Dorado Works city sales tax. The tax is designated for economic development, municipal infrastructure and quality-of-life projects.
UCAPS initially proposed a three-year TNR plan, starting with $20,000 to target 150 cats in the first year; $18,000 for 130 cats in the second year; and $15,000 for 110 cats in the third year.
After a lengthy discussion in December of 2019, the EWB followed a recommendation by former treasurer Alison Abson to allocate $10,000 and assess the situation for 2021.
The Council did just that Nov. 5.
Angelica Wurth, a UCAPS volunteer, reported that with the help of the city, UCAPS was able to TNR 250 cats within the past year.
Wurth explained that the $10,000 would have covered TNR services for approximately 75 cats but with the city's support and heightened awareness about the issue, UCAPS was able to raise additional funding for the program — resulting in enough money to TNR 250 cats for a total of $27,000.
She also told council members that UCAPS has found cost-effective alternatives for the neutering service, including a transport component for lower pricing options in Little Rock.
Wurth reiterated points that UCAPS made last year, noting that the city's contracted dog control service does not cover cats or other animals and demands and complaints about cat overpopulation primarily come from El Dorado residents in areas throughout the city.
Wurth asked the council to continue its financial support of the TNR program.
Council Member Willie McGhee, who cited an ongoing problem with cat overpopulation near his house, championed the TNR program.
"I have set traps so I know what that involves. It's a good program and it's a much-needed program to have," said McGhee, who represents Ward 3, Position 2.
Council Member Mike Rice agreed, saying UCAPS has "done a great job" helping with cat overpopulation in his neighborhood and other areas of Ward 1, which he represents.
"I've heard nothing but great things about the program and how friendly and helpful they are and they're all volunteers that come out and do this," Rice said.
He called on the council to revisit the matter during 2021 budget talks.
"It needs to be a several-years-down the road commitment and the problem will start fixing itself," Rice said.
Added Wurth, "So, what I hear from the community is that we don't want dogs to be running around and to be a nuisance. Well, it's the same thing for cats. If there's a colony of three or four cats on your street, they're not a nuisance but if it's a colony of 20 cats, it's a nuisance."
Mayor Veronica Smith-Creer asked if UCAPS would have to return to the EWB with another funding proposal and Council Member Vance Williamson, who chairs the council's Finance Committee, said yes.
EWB chairman Greg Downum said the council may also choose to take the funding from a different line item in the city budget.
The city previously assisted UCAPS and other community organizations, including the Boys and Girls Club of El Dorado, the former Court Appointed Special Advocates — now the South Arkansas Children's Coalition — and the South Arkansas Development Center with funding through a special projects budget.
Several of those services were cut and the special projects budget scrapped in 2005 as city officials dealt with tight revenue projections for the 2006 city budget.
Council members later agreed to move the Boys and Girls Club to the city's parks budget and resumed a contract for services with the club, saying that the city does not provide an organized youth recreation program.
Funding for UCAPS and other programs was not reinstated.
Contract for services
On Nov. 5, Council Member Andre Rucks expressed concern about the $70,000 annual contract with Charles Hartsell for the city's dog control service.
The city previously maintained an in-house Animal Control Office, which was part of the Department of Public Works.
The ACO included an animal control officer and an assistant officer who responded to calls about complaints and safety concerns for a variety of animals, except cats.
City officials agreed to contract the service in 2012 after then-Mayor Frank Hash said he was experiencing difficulties finding qualified candidates to fill vacancies in the Animal Control Office.
Hartsell has held the contract with the city since then, with a focus on dog control.
Rucks said he felt funding for the UCAPS TNR program should come from the budget for the dog control contract with Hartsell.
"It just bothers me that they're getting $70,000 to control our animal population and we've got to pay additional funding to get an additional animal when it should be a complete umbrella," Rucks said.
"Either we need to take money from there to give to the cats … I just think we're double-dipping for the same service," he added.
McGhee — who has long expressed frustration with the dog control contract and the confusion and complaints from residents about what services that are and are not covered in the contract and about Hartsell himself — agreed with Rucks.
McGhee alleged that Hartsell and his team do not patrol city streets often enough to identify and address problem areas with animals and the work truck that Hartsell drives is not identifiable to residents as the city's animal control service.
Williamson said a city-issued pickup truck that was previously used for animal control service is no longer "drivable" so Hartsell uses his personal vehicle.
"Well, he needs to put one of those magnetic signs on it … I just think with the dog catcher, we're not getting the best bang for our buck. We don't even get a report and if we do, it's handwritten. We've never gotten a report that looks like this," McGhee said, referring to the report that submitted by UCAPS for the TNR program.
Willimason said the council could review the matter during 2021 budget talks.
Sponsor Content
Comments