Some people go their whole lives without finding something they're passionate about; but that's not the case for two-year old Myles Rigdon.
"Myles is obsessed with every type of truck, including dump trucks, excavators, bulldozers — anything construction-related, or just all big trucks in general," Myles' mom, Kaitlyn Rigdon said. "He has always been fascinated with them, even from a very small age."
Imagine how Myles felt earlier this year when Tim Zilks, a sanitation worker for the City of El Dorado, surprised him with his own toy garbage truck after Myles' grandmother, Lori Rigdon, took him to the curbside one morning to wave hello as the truck stopped.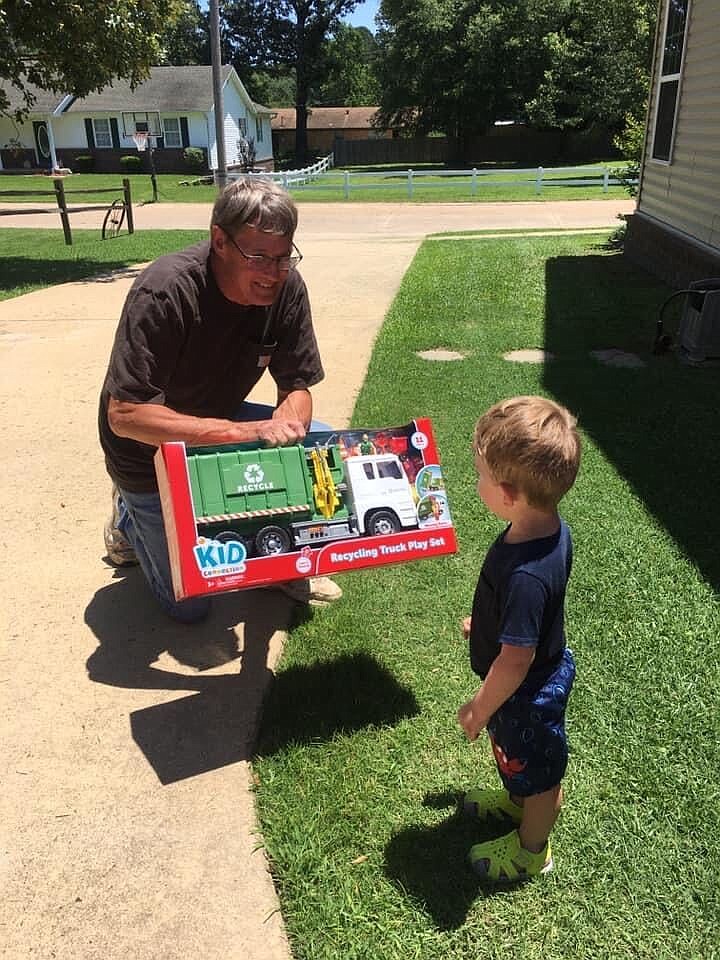 Earlier this year, after greeting sanitation workers for the City of El Dorado as they stopped by his grandmother's house for trash pick-up, Myles Rigdon was surprised with his own toy garbage truck by Tim Zilks, a sanitation worker for the City of El Dorado. (Contributed)
"Trash day is his favorite day of the week and he always stands outside and waves to the sanitation workers when they come by," Kaitlyn Rigdon said. "We were completely shocked that someone would go out of their way to buy him a garbage truck. It truly meant so much, not just to Myles, but to the whole family. It was so sweet."
Myles' dad, Jordan Rigdon, does work similar to the city's sanitation workers, operating machinery at Wildcat Recycling.
"Myles loves to watch his dad work and drive the trucks at the recycling yard," Kaitlyn Rigdon said.
Myles was still a little young to decide what he wanted to be for Halloween when the holiday rolled around this year. When his mom asked him a few months ago what he wanted to be, she noticed him playing with one of his garbage trucks and realized that would be the perfect costume for him.
"I asked him what he wants to be next year, and he said he wanted to be a garbage man again," Kaitlyn Rigdon said. "The costume was really easy, we just had to figure out how to make the trash can have wheels. We bought just a plain black trash can from Walmart and spray painted it green, then added the city logo with chalk paint. Jordan figured out a way to add the wheels and a handle. It was definitely a team effort."
Now, the trash can bearing the City of El Dorado's logo sits in Myles' room. Kaitlyn Rigdon said he loved it from the moment he first saw it.
This past week, Myles got to meet another of the city's sanitation workers, Anthony Moody. On trash day, his grandmother took him out to greet them, and Myles shared some Halloween candy along with a bracelet bearing the phrase "the same blood," a reference to 1 John 1:7.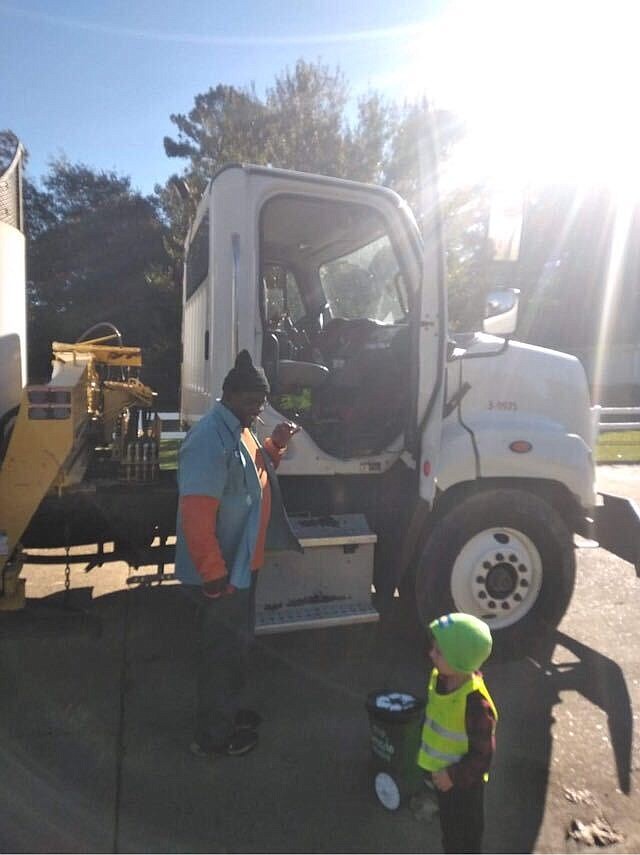 On Wednesday, better known to Myles Rigdon as trash day, the two-year old shared Halloween candy and bracelets referencing 1 John 1:7 with Anthony Moody and another sanitation worker for the City of El Dorado. Myles has been fascinated by big trucks, particularly garbage trucks, since he was small, and has built relationships with several of the city's sanitation workers this year. (Contributed)
Moody couldn't be reached by press time, but Lori Rigdon said she felt their visit last week was a bright spot during a politically divisive week.
While Myles hasn't quite decided what to do when he grows up, his mom said he is already planning to at the very least drive a big truck in some capacity. For now, she's proud to see his admiration for the city's sanitation workers.
"I also think it's such a great thing because the sanitation department doesn't always get the recognition they deserve," Kaitlyn Rigdon said. "They work so hard for the whole community."
El Dorado Mayor Veronica Smith-Creer has devised a way for local residents to recognize workers like Moody and Zilks. The "1, 3, 5 Complimentary Coin Challenge" is ongoing in the City of El Dorado. Local residents are encouraged to compliment a city employee by calling Smith-Creer's office at 870-862-7911, sending an email to [email protected] or sending a message to the City Hall or M.A.Y.O.R. (Making Achievements Yielding Outstanding Results) Sunshine Facebook pages. Color-coded plastic coins are issued to employees to track the number of compliments they receive.
The first compliment yields a green coin and a mention on the Mayor's Monday Morning Movement Moment livestream on the Sunshine Facebook page. The resident and city employee's names will also be listed on the City Hall Facebook page. A blue coin accompanies the third compliment for the same city employee, who will receive a gift certificate to dine at a locally-owned restaurant.
Finally, a red coin is awarded upon the fifth compliment for the same city employee and garners an Employee of the Month win, recognition during the last El Dorado City Council meeting of the month and a gift that is presented by the mayor.
Tia Lyons contributed reporting.