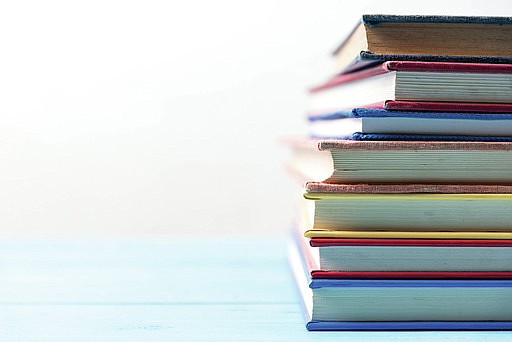 Finishing up my column is always tricky, but this month I had a harder time than usual. Most of the writing was done, but I was still waiting for inspiration to strike and bless me with a good opening.
Sometimes it's difficult to think up an attention-grabbing line—if I'm lucky, it appears right out of the blue. This week I had some help. Attending a two-night creative writing course, I learned a valuable tip from our instructor: "Write what you know," he advised.
What I know about is books: I love to talk about them, hear what others think about them and find out about new ones and why they're good. It's what I do here—tell people about what I've read and hopefully get them interested in books.
Another thing that I do is let you know about our library and everything that's going on there. Recently we've kicked off curbside pickup. Even though we're not opening to the public, residents now can check out books from our library. If you see a book you want in our online catalog, just give us a call—we'll decide on a pickup time. Then we'll meet you outside with your choice. It's an easy way to safely check our books out. You also can call and ask if we have a book. Our phone number is (870) 864-7115, and the website is southark.libguides.com—click on the "Catalog" link. Have questions? Let us know.
So finally, here is the good part… what I've been reading. Art, history, World War II; a creepy contemporary story; a Polish translation of a mystery revolving around a funny elderly lady with an attitude; and a 900-page classic by James Michener.
I was interested in "The Night Portrait" by Laura Morelli because it revolves around the story of the "Monuments Men" in World War II. Also involved are Edith, a German art restorer; and in 15th-Century Milan, the story goes back as we learn about the creation of Leonardo da Vinci's work "Lady with an Ermine."
"Leave the World Behind" by Rumaan Alam is timely, unsettling and frightening, but it starts off in an ordinary way: A family heads to a rented house for a weekend in the country. The home that they have rented is beautiful, off the grid, remote, an enviable second home. But when the family hears a late-night knock on the door, two strangers enter the picture who are not really strangers, and that's not all: Something bad is happening in the city, and the outside world, and they can't find out anything about it. This was a quick, fun read for me. Probably not for everyone, but I can't say anything else because I don't want to be a spoiler.
"Drive Your Plow Over the Bones of the Dead" by Olga Tokarczuk is a book I read and enjoyed especially. The main character is a grumpy 60-year-old woman who has nicknames for her weird neighbors, is a champion for animal rights, and admittedly is a little strange. Janina (she hates her name) lives in a remote Polish area and has a unique outlook on life. However, she is kind and concerned about her neighbors who seem to be in trouble—it's a notable example of an unreliable narrator. Not the easiest book to get through, but there are funny parts and a mystery to solve, which keeps you guessing until the very end. If you've read "A Man Called Ove," it reminded me of that book's main character.
I finally finished "Hawaii" by James Michener. At 900-plus pages, it is average for one of his novels, but I've been working on it since June. Another huge brick, but it was thoroughly worth reading. It's not the first Michener I have read, but each one is about a different place and time. Any one of them is a learning experience that will make you curious about the subjects mentioned in the book. Even though it doesn't dwell on the touristy side of Hawaii, it still made me want to visit.
I'll have lots of new arrivals to tell you about next month, so be watching for the next column!
Lauri Wilson is the cataloging and digital content manager at South Arkansas Community College.
Sponsor Content
Comments