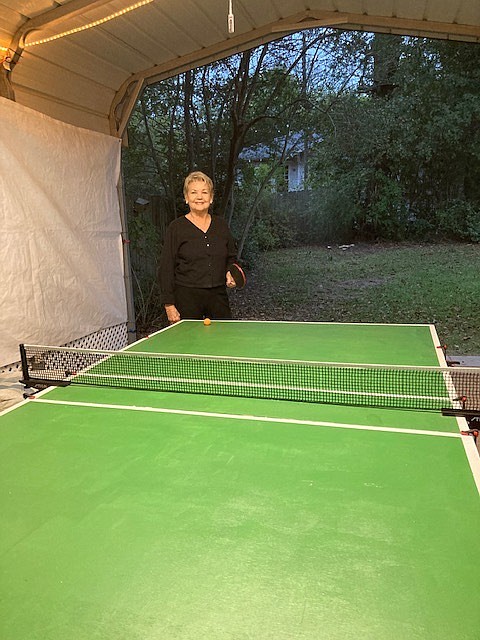 Jane Johnson prepares for a game of ping-pong at her and her husband Scott's homemade table. Scott Johnson built the ping-pong table with the help of his eldest grandson and the couple have become avid players since the outbreak of the COVID-19 pandemic. (Contributed)
COVID-19 has had an impact on people of all types, from students who might now see their classroom through a screen to elderly people who might now find themselves deprived of social contact like never before.
The pandemic has made things once taken for granted - socializing with friends, eating in a restaurant, going to school - more difficult than ever before.
Local couple Scott and Jane Johnson, both in their 70s, were taking the recommended precautions against the virus, practicing social distancing and limiting their trips out.
Several of the Johnson's grandchildren decided to travel from Lubbock, Texas to spend time with their grandparents.
"They were worried about us being here by ourselves during COVID… They've always liked El Dorado and liked to do things around town," Scott Johnson said.
During the visit, one of their grandchildren brought up ping-pong. The Johnsons searched online for a place to buy a table and, unable to find one, Scott decided to build it himself along with his oldest grandson.
"We went and bought some plyboard and built the table from scratch. We got some green paint and white strapping, got the net from Academy and some balls and paddles from Wal-Mart," Scott Johnson said.
They set the table up outside but under cover and soon found themselves playing each day with their grandchildren.
The Johnsons had very little previous ping-pong experience but enjoyed the game.
"We loved what we were doing and we saw the benefits and the exercise," Scott Johnson said.
Scott is the pastor of East Faulkner Church of Christ in El Dorado, and soon church members, neighbors and friends heard about their new hobby and decided to join in.
The table is 5x9, the perfect length for social distancing, and has allowed the couple to socialize while staying safe.
The benefits go further than that, according to Jane Johnson.
"We wanted to stay active but couldn't see people or go out, so we were limited as far as activities. So to keep from sitting on the couch, we started playing ping-pong and we've had a blast," she said.
The couple is, at this point, devoting much of their free time to this game.
"We play two or three hours every day and after every meal. If we have 10 or 15 minutes we'll just run out and play," Jane Johnson said.
Jane has even experienced verified positive health benefits from playing.
"My blood pressure is better than it's been in 30 years. My doctor asked what I've been doing and I said two words: ping-pong. It also helps with hand-eye coordination, movement and things like that for people our age. We're both healthier than we've been in a long time," Jane said.
The two have also lost 10 to 15 pounds since they started playing. The couple is adamant in their belief that it is the perfect sport for the age of COVID-19, both for people their own age and others.
"It's just so much fun, we've been telling friends and anyone we can about it. At our age it's a great way to stay active… but it's great for every age," Jane Johnson said.
It's also affordable, according to Scott Johnson, especially when taken on as a DIY project.
"Anyone can build their own table for under $100. You can put it in a covered patio, in a garage or in an extra room. It's a great exercise tool," he said.
Ping-pong also has mental benefits, the Johnsons said, particularly during a pandemic.
"You can't think of anything else when you're playing, so you focus on it instead of any negative things going on in the world. We consider one of the best things about it to be that you can't be angry or unhappy when you play, there's no way. You play and it makes you laugh and makes you happy," Jane said.
The Johnsons don't even bother keeping score while they play. They instead focus on keeping the ball in play as long as they can and helping the other to improve.
"Jane's doctors said it's probably the best sport to play during COVID-19… We're hoping enough seniors will join us so we can start a ping-pong club, and we're just going to keep playing as long as we can," Scott said.
Sponsor Content
Comments