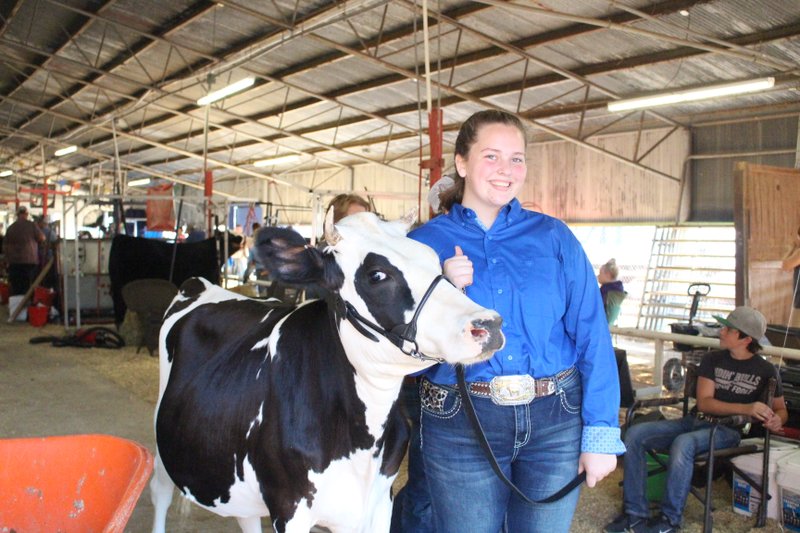 Elizabeth Dison has been named named a 4-H Teen Star. She has represented Union County as a member of the Faircrest 4-H Club and has volunteered extensively in the community. In this September 2019 photo, Dison is seen preparing to present in the open beef showmanship competition at the 2019 Union County Fair, where she walked away with the Champion Dairy Female - Holstein Champion Senior Dairy Showman awards. - Photo by Caitlan Butler
Union County 4-H Member Elizabeth Dison, daughter of Roy and Vicky Dison, has been named an Arkansas 4-H Teen Star for her outstanding achievement in 4-H projects and activities, leadership and community service.
Elizabeth is a member of Faircrest 4-H club, where she has been active for eight years. She has held many offices in 4-H, including serving as President of the Faircrest Club for two years. She also held office in the Union County 4-H Teen Leader Club for two years. She has also served as secretary, reporter, and photographer for 4-H locally.
She has been a vital part of many community service projects, providing volunteer service for Turning Point, the Union County Animal Protection Society, South Arkansas Fights AIDS and LifeTouch Hospice. She educated more than 4,000 youth about the care and management of goats at the Farm Bureau sponsored Farm Fair. She actively exhibited dairy and market goats at the County District and State Fairs. She has participated in many 4-H Club competitions on County, District and State level.
At the 2019 Union County Fair, Dison took home several awards for both goat and cattle raising. She was recognized for with the Champion Dairy Female - Holstein Champion Senior Dairy Showman awards in the open beef showmanship competition. She also had the Champion Dairy Goat, the Reserve Champion Dairy Goat and the Reserve Champion Breeding Doe and was the Reserve Champion Senior Goat Showman.
Elizabeth is one of 67 4-H youth statewide selected as a 4-H Teen Star.
"The 4-H Teen Star program recognizes youth who are making a difference in 4-H and in our community," said Cherrie Sweeney, local 4-H program assistant. "Elizabeth Dison is a go-getter and has been consistently working on developing knowledge and skills in her project areas and has proven herself to be service-minded and a capable leader for the Union County."
Arkansas Teen Stars are selected based on their leadership ability, integrity, high moral standards and high goals, outstanding achievement in both project and service activities, their ability to work with others, a positive attitude, interest in the 4-H program and a general interest in organizations and activities for youth development. To be considered, a member must have completed a minimum of two years of 4-H work and be an active member.
The awards presentation normally held at State 4-H Teen Leader Conference at the Arkansas 4-H Center will this year instead be conducted online in a virtual format.
4-H is the youth development program of the Cooperative Extension Service, part of the University of Arkansas System Division of Agriculture. Participation is free to youth in every county.
To learn about 4-H and other extension programs in Arkansas, contact Cherrie Sweeney, Union County Cooperative Extension Service agent, at 870-864-1916 or visit uaex.edu.
Caitlan Buter contributed reporting.
Sponsor Content
Comments