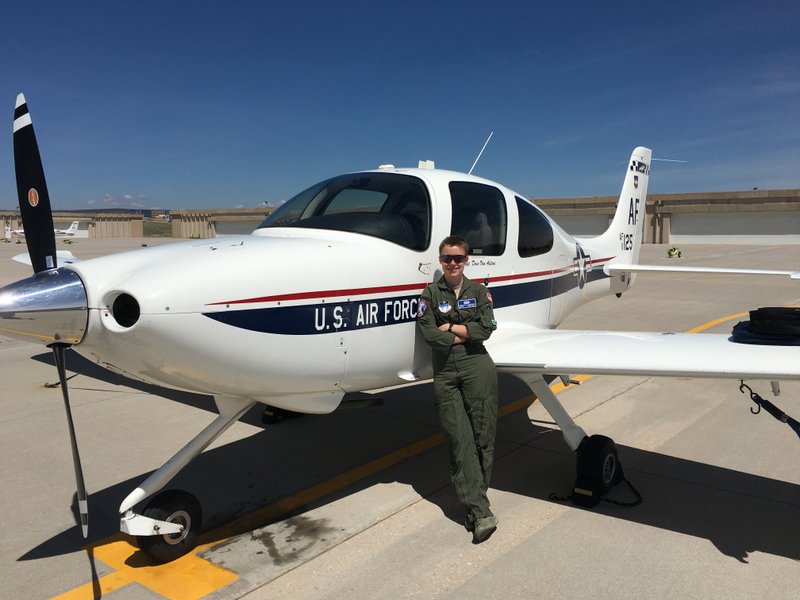 Krisanna Reynolds, a 2016 Smackover High School graduate, recently graduated from the United States Air Force Academy. She hopes to attend Undergraduate Pilot Training soon. Here she is seen with a T-53 (Cirrus SR-20), which she has trained on some. She hopes to become a helicopter pilot to participate rescue missions.
Recent United States Air Force Academy graduate Krisanna Reynolds has added a few skills to her repertoire since picking up her high school diploma from Smackover in 2016. In a few weeks, she hopes to add flying to her resume.
The Second Lieutenant earned a Bachelor of Science in Foreign Area Studies with a minor in Chinese. Within the year, she plans to attend Undergraduate Pilot Training.
"I want helicopters with the (combat search and rescue) mission set - the helicopters that fly in the PJs (pararescuemen) and CROs (combat rescue officers), who then retrieve injured people, downed airmen, etc. My job would be to safely fly the helicopter to get those people where they need to go," Reynolds said. "I've done some sims, but not a lot. Powered flight last spring got me about nine flights, so I've got about 13 hours in the T-53 under my belt so far, to include a short solo. I'm still years out from being operational, and that's assuming that I do complete training."
So far, Reynolds has managed to complete every task she's tackled, including Jump, which is a basic free fall program and a wilderness survival course. Another course included Cadet Summer Language Immersion Program, where she chose one of eight languages to study.
"I originally said I wanted to study Japanese. Well, I didn't get Japanese, I got Chinese. At first, I was upset, but I had a wonderful teacher, and I came to love the language," she said. "I studied hard and got straight A's in my Chinese classes."
Her reward was a spot in the Cadet Semester Study Abroad Program, where she was one of 20 cadets sent to China for a month to practice language skills and learn about Chinese culture.
"We visited Shanghai Disney, lived in Nanjing for three weeks, saw the Forbidden City and a section of the Great Wall of China, and took in the breathtaking scenery of Zhangjiajie, which is the place that inspired parts of the scenery in the movie Avatar. We also took a language class at Nanjing Normal University for those three weeks. It was my favorite summer as a cadet, to be sure," Reynolds said.
"I made many wonderful friends and experienced things I never thought of. I joined NTHU's (National Tsing Hua University) Kendo club, was invited by a random family to observe a religious ceremony as I rode a motorcycle around in the countryside, saw Fort Zeelandia and the Confucius temple in Tainan, rafted down a river near Hualien, and learned to surf in Chinese on a black sand beach at Yilan. My Chinese skills skyrocketed as well. It was perhaps the best semester of my cadet career."
Upon returning from China, Reynolds was one of six cadets sent to Taiwan from August through December of 2019. The goal was to learn the culture of the area and practice Chinese speaking, reading and writing skills.
"We had no supervision in Taiwan, so we were trusted to represent our country well. This meant I had many opportunities to practice my language skills since many times I was the only person in an area that spoke English," she said. "For example, I distinctly recall overhearing a family say they couldn't see the lion when I was at the Taipei Zoo. I had just saw it, so I told them in Chinese where the lion was. They were shocked that I, obviously not Taiwanese, understood them and helped them find the lion. Their little girl looked so happy to see the lion, and I was amazed at how just a few little words I happened to know in another language could make such a memorable experience."
Even after proving she could function in a foreign land, Reynolds said she still has work to do on her foreign language skills.
"I'm not fluent, but when I was in Taiwan I got to a conversational level. I could get around public transport no problem, return clothes, order food, change and refund train tickets, talk to shop owners, ask what people were doing, get directions and do other daily tasks fairly well," she said. "I was able to join National Tsing Hua University's Kendo club in Taiwan as well, and our club practices were held almost entirely in Chinese. They were difficult at first for sure, as they used a lot of specialized vocabulary, too. Academic classes in Taiwan were difficult as most of the vocab I have learned is not academic vocab. I've been studying it for four years. I started my first semester and have taken a Chinese class every semester since. I can read, write, and speak, though speaking is my strongest, reading second strongest, and writing weakest."
In four years since her high school graduation, Reynolds said she has solo jumps out of airplane, studied Japanese fencing, learned Chinese and lived in foreign countries, among several other accomplishments.
"Powered flight was one of my favorite programs. I was lucky, when I took it spring of 2019, we had the opportunity to solo the T-53 if we did well," she said. "The program introduces cadets into the Air Force's way of flying. I got nine flights with an instructor pilot, and I also got to solo. My headset had malfunctioned on the ride right before my solo, so I was pretty nervous. But, I'm still here."
Still here, but Reynolds is definitely going places.
Sponsor Content
Comments