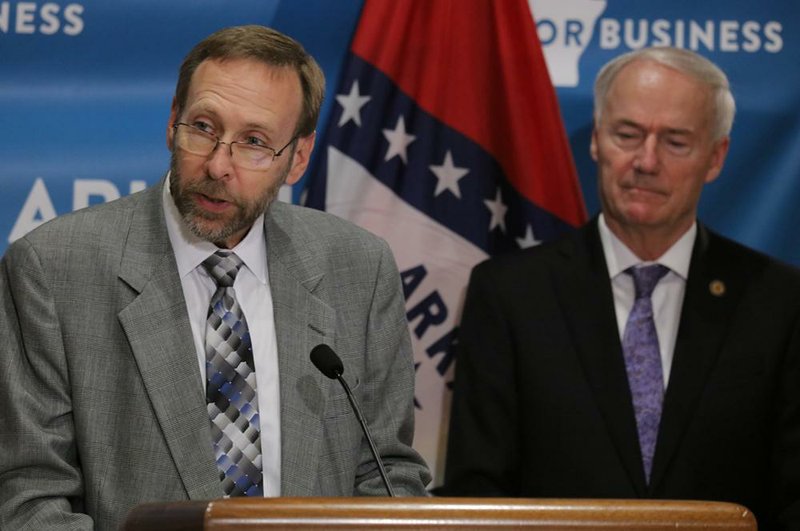 Arkansas Health Secretary Dr. Nate Smith, left, speaks Friday, May 22 during the state's daily COVID-19 briefing at the Arkansas Department of Health in Little Rock. Governor Asa Hutchinson looks on at right. - Photo by John Sykes Jr.
According to the Arkansas Department of Health, a significant number of cases of COVID-19 have been confirmed in residents of Courtyard Healthcare and Rehabilitation Center.
On Thursday, the ADH reported 26 cases at Courtyard, including nine health care workers employed there and 17 residents. A report released by the ADH on Friday afternoon listed 31 cases in residents, an increase of 14 new cases, bringing the facility's total to 40.
A statement about COVID-19 on the facility's website details steps administrative staff has taken to contain the spread of the virus, including hiring additional staff, maintaining communications with the ADH, implementing aggressive testing measures and screening all who enter the facility, barring staff experiencing symptoms from working, maintaining a supply of personal protection equipment (PPE) for staff members and contacting all resident family members with status updates.
"The virus is unprecedented, and during this challenging time, we are doing everything we can to contain the spread at our facility," the statement reads. "Our dedicated healthcare professionals are working around the clock to provide our residents with the best possible care."
Courtyard's administrator was not available Friday afternoon for comment.
On Friday afternoon, the ADH reported total cases in Union County at 144, an increase of four from Thursday. Of those, 92 recoveries are reported, leaving 48 cases — 33.3% — active. Four Union County residents have died from COVID-19, representing a local mortality rate of 2.8%.
ADH Secretary Dr. Nate Smith said during the state's daily health update an additional 154 cases had been confirmed statewide since Thursday, bringing the cumulative cases discovered in Arkansas to 5,612. Of those, 1,470 are considered active, the highest number of active cases the state has had since the first case was confirmed in Arkansas on March 11.
Three more Arkansans died between Thursday and Friday as a result of COVID-19, bringing the state's death toll to 113, representing a state mortality rate of 2%.
Testing has increased markedly in the state; Gov. Asa Hutchinson said Thursday he expects the state to meet his goal of performing 60,000 tests in the month of May. At 4:30 p.m. Friday, over 100,000 tests had been performed in the state since testing began in March.
The Arkansas Division of Workforce Services (DWFS) reported the state's unemployment level in April was 10.2%, double the 5% unemployment level reported for March. The state's civilian workforce decreased by 69,598 workers just in April, with the hospitality and leisure industries posting the biggest losses in workforce, according to DWFS. The national unemployment rate in April was 14.7%, with almost 39 million Americans having lost their jobs since March.
Nationally, cases had reached almost 1.6 million by 4:45 p.m. Friday. Almost 300,000 are considered recovered, while 95,823 Americans have died as a result of COVID-19, indicating a national mortality rate of 6%.
Worldwide, according to the World Health Organization, cases are nearing 5 million; at 4:45 p.m. Friday, the WHO reported 4,995,996 cases, with 327,821 deaths reported, indicating a global mortality rate of 6.6%.
[Video not showing up above? Click here to watch » https://www.youtube.com/watch?v=/PB6sdJil9IY]
Sponsor Content
Comments