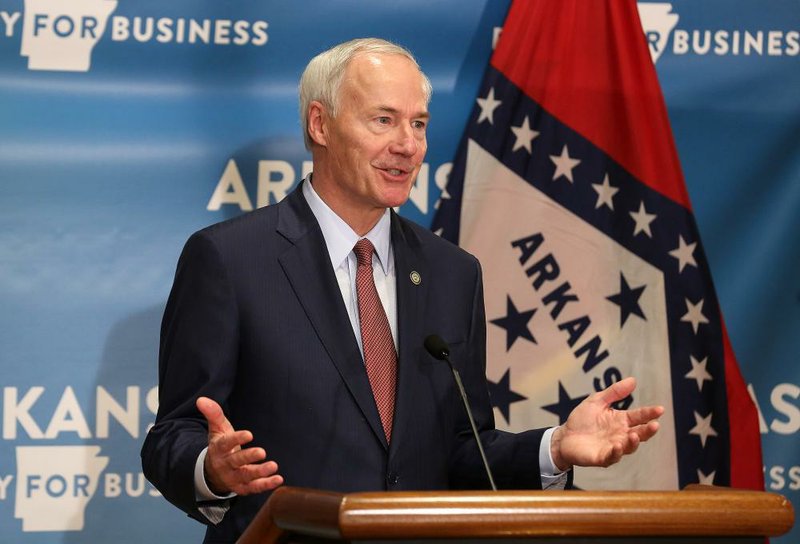 Gov. Asa Hutchinson answers a question during the daily COVID-19 briefing on Thursday, May 21, at the state Capitol in Little Rock. - Photo by Thomas Metthe
Both Arkansas and Union County saw significant increases in confirmed cases of COVID-19 between Wednesday and Thursday, representing the second-largest one-day increase in cases in the county and the largest one-day increase in cases in the state.
According to the Arkansas Department of Health, an additional 19 cases have been confirmed in Union County, bringing the county's cumulative number of cases confirmed to 140. Of those, 55 are considered active, while 81 recoveries are reported.
No new cases have been identified at Courtyard Healthcare and Rehab, which sat at 26 cases Wednesday, with nine identified in health care workers and 17 in residents. No new deaths have been reported locally either, dropping the county's mortality rate to 2.8%.
In Arkansas, 455 new cases were confirmed by Thursday at 6 p.m.
"Yes, this is a concern to us. We're watching it very carefully," Gov. Asa Hutchinson said during his daily health update Thursday. "It's something we want to be able to get in, do our contact tracing and see if this represents a new outbreak somewhere."
Union County was referenced several times during the health update as having one of the largest increases in cases in the state, along with Yell and Pulaski counties, among others.
The state's number of active cases is as large as it's ever been, Hutchinson said; the ADH reported active cases at 1,433 Thursday evening. The previous peak in active cases was 1,425, Hutchinson said.
The state also saw three new deaths resulting from COVID-19, bringing the total to 110 and the state's mortality rate to 2%, which actually represents a decline from Wednesday. Recoveries in the state are reportedly 3,915.
Hutchinson released additional guidance Thursday for reopening sleepaway camps later this month, as well as new directives for youth sports. The sports directives include prohibitions against close-contact sports, like football and basketball, but make low-contact sports, like baseball and softball, allowable with some restrictions and regulations.
"I'm delighted that we can play some ball even under challenging circumstances we're not used to," Hutchinson said. "I know how this is important for our families, our communities."
Hutchinson also provided an update on the state's Pandemic Unemployment Assistance application website, which went live again Wednesday morning after being examined by a forensic team to ensure it was secure. An applicant discovered a vulnerability in the system last Friday that left about 30,000 applicants' personal information, including their Social Security Numbers and bank account information, potentially exposed and accessible simply by removing letters in the website's URL.
Payments were released Thursday and Hutchinson said some applicants should have received deposits by yesterday evening or this morning. New applicants may apply now and current claimants may also report their weekly claim, he said. He said the state's forensic team and the Federal Bureau of Investigation are continuing to review the vulnerability.
On Saturday, Hutchinson said the applicant "illegally" accessed the vulnerability, despite the applicant's attempts to notify two state agencies prior to seeking help from the Arkansas Times, who first broke the story of the vulnerability after contacting the state Division of Workforce Services and ensuring the site was shut down before publishing their story. On Wednesday, Hutchinson said investigators are looking into "the intent" of the applicant who discovered the vulnerability.
Dr. Jose Romero, chief medical officer for the ADH as well as chief of pediatric infectious diseases at the University of Arkansas for Medical Sciences and a member of the Advisory Committee on Immunization Practices for the United States Centers for Disease Control, also appeared at Thursday's update to warn Arkansans of a COVID-19 complication affecting children that has recently been documented.
Romero said about 200 children worldwide have developed Multisystem Inflammatory Syndrome, a condition causing severe inflammation, including fever and in organs including the brain, heart, gastrointestinal system, liver and kidney, after testing positive for COVID-19 or COVID-19 antibodies.
Romero said the condition is treatable, with doctor's utilizing the same treatment used for those with Kawasaki Disease, which presents with similar symptoms. He urged parents who see their children exhibiting these symptoms to contact their physicians, who should report the case to the ADH. No cases have yet been reported in Arkansas, he said.
ADH Secretary Dr. Nate Smith said at the update there were 86 Arkansans hospitalized by early Thursday afternoon, with 15 using ventilators. Recoveries in Arkansas are reportedly 3,915.
Cases in the U.S. grew to 1,573,742 by 6:30 p.m. Thursday, with almost 300,000 recoveries reported. Deaths in the country were reportedly 94,566 by Thursday evening, indicating a national mortality rate of 6%.
The World Health Organization reported 4,904,413 confirmed cases of COVID-19 worldwide by Thursday evening, with 323,412 deaths reported, indicating a global mortality rate of 6.6%.
[Video not showing up above? Click here to watch » https://www.youtube.com/watch?v=/jJpPSE3f3V8]
Sponsor Content
Comments