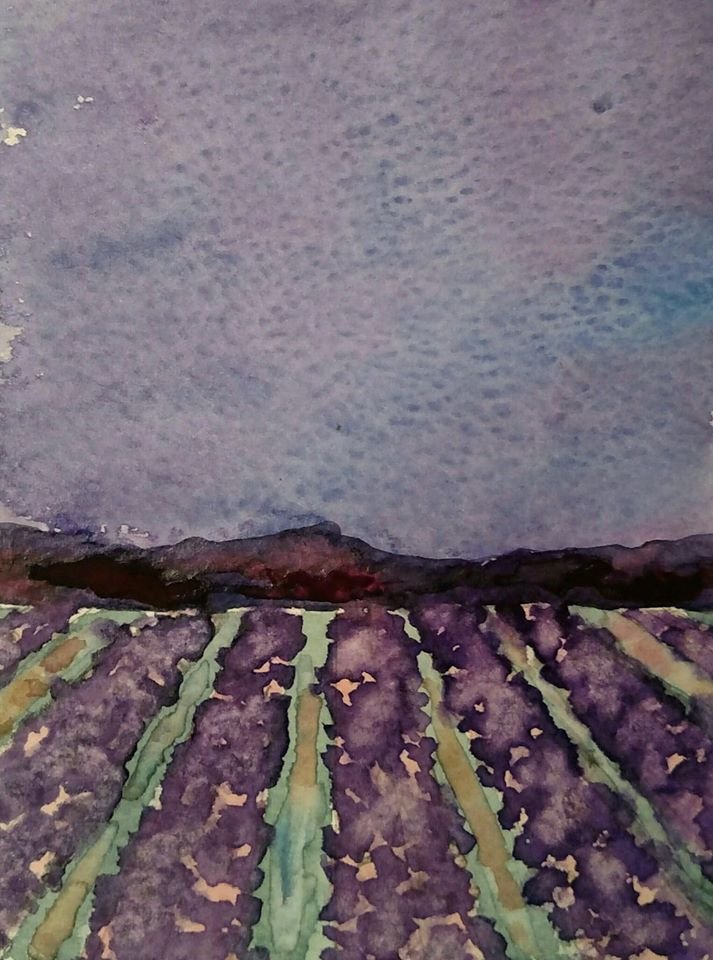 A small watercolor painted by insturtor Kelly Campbell, showing an example of the project she will teaching in the "Little Fields of Lavender" Corks and Canvas workshop hosted online May 26, 27 and 28.
Registration is open for the South Arkansas Arts Center's May iteration of Corks & Canvas, presented via Zoom due to the ongoing COVID-19 pandemic.
This month's Corks & Canvas will be a 'Little Fields of Lavender' watercolor workshop and Kelly Campbell will host on three occasions. The workshop will be held May 26, 27 and 28 at 6 p.m. each evening so participants may choose the date that fits their schedule best.
"Adults looking for some interaction with other adults should seriously consider doing this," Campbell said. "Our April sessions were such a success - we want to give everyone a chance to do it again or for the first time. We had many of our 'regulars' and some new faces as well!"
All of the art supplies needed to create watercolor "Little Fields of Lavender" will be available for pickup at SAAC Monday through Thursday from 9 a.m. to 1 p.m. Campbell will even provide curbside pickup on request. The fee for this special Corks & Canvas is $30, and you get to keep the watercolor set and extra paper.
Those that wish to participate in this very different Corks & Canvas should visit saac-arts.org to make a reservation. Each of the three sessions is limited to 10 participants.
"We will be working with watercolor again - a different set of paints and different paper. The 'Little Fields of Lavender' measures 4" x 5 ½", and each supply packet contains enough paper to do several paintings," Campbell said."These little paintings will absolutely be eligible to hang in our 'Under Quarantine: Art Created Under Unprecedented Circumstances' exhibit/competition this summer. Anyone who has questions about that, or about 'Kitchen Table Art: Art Created During School Closures' for students can email me, and I'll be more than happy to answer any and all questions."
For more information, email Campbell at [email protected] Visit SAAC's website at saac-arts.org to register for the workshop. The South Arkansas Arts Center is located at 110 E. 5th St. in El Dorado..
Sponsor Content
Comments