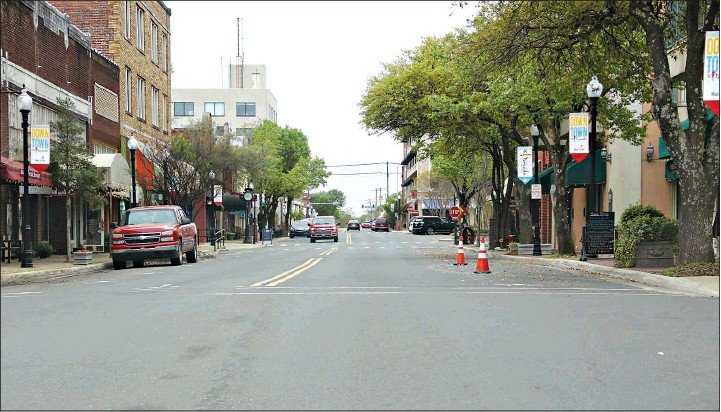 This March 25 photo shows a near-empty Main Street as many retail and hospitality businesses, as well as some service providers, have had to shutter their storefronts or half operations.
As part of an ongoing effort to help small businesses and their employees navigate the effects of the coronavirus pandemic, Main Street El Dorado has added the Union County Virtual Tip Jar to its website to provide the public with an opportunity to help those in the service industry.
Beth Brumley, executive director of MSE, said someone shared the idea on her personal social media page and she learned that a couple of sister organizations — the Downtown Little Rock Partnership and Batesville Main Street — had already implemented the VR program.
By the end of the day Friday, she and Holly McDonald, MSE administrative assistant, had launched the UCVTJ for Union County, having decided to expand the local program beyond restaurant workers.
"They were doing it about a week before we did and they were doing it restaurant servers," Brumley said. "We wanted to do it not with just restaurant servers. We wanted to make it available to any type of service-industry person."
Many local restaurants and other service-industry businesses have either temporarily closed or adopted other ways of serving customers, including delivery and curbside pickups.
The UCVTJ allows customers to tip their favorite service-industry employee.
Brumley said the program is open to restaurant workers, baristas, massage therapists, hairdressers/stylists, nail technicians, pet groomers and others.
"So many local musicians also perform every weekend for tips. So anyone who receives tips for a service is welcome to sign up," Brumley said.
To join the UCVTJ, local service-industry workers can find the link on the MSE website and Facebook page.
Brumley explained that as workers sign up, a spreadsheet will be updated by 4 p.m. each day and will include the workers' preferred method of payment, such as Venmo, PayPal, CashApp or Facebook Pay, through which customers may leave virtual tips.
Other details will include the employee's user identification and whether the business for which they work is closed completely or has limited public access and instituted other ways to serve the public.
Referring to curbside pickup service, Brumley said she heard from a customer who used the pickup service at a local business but the customer realized later that she had forgotten to leave a tip.
"You can leave a tip with curbside service and now, you can go back and leave a tip with the virtual tip jar," she said.
Brumley said several service-industry workers have expressed their appreciation for the Virtual Tip Jar, adding that word about the program has spread through social media and word of mouth.
There have been some requests to add photos of service- industry workers to their accounts, she said.
"Some people have said they know what their favorite server looks like but they may not know their name. We're trying to figure out how to make that work," Brumley said.
Small businesses in El Dorado and Union County are also encouraged to visit the Main Street website for information and updates about available resources amid the COVID-19 outbreak.
Information about assistance that is offered by the Small Business Administration, the federal government's $2 trillion coronavirus relief bill/stimulus package and more.
Businesses are also invited to participate in a brief online survey that is being conducted by Main Street America.
Brumley said data that is collected from the survey will help ensure the national Main Street program has the tools it needs to lobby Congress and local and state elected officials on behalf of small businesses.
"Even though this is a Main Street America initiative, it's not just open to Main Street businesses. It's open to any business that wants to participate," Brumley said, adding that information is updated regularly on the Main Street El Dorado website's COVID-19 Business tab and on the MSE Facebook page.
MSE also recently announced a promotional campaign in which customers have the opportunity to win gift cards/certificates to shop in downtown businesses.
For every $25 that is spent on gift cards/certificates from participating downtown businesses, customers' names will be entered into a drawing to win $200 worth of Main Street El Dorado Downtown Shopping Gift Cards.
Five $200 shopping gift cards will be given away.
The promotion will end April 6. Winners will be contacted April 9 by phone or email.
The MSE Downtown Shopping Gift Cards will be treated like cash and may be redeemed at participating downtown stores and restaurants.
To purchase a gift card of at least $25, customers may call their favorite downtown business or visit the business's website, if available.
Participating businesses include All About Flowers, Sports Alley, La Bella, The Perfects on Main, Fayray's, The Southern Hippie, PJ's Coffee, Merle Norman, Cole's Jewelers, Southern Threads and Mina Rea's Antiques and Embroidery.
MSE Downtown Shopping Gift Cards may also be purchased on the MSE website.
Sponsor Content
Comments