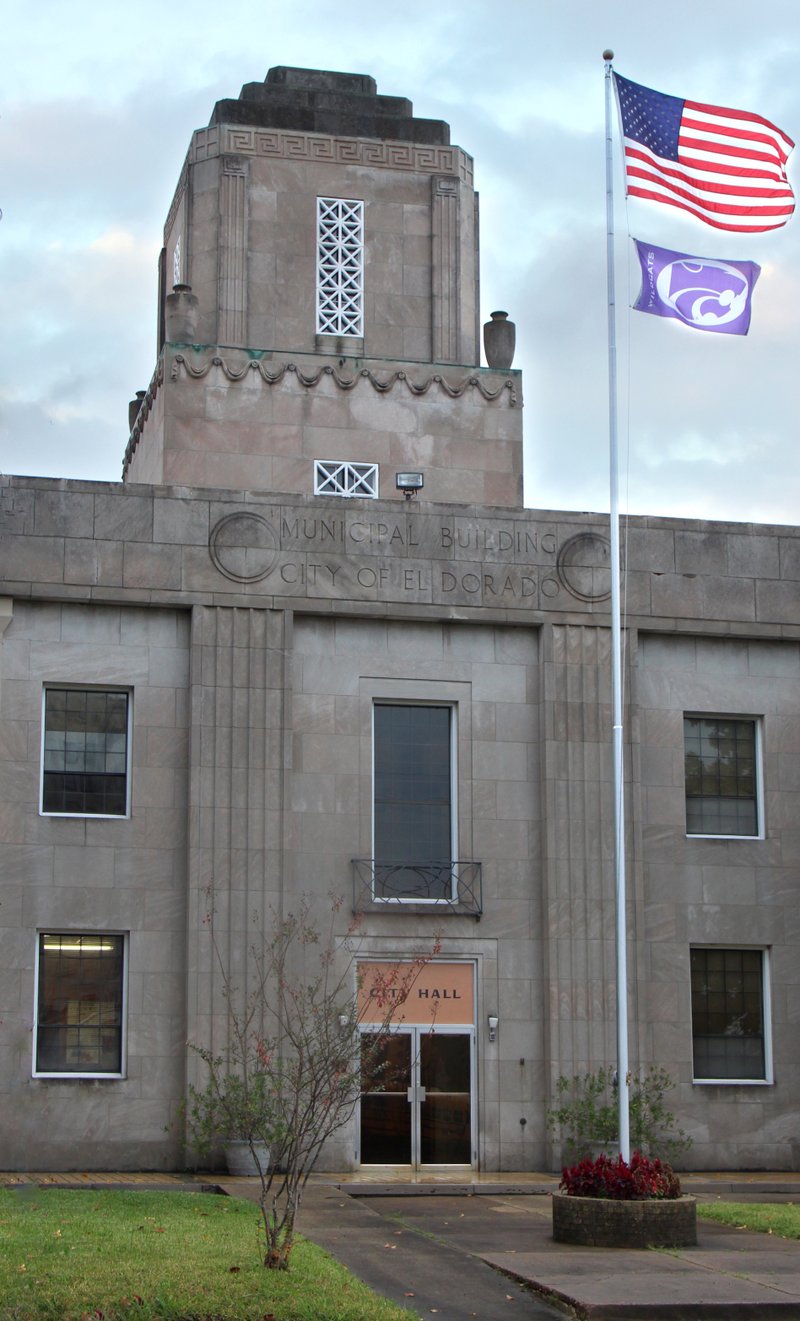 El Dorado City Hall -- News-Times file - Photo by Terrance Armstard
El Dorado city officials continue to closely monitor updates and developments as they unfold about the coronavirus (COVID-19) outbreak.
City officials are adhering to precautionary measures that have been put in place by state and national health officials.
Since March 13, public access has been restricted to municipal buildings and offices and residents have been advised of alternative ways of conducting business with the city, including online and by phone, when possible, and by mail.
The city has continued to adapt and adjust its operations in order to better serve the public.
At the El Dorado Water Utilities, customers also have the option of using the drive-through window or an exterior drop box, which is located in the drive-through lane, to pay their bills.
An issue that has arisen with those payment methods is long lines and waits in the drive-through lane.
To help remedy the situation, the EWU is offering another method by which customers may pay their bills.
Starting Monday, EWU customers will be able to drop off payments at Simmons Bank, 100 W. Grove, just north of the EWU office.
Checks and money orders made out to the EWU made should be left at entrance of the front lobby.
Payment envelopes will be available for customers to place their statements and checks or money orders inside. Cash payments will not be accepted.
Customers may then slide the envelopes underneath the second set of double doors.
The EWU will collect the payments by 4 p.m. each day and apply the payments to customers' accounts.
Educate the public
Mayor Veronica Smith-Creer said she received word earlier this week about children playing in local parks, raising concerns about social distancing, which has been recommended by state and national health officials to help slow the spread of COVID-19.
She asked other city officials to help educate and assure local residents that the city is "doing the best we can under the circumstances."
Smith-Creer said she planned to ride around to city parks, noting, "I just wanted to remind everyone that we have to be mindful and we don't want to make it seem like we're being insensitive to the kids. We have to know what we can enforce and how."
"We as adults have to do what we can to make sure they have the information they need. It's a parental situation, as well, because we want parents to be mindful too," she said.
On Thursday, Sec. of Health Dr. Nate Smith issued a directive prohibiting gatherings of 10 or more people, which has the weight of a law, authorizing law enforcement officers to enforce it.
State officials have asked people to avoid indoor social gatherings with more than 10 people.
"That has no bearing on the kids playing outside in the park. They have to be able to exert some of that energy. Maybe we can find them some alternative ways to do that," Smith-Creer said.
Arkansas residents have also been asked to maintain a distance of six feet between each other.
During the March 20 El Dorado City Council meeting, city officials spread out in the Council Chamber and kept a safe distance from each other.
The social gathering limit was exceeded by two people and included 10 elected city officials, Fire Chief Chad Mosby and a News-Times reporter.
Chairs were set up in the lobby of City Hall to accommodate anyone who wished to attend the meeting, which was streamed live on Facebook, and the El Dorado Fire Department checked the temperatures of people who entered the building.
No residents attended the meeting.
Council Member and Finance Committee Chairman Vance Williamson previously asked city department heads to table spending from the city budget amid uncertainties about how the COVID-19 pandemic will affect the economy.
The Finance Committee is scheduled to meet at 1 p.m. Tuesday to discuss the matter further.
The meeting will be held in the Council Chamber of City Hall and city officials will take the same precautionary measures that were put in place March 20.
A week after city officials restricted public access to City Hall and the EWU office, the El Dorado Police Department followed suit and closed its lobby to the public.
The EPD asked residents to use the outdoor phone/intercom system to dispatch officers upfront.
The phone is posted just west of the front entrance of police headquarters.
For minor offenses, such as misdemeanor thefts, property damage or harassment, officers have been taking incident reports by phone.
Officers may call complainants for additional information and to determine if a physical response to a complaint is necessary.
"That's to protect the citizens and to protect us as well. Unfortunately, we can't quarantine," said Capt. Scott Harwell, of the EPD's Criminal Investigative Division. "Of course, if it's something that creates a crime scene, we're absolutely going to respond. We've been taking a lot of phone reports. It's been kind of quiet."
Sponsor Content
Comments